Clostridium Difficle Infection In Health-Care Workers
Remember! This is just a sample.
You can get your custom paper by one of our expert writers.
Get custom essay
90 writers online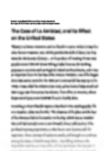 According to Bouza (2005), Clostridium Difficile is a bacillus that is gram positive and forms spores. Its main mode of distribution is the environment whereby it also colonizes 3-5% of all healthy adults without causing any symptoms that can be noticed. At infancy, clostridium difficile colonizes between 2% and 70%, but the rates decrease with advancement in age and falling to about 6% when the infant grows to two years. Above the age of two, the rate of clostridium difficile is much similar to that of an adult, around 3% (APIC, 2008). The strains responsible for the production of clostridium difficile are characterized by their ability in the production of both toxins A and B. The most common and rampant symptom of CDI is diarrhea that is not always bloody, but can range from the soft and unformed stools to the watery and mucoid stools. Other outstanding symptoms include abdominal pains and fever and cramping in others.
Clostridium difficile spores are highly resistant to destruction by most of the environmental agents and conditions. Their resistance can go as far as resisting some of the chemicals used in disinfection (Zanotti-Cavazzoni, 165). Therefore, this gives clostridium difficile the ability to survive for months or longer in the environment and even in healthcare facilities and the surrounding community. Mainly, the spread of clostridium difficile is through the transfer of spores from a contaminated environment to the patient, or perhaps through the hands of health care givers who do not follow proper hygiene and gloving practices. The only proper control measure that can be adopted is the thorough disinfection and cleaning of the patient's environment and also through the physical removal of the spores.
In recent decades, there has been a recorded increase in the number of reported rates of clostridium difficile-associated disease (CDAD). There has also been a recording in the increase in the number of outbreaks accompanied by severe disease and also an increase in mortality. The increase in CDAD is mainly characterized by the following; changes in the use of antibiotics, a change in infection control practices or the emergence of new strains of clostridium difficile that have increased virulence or antimicrobial. It is also important to comprehend the life cycle of clostridium difficile in order to understand how to control it and if possible, prevent it. Its life cycle begins in the spore form whereby they are because they are resistant to heat, antibiotics or even acid.
In a hospital setting, clostridium difficile can be found in bedding, medical equipment, and furniture and on the caregivers. Upon ingestion, the spores pass through to the intestines whereby they germinate and later colonize the colon. Studies have indicated that this bacterium colonized about 21% of patients who are in the process of receiving antibiotics and at the same time admitted to a general hospital. Through the release of both toxins A and B, clostridium difficile later induces diarrhea and colitis. However, the major risk factors associated with clostridium difficile are advancement in age, hospitalization, and antimicrobials.
There are two major reservoirs of clostridium difficile in the healthcare setting, which are humans (asymptomatic and symptomatic) and inanimate objects (medical equipment and furniture). The level of environmental contamination depends primarily on the severity of the disease of the patient. However the asymptomatic colonized patients should be regarded as the potential primary source of the contamination.
Clostridium difficile infection is more rampant among the elderly in the society. The main reasons for this are not fully, but it can be attributed to the fact that the elderly patients have a much less effective barrier to infection. The importance of having age as a risk factor is characterized by the age distribution in lab reports as was received by CDSC during the research period of 1990-1992. Results showed that there was a bias for adults over the age of 65 and they were more susceptible to having severe cases of clostridium difficile infections. There have also been suggestions that clostridium difficile is endemic in facilities that are considered long-stay for the elderly. However, other studies indicate that the difference in the endemic nature of clostridium difficile may be as a result of case mix whereby patients are from other facilities whereby the infection rate was high. Also, clostridium difficile is endemic in many of the long-stay facilities because the elderly tend to stay longer in the acute wards than the other younger generations. Therefore, their increased risk of infection is attributed to the increased exposure to antibiotics and nosocomial pathogens.
There are several patient care activities that provide a rife opportunity for the fecal-oral transmission of clostridium difficile (CDC). Such activities include; sharing of electronic thermometers that have been used for measuring rectal temperatures, oral care or suctioning whereby the hands or equipment have been contaminated, administration of contaminated food, medication or with contaminated hands and emergency procedures like intubation. Other factors like poor hand hygiene, improper environmental and equipment cleaning and disinfection have also been reported as a cause for infection and spreading of clostridium difficile. It has been rubber stamped that the environment is the major medium of spreading for clostridium difficile whereby it has been spread so widely that that it is impossible to point out a single location that has not been contaminated. However, the environment of the infected patients is rifest with clostridium difficile, for instance, the toilets, floors, sinks and linen. Despite disinfection, clostridium difficile spores are found to exist longer than five months.
Prevention and control of clostridium difficile is the responsibility of every individual who is aware of its existence. Therefore, prevention measures must be endorsed by everyone, and especially in care giving facilities whereby individuals are more likely to spread the infection. Standard precautions refer to those practices at work that are applied to every person regardless of their confirmed or perceived infectious status. Standard precautions are the front line in the war against clostridium difficile. They help control the rate of infection from person to person, even in the most prolific risk scenarios. They include; hand hygiene before and after contact with the patient, the safe use as well as disposal of sharps, the use of protective equipment and the processing of reusable medical equipment. The proper handling of linen, safety in the management of waste as well as aseptic non-touch technique should also be in the standard precautions to be implemented in hospital facilities.
However, when the first line of defense does not seem to work efficiently, there should be a backup plan in place. Thus, when standard precautions do not seem to do the job, transmission based precautions should be implemented. These are additional work practices for individually identifiable situations that are put in place to interrupt the transmission of clostridium difficile. These precautions are tailored to specific infections and their mode of transmission. They include; continued implementation of standard precautions, having patient dedicated equipment, proper handling of equipment, enhanced cleaning and disinfection of the patient's environment and the restriction of patients within the facilities.
Since healthcare settings differ greatly in terms of their day-to-day functioning, it is hard to come up with a management proposal that would fit all facilities. Therefore, all healthcare facilities should conduct infection prevention risk assessment on a regular basis alongside adoption of detailed protocols and processes for infection control. In acute care setting, personal protective equipment should be provided for nurses and visitors outside the room of a patient who has confirmed clostridium difficile infection. Healthcare givers should use gloves and gowns in order to prevent further spread of infection. Conducting effective hand hygiene is necessary for limiting the spread of clostridium difficile. They should be performed frequently and with the following considerations; should be performed using the Four Moments of Hand Hygiene, should be performed at the point-of-care using a dedicated staff sink or the use of hand wipes that have been impregnated with antimicrobials or alcohol and soap.
In acute care setting, especially where the elderly are residing proper care has to be considered primarily because they are more susceptible to infection (Rupnik, 2007). One such measure of preventing clostridium difficile infection is placing the suspected or confirmed patients with CDI in a confined room that has dedicated toilets, sinks and personal equipment. Moreover, there is little need for special treatment for linen in an acute setting for both confirmed and suspected patients. Linen for symptomatic and asymptomatic patients should be in the same way. The soiled linen should be carefully. For example, it should be placed in a no-touch receptacle in order to avoid contamination of both the environment and the persons around.
In cases of outbreaks, routine infection control measures are of grave importance in order to prevent the spread of the clostridium difficile infection to patients who have not yet been affected. The antibiotic policies have to be monitored as well as their compliance in order to successfully control the spread of infection. Hand washing procedures should be followed to the latter by any person who is in contact with infected patients such as doctors, nurses, paramedical staff and students. Nurses present challenges in combating clostridium difficile outbreaks especially because of the necessity to create a homely environment for the patients. This means that they have to constantly check in with the patients and therefore they become constantly at risk of infection themselves in proper precaution is not taken.
For patients in the elderly acute care wards, the surroundings are also tailored to ensure a comfortable stay in the hospital. Therefore, their soft furnishings and carpeted floors provide a challenge in cases of outbreaks. For instances like this, preventive methods of combating the spread of clostridium difficile have to be implemented. One such measure that should be used during cleaning is steam. Although the heat does not kill the pathogen, it helps in the containment of its spread. Patients are also susceptible to contracting infection from the care devices used in the hospital. Such devices include electronic thermometers or glucose measuring devices. These devices are in constant use and may be used by a variety of patients. These devices are with pathogens derived from body fluids. Thus it is important to have measures in place to sterilize these devices especially more thoroughly in times of outbreaks.
Another piece of communal apparatus used in wards is the linen, clothing, uniforms, lab coats and isolation gowns. Because clostridium difficile is commonly in the environment and can last for more than five months, these pieces of clothing are always in contact and possible contaminations are likely (Dubberke, 17). However indirect contact of such clothing comes from bedpans, toilets and sinks of patients who are either suspected or confirmed to be infected. The presence of soiled linen is also an area of importance that should be looked into carefully. Because bed linen is in hospitals and wards, they should be cleaned and sanitized before they can be issued to a different patient. In order to help combat the spread of clostridium difficile, the CDC has come up with the Spaulding classification system, which identifies three risk levels that are associated with surgical and medical instruments (Michel, 1095). These levels are; critical, semi-critical and noncritical.
Critical items include needles, indwelling urinary catheters and intravenous catheters. These are the items that normally enter the sterile tissue, the vascular tissue or through which blood flows. Based on one of the accepted sterilization procedures, the equipment has to be sterile before penetrating any tissue. Semi-critical items include thermometers, electric razors and podiatry equipment and they are as those that touch mucous or skin which is not intact. They require meticulous cleaning and thereafter followed by high-level disinfection. Disinfection is done using a chemo sterilizer agent that is approved by the FDA.
In conclusion, clostridium difficile has been on the rise in recent decades and it is only through proper prevention and control measures that it can be. Since it can live in an environment in spore form for up to five months, it poses a challenge in terms of containment. On the other hand, the elderly are more susceptible to clostridium difficile primarily because of their low immunity and their prolonged stay in hospitals. However, with proper care, chances of outbreaks can be kept at a minimum and more lives can be through prevention instead of cures.
References
Delmée, Michel. "Clostridium Difficle Infection In Health-Care Workers." The Lancet 334.8671 (1989): 1095. Print.
Dubberke, Erik. "Strategies for prevention of Clostridium difficile infection." Journal of Hospital Medicine 7.S3 (2012): S14-S17. Print.
"Patient Cloth Chairs and Clostridium difficile Outbreak." American Journal of Infection Control 37.5 (2009): E102-E103. Print.
Rupnik, Maja. Abstract book: Clostridium difficile : organism, disease, control & prevention. s.l.: [Organizing committee ICDS], 2007. Print.
Zanotti-Cavazzoni, S.l.. "Analysis of an outbreak of Clostridium difficile infection controlled with enhanced infection control measures."Yearbook of Critical Care Medicine 2010 (2010): 164-166. Print.
"clostridium difficle." Centers for Disease Control and Prevention. Centers for Disease Control and Prevention, 1 Mar. 2013. Web. 30 Apr. 2014