Cloud Computing
Remember! This is just a sample.
You can get your custom paper by one of our expert writers.
Get custom essay
74 writers online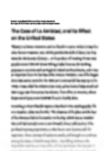 Is cloud computing a new rage, just a fad, a nebulous idea or a far-reaching trend? Cloud computing has become a buzz word in working and learning environments around the globe. Newsstands and Internet pages everywhere are inundated with articles, whitepapers and websites dedicated to defining the many facets of cloud computing such as hosting a website on the cloud, building a cloud infrastructure, cloud security, vulnerabilities, capabilities, pros and cons and cost. IEEE.org (IEEE CLOUD COMPUTING) has dedicated pages on their website to reference nothing but articles of interest and white papers surrounding cloud computing. The barrage of information can be daunting. Jon Oltsik (Oltsik) eloquently discusses industries' bewilderment with cloud computing when he writes:
When discussing cloud computing, I often think of Joni Mitchell's haunting lyrics from the song,Both Sides Now (jonimitchell.com). In Mitchell's world, clouds can be wonderful "ice cream castles in the air" or annoying disturbances that "only block the sun." This duality prompts Mitchell to declare, "It's clouds illusions I recall, I really don't know clouds at all."
Joni's cloud confusion mirrors current industry bewilderment over cloud computing. Like many other industry initiatives, cloud computing has a number of meanings.  Finally, industry confusion is no more. A guideline has been prepared by the National Institute of Standards and Technology (NIST). NIST is responsible for developing standards and guidelines, for all agency operations and assets for use by Federal agencies. In the guideline entitled, The NIST Definition of Cloud Computing, cloud computing (Mell and Grance) is defined as follows: A model for enabling ubiquitous, convenient, on-demand network access to a shared pool of configurable computing resources (e.g., networks, servers, storage, applications, and services) that can be rapidly provisioned and released with minimal management effort or service provider interaction. This cloud model is composed of five essential characteristics, three service models, and four deployment models.
In the guideline, NIST goes on to define the essential characteristics of cloud computing which include: On-demand self-service – where consumers access computing capabilities automatically without interaction with the cloud provider. Broad network access – where the ability to use common computing devices such as mobile phones, tablets, laptops, and workstations over the network is easy and accessible. Resource pooling – the provider is able to dynamically meet the computing resource needs of the customers no matter the demand. Rapid elasticity – computing capabilities appear to be unlimited to the customer and can be appropriated in any quantity at any time. Measured service – metering capabilities automatically control and optimize resource use (e.g., storage, processing, bandwidth, and active user accounts). Monitoring, controls, and reporting are provided for both the provider and consumer of the utilized service.
Microsoft offers a variety of cloud solutions for businesses and individuals. My favorite Microsoft solution is called One Drive (Microsoft), a solution to provide any user any time free online storage to share and store online pictures, video, documents in one place online. Simply create an online email account with Microsoft and through that account you can access all the tools you need to perform essential functions for work, home and play. One place for everything you need in your life. Google also offers a similar package called Google Drive (Google Drive). Google Drive's slogan is – One safe place for all your stuff. Upload photos, videos and any documents that are important to you. Google Drive also offers free blog and wiki sites for any user, any time, any place. Use most any device with Internet access to create a place to share thoughts and ideas. Google Drive access begins just like Microsoft's One Drive with the creation of a Google email account.
Of course, one of the primary focuses is cloud computing for businesses. Hundreds upon hundreds of businesses are jumping on the band wagon to help businesses migrate from traditional networking to cloud computing. Is cloud computing here to stay? I would say, definitely, YES! Although cloud computing may not be for all businesses, it is available for both large scale and smaller businesses. I personally worked for a startup electrical business where I created cloud capabilities where technicians up and down the east coast could login remotely using a laptop or smartphone and enter time worked onto timesheets, collaborate with the home office, retrieve technical documentation on the road and accept payment from customers on demand. Cloud computing seems to be a niche market at the moment and served well the small startup business from whom I worked. As for larger established enterprise networks, I believe they may not yet be ready to jump on the band wagon. I also worked for a large corporation supporting a federal agency and they are not yet ready to migrate. It is a possibility cloud computing may be an answer in the future but as of today, the federal agency I supported, is not yet ready for cloud computing.
Works Cited
Google Drive. March 2014. 2 March 2014 .
IEEE CLOUD COMPUTING. Cloud Computing Research Articles, Periodicals, & Technical Papers. December 2013. 28 Febraury 2014 .
jonimitchell.com. Both Sides Now and The Circle Game. 21 January 1968. 2 March 2014 .
Mell, Peter and Timothy Grance. The NIST Definition of Cloud Computing. September 2011. 25 February 2014 .
Microsoft. One Drive. 2014. 28 February 2014 .
Oltsik, Jon. Nebulous cloud computing. 17 December 2008. 28 February 2014 .