Coach Inc.
Published:
24 February 2016
Remember! This is just a sample.
You can get your custom paper by one of our expert writers.
Get custom essay
97 writers online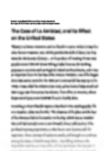 Recommendations and Justification
First, Lew Frankfort should continue to make new, high quality handbags that will impress customers. This will help Coach to continue to grow and prosper. New designs will help attract more customers to buy Coach products. The company can only benefit with new and unique products in the market. If Lew Frankfort can continue to do this Coach can be a leader in the market, which will help the company grow. Second, brand awareness should be increased. It can be increased through social media and e-commerce sites. This will help Coach be well known around the world. The more people know about the company and it's products the more customers it will attract. Third, Coach should protect its products against counterfeiting. Coach can do this by making sure that no patterns or fabrics are stolen so that they can be made into fakes that look similar to the authentic products. It should also pursue knockoff sellers in Asia. Knockoffs can attract customers to the shops that sell them, which will decrease the customers that shop at actual Coach shops. Fourth, Coach should continue to expand its market globally. It should increase its factory stores to help with the market. In the case it says that factory stores should be no closer than 50 miles from full price stores. This is important because it is a marketing strategy. All of this will continue to expand Coach. Finally, Coach should continue pursuing its plans to expand in Asia. Japan is an important market for luxury goods and China is suppose to become the world's largest market for luxury goods. Coach needs to build a presence in important locations where competitors have yet to expand to.
Dominant Economic Features (PESTEL)
Total luxury market is $220 billion with an expected growth rate of about 7 to 8 percent annually through 2015 to get to $350 billion. Most of the growth will come from China and India, which are some of the countries that seem to be emerging. In the case, Coach's specific target market is identified as being $24-$28 billion. Furthermore, the luxury handbag, leather goods and accessories market is at about $120 billion. It can be noted that the luxury brands are mainly targeted to wealthy customers who want a well-known luxury brand. This luxury brand market continues to prosper since many wealthy people want the status and value of owning these luxury products. It can also be noted that the luxury market is worldwide. The United States owns 30 percent of the market and Europe also owns 30 percent of the market. Additionally, all of these luxury goods companies use unique strategies to try and create high differentiation. These differentiating factors can include all of the following: styling, reputation, quality, image, and customer service. The case also shows that there is a growing desire for luxury goods by middle class consumers. This could be since most middle class families want to reward themselves with some form of luxury goods. Most of the luxury goods manufacturers in the case were vertically integrated into the function of retail stores. Other designers were made under the supervision of the designer while products by Coach were made by low-cost contract manufacturers.
Five Forces Model
There is a strong rivalry amongst competitors in the market. Interfirm rivalry is the strongest competitive force in this market. These competitors try to make their products of the finest material and newest styles to compete with one another. Buyers have little leverage in negotiating with manufacturers of luxury goods. Consumers do not have the ability to negotiate the price of luxury goods when in retail stores. According to the case Coach Inc. and several other luxury goods makers continued to maintain the same price each year. The consumers and retailer buyers are weak competitive forces in the market. The bargaining power and leverage of suppliers is also a weak competitive force. There is a competition from substitutes in the market. For instance, there are many substitutes for luxury goods in almost every product category. Several consumers who do not want a luxury good will purchase a substitute product because it is most likely at a much lower cost. There is not a really a threat of a new entry. This can be considered a weak competitive force since it is quite difficult for a new luxury brand to enter the market. The majority of current luxury brands have strong reputations that were built years ago. Because of this they have a strong sense of loyalty from their customers. In summary, there is a small chance of their being a threat of a new entry to take over the market. Buyers and suppliers have almost no leverage when negotiating with sellers, and the rivalry in the industry excludes price competition. Most consumers are brand loyal and want the actual luxury product, which shows that substitutes will not hurt the market much.
Driving Forces
As stated before Coach is looking to globalize by expanding in emerging markets in Asia. Coach will continue to expand through social media and e-commerce sites. There is a high preference for differentiated products. The more differentiated the better. Coach also wants to expand its market into Europe. Currently Coach is not very well known in Europe so it could drastically help the company with sales if they can get a growing market in Europe.
Market Position of Rivals
Coach's rivals are not leaders of the market as Coach is; however, they do still compete. For example, Coach is not as popular as some of the other competitors in Europe. Each rival has some unique aspect that continues to drag in customers. This could be the fabric, design, or quality of the product being sold. Not only that, but other rivals can be in a less competitive environment in certain countries which can give that industry the upper hand.
Key Success Factors for Future Competitive Success
To continue to succeed Coach needs to be innovative with all future products. This tends to attract more customers to the market. Coach needs to keep up with rivals to see what is selling that they do not have. This will help Coach compete against its rivals.
Industry Outlook
Coach as an industry is doing extremely well in the market. It is currently the leader of the market because of its effective marketing strategies. Competitive forces are growing stronger since they have some markets in continents that Coach is not as popular in yet. Furthermore, some of the competitor's branch out to male customers more that Coach does. The industry does have a sufficient competitive strength to defend against unattractive industry factors. The industry has a few problems here and there, but there is nothing severe. The industry still has plenty of room for growth. Coach can expand into Europe and into the men's market to grow
even larger.
How Well the Company's Present Strategy is Working
Coach is currently targeting the lower part of the luxury products (the cheaper part). This market provides the opportunity for more customers than more expensive markets. Coach targets the top 20 percent of Americans by household income unlike other markets who target the top 5 percent. Coach has a multi-tiered retail strategy that has full-price retail sores, department stores, and factory outlets. Coach's flagship stores carry all of the high priced products. Core stores have the widely demanded products. Having a discount factory outlet store allows Coach to maintain a year-round full price policy in its full price retail stores. Overall Coach has established a great competitive advantage. It's profit growth performance and its high volume of sales has shown the effectiveness of Coach's strategy.
SWOT Analysis
Coach has contracts that guarantee the company access to the highest quality leathers. Coach has negotiated offshore production contracts that helped deliver high product quality and low manufacturing costs. Coach has also leveraged existing brand names by adding various accessory lines. Additionally, Coach has built a multi-tiered retailing approach. They have also cultivated a strong brand awareness around the world. These are all of Coach's strengths at the current time. Some of Coach's weaknesses include: a small European presence. Coach is not very well known in Europe as it is in the United States and other parts of the world. Coach has a very small role in the men's market. Some of Coach's market opportunities are developing retail locations in Europe since it currently is not well known there. If Coach can do this it can open up a whole new market to increase its sales. Coach needs to develop new product lines that are geared towards men. Coach needs to expand into Asia in countries such as China, Japan, and India to help the growth of the company. Some external threats are as follows: weakened brand image and restricted sales outlook.
Company's Strength/Weakness compared to other Rivals
One of Coach's strengths is the industry's strong customer loyalty. Coach has customers who will pay a lot of money for one of its deluxe products and it has customers who have been fans of Coach product's for a long time. One of Coach's weaknesses compared to other rivals is the fact that it has very little European presence. Some of its rivals have a strong presence in Europe, but this is not the case with Coach. Not only that, but Coach has a very small portion in the men's market. Some of Coach's rivals have a strong presence in the men's market. Furthermore, Coach's penetration in ancillary markets is small when compared to some of its rivals. These are all of Coach's strengths and weaknesses compared to other rivals.