Coke & Pepsi learn to compete in India
Remember! This is just a sample.
You can get your custom paper by one of our expert writers.
Get custom essay
101 writers online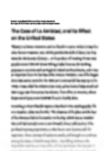 Timing of entry into the Indian market brought different results for PepsiCo and Coca-Cola India. What benefits or disadvantages accrued as a result of earlier or later market entry?
Coca-Cola (1990)
Benefits:
advantages as "Early-Follower", possibility to use reliable market information that´s
already existing
take-over of standards
position as international market leader
Disadvantages:
expert knowledge of competitors has to be overtaken
gain trust of new customers as "another" foreign company
PepsiCo (1986)
Benefits:
early entry while the market is developing
achievement of a good market position
enforcement of product standards
early impact on local producers (26% market share for Pepsi Food)
Disadvantages:
high costs for tapping a new market
local demand for carbonated drinks very low at that time
The Indian market is enormous in terms of population and geography. How have the two companies responded to the sheer scale of operations in India in terms of product policies, promotional activities, pricing policies and distribution arrangements?
Coca-Cola
Product policies:
focus on all beverages that are non-carbonated
Kinley Brand of bottled water
introduction of new brands, introduction of new size
"Mini" Promotional activities:
build a connection with the youth market
Business plan: "Think local – act local":
Lucky draws where you can win a free trip to Goa, TV campaigns, employing local and regional festivals and sport events, building a connection with the youth: use of music and ballet, short films, work with actors and actresses
Campaign slogan: "Cool means coca cola"
Retail outlet "Red Lounge" where the youth can spent time and consume
Coke products.
Pricing policies:
Low prices and later on even reducing of prices (Skimming pricing)
Price bundles ("Buy one – get one free")
Distribution arrangements:
Red Lounge
Focus on Southern India
Pepsi
Product policies:
bolstering non-cola portfolio and other categories:
fruit juices
juice-based drinks and water,
introduction of new products
Promotional activities:
Sponsorship of garba, TV campaigns, employing local and regional  festivals and sport events, sponsorship of Cricket and Football as well as a music video with Bollywood stars.
Pricing policies:
aggressive pricing policy (impact on local producer Parle)
Distribution arrangements:
focus on northern and western parts of India
Which of the two companies has better long-term prospects for success in India? Why? PepsiCo has better long-term prospects for success in India earlier market entry than Coca Cola non-cola portfolio makes one-fourth of the overall business in India (e.g. significant player in the packaged water market)  following the consumers lifestyle of sports and exercise through fitting advertisement not as bad as Coca-Cola involved in the pesticide accusation What lessons can each company draw from its Indian experience as it contemplates entry into other big emerging markets? It's not possible to transfer the complete marketing strategy from Europe or US to the Asian market.
You have to know about the cultural and governmental  specifics of the market where you want to be successful.
Communication policy: In India people interpret a policy of silence as guilt so the company has to get into a street
fight if something wrong is published. It's important to know much about the local market:
Which products are sold to which price? Who are the market leaders? How aggressive is the competition?