Communication and professional relationships with children, young people and adults
Published:
26 February 2016
Remember! This is just a sample.
You can get your custom paper by one of our expert writers.
Get custom essay
100 writers online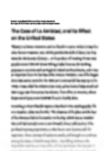 Principles
Effective communication is the key for developing and maintaining positive relationships with others. It helps build trust and encourage others to seek advices and share relevant information. We can strengthen or weaken someone's trust in us by what we say and do. To strengthen a relationship, be honest and open with them, and try to understand their point of views. Help develop a relationship with children by doing things that build their trust in you. This will show them how to trust others and behave in a way which helps others trust them.
Communication is a two way process and it is an active process that involves listening, questioning, understanding and responding. How we listen to others is just as important as what we say to them. The most effective form of listening for building good relationships is empathic listening. empathic listening means listening with the intention of really understanding what the other person means and how the other person feels. make an effort to see things from their point of view, they will feel supported and understood, and are much more likely to open up and tell us about what's happening in their lives and how they feel. Effective communication is not just about the words we use, but also about the way we are speaking and the body language.
If we all use effective communication, we are more likely to communicate information to one another if we have positive relationship. Misunderstandings always lead to bad feeling and resulted in people reluctant to give beneficial support.
The principle of relationship building with children and adults are that if others are comfortable in our company, they will be more likely to communicate effectively. To build a positive relationship, mutual respect is essential. Respecting others means being considerate towards them, thinking about their feelings and accepting that they may have different views and opinions to you. When you take all consideration to respect people, they would in turn respect you.
Good relationship also involves giving to others, for example, your time, consideration, kindness etc. When we give, it's most likely that others will give back and it's a mutual benefit. Mutual benefit is about two people will try to find a way to cooperate with each other because they want each other to benefit and keep the good relationship last. It may not always be easy to find a way that works for both people, but if we take the time to understand each other, we are more likely to find a solution.
Take time to listen to others. Focus on what they are saying to show that you are interested and respond appropriately. Tune in to their body language to try to work out what they are feeling and expressing. Try to see things from their point of view. Understanding make others feel comfortable around us. We can help children to understand that everyone is different and everyone see the world in different ways. If they accept and learn to value these differences in others, they are more likely to develop good relationships with others. In addition, the differences between the people in these relationships will inspire them to open their minds to creative ideas and new ways of thinking, and this build and strengthen a relationship.
In order to adapt our communication effectively, we need to understand who we are talking to and in different situations. The context of our communication makes a difference both in the way we engage with others and in the way they interpret our communication. Hold conversations at the appropriate time and place. Formal occasions like ceremonies and business presentations require more formal language and dress. Informal occasions like hanging out with your family or friends allow you to be more relaxed and casual. Jokes and slang words exchange with friends may not be appropriate at the work place or in school.
Know your audience, think about cultural and language differences. Language and the meaning of words have different meaning in different culture. Slang words can be normal in one culture can be offensive in another culture. However, the spoken word is not the only way in which we communicate to each other, it's also the way we respond to others via email, notes, letters, phone messages and text messages. These non-spoken forms of communication can be an issue if they are misread by others, therefore they require a conscious choice of words.
We also need to consider the words we choose base on the audience's age, education, background and literacy level of the person we talk to. Use appropriate words that they can understand so they may be find more easier and comfortable to connect and communicate with us.
Body language can be interpreted differently in different situations and different culture, for example, eye contact is generally a good way to connect with the person we are talking with, but in some culture, it's not polite to so.
Skills
Effective communication is a vital part of a Teaching Assistant's role. It's essential to send the right messages across to prevent any misunderstanding and offending others' feelings, especially children learn to communicate through the responses of others. To be able to have effective communication with children and young people, listening and building empathy are two of the essential skills for communication. Actively listen to the child that are trying to talk to you and make eye contact in a calm, open, non-judgemental, non-threatening way and use open questions to acknowledge what had been said. Make them know that you are interested in what they have to say and make them feel their contribution is valued. When they are talking, give them sufficient times to process their thoughts and opportunities to express themselves. Some children need a little bit of confident to speak up and by given some time to 'warm up', they will be able to do so.
Be able to adapt styles of communication to the needs and abilities of children and young people who do not communicate verbally, or communicate in different ways. For example, spoken language, visual communication, play, body and sign language, information and communication technologies to meet the needs of the individual child or young person and their families and carers.
Children should feel relaxed and comfortable in school to be able to have effective communication. We should encourage them to ask questions and put their ideas forward, as communication is a two-way dialogue and process rather than a one-way flow of instructions. This can in turn build respectful, trusting and supportive relationship with children and young people.
To have a positive relationship with children and young people, we will need to adapt our behaviours and communications accordingly. Different ages of children will have different requirements. Younger children may need more reassurance, more cuddle and physical contacts while older children want more space to be independent and help and support to lead them on the right path. While dealing with children in a variety of different situations, we must also consider the individual needs of the children. Some children will need us to be extra patient for them to get a word out. They might be feeling anxious or nervous and need to take their times to ease themselves before speaking up. Or some children require a one-to-one dealing only they are comfortable to talk to the adult.
In order to build an effective communication with children, the behaviour that we need to adapt are, tones of voice, gestures, body language, eye contact and showing respect. Although these behaviours are also similarities when communicating with adults, however, when communicating with children, we need to do so at the child's own level, be very clear and unambiguous in what we say. Asking question to check understanding, by showing understanding of the importance of giving attention so that the child feels that their contributions are valued and boost their self-esteem. Take time to listen to them and give them opportunity to encourage them for communication. Showing understating of the importance for them to express themselves and to be heard so that they will be able to express themselves with ease and in their own manners, words and time.
When communicating with adults, we need to be respectful and consider their point of views, needs and preferences. Use method that appropriate to adult than the methods that we use in children. We may have higher tones when speaking to a child and making funny voices to attract the child's interest, we may not do so when communicate with an adult. We also need to show understanding and respond positively to their views and suggestions, give information when requested. Ensure to them that there is organisational policy with respect to confidentiality and the exchange of information, importance of the confidentiality of shared information. Clarify any uncertainties in understanding. When communicate in an effective way we will build and effective and positive relationship with children, young people and adults.
It's also important to adapt our communication style to meet the needs of other adults in a fair, non-judgemental and effective manner. For example: 1. someone who speak English as an additional language – We may need to speak slowly and repeat what we are saying and check their understanding. Or we may need to provide a interpreter if the information is difficult to convey. 2. Someone with a hearing impaired – make sure to face the person when speaking to them and make eye contact so that they can lip-read. We may need sign language or someone who knows sign language to communicate with them. 3. Someone who has special needs in communication – speak clearly and slowly or use visual aid such as pictures, photographs, objects, symbols, written words and flashcards to make them more easier to understanding. Being sensitive and considerate to potential difficulties in communication is essential. It's important to be aware that people are different, many are come from different culture and adult can find communication difficult. Always respect others and their point of views and never make assumptions and come to the conclusion of what others are trying to communicate with us.
There will always be a time when you disagree with somebody, they're often inevitable. When disagreements build, conflict occurs. Managing conflict require skilful techniques. These techniques helps dealing with disagreements and the way we cope with it is important.
Often disagreements are down to lack of communication with others and as a direct result of misunderstanding. Always clarify the issued at hand and try to resolve the situation as soon as possible. The longer a problem is allowed to go on, the more difficult it will be to resolve it. This could resulted in bad feeling for each other. When a disagreement arise with children, where they are being disobedient, we would have to point out the boundaries and explain in a calm but firm way that it is not wise to cross the boundaries. Sometimes adults may not have the same ideas and has their own perspective on what has caused the conflict. It is best we deal with the conflict with calmness, listen carefully to their point of view and politely put forward our point of view or may need to work alongside other to explain why things need to happen in a different way in school. If necessary take time to make an appointment with the parents or carers to discuss situation in further details to clear out any misunderstanding. Sometimes certain situation can be sensitive, always deal with the issues not the emotions and the people involved. We can also deal with a difficult situation with positive body language, approach and speak in positive manners, remain calm and polite to make others feel ease and willing to resolve any disagreement.
Regulations
Anyone who work with children in any setting need to be aware that all information must be treated confidentially as stated in the Data Protection Act 1998. It is important that all member of staff must be familiar with the legislation and follow the guidelines. The Data Protection Act 1998 is the law that protects personal privacy and upholds individuals' rights. The act also gives rights to the people the information is about. By law, everyone in the workplace must follow the rules set out in the act and help to protect individuals' rights. When working in children's setting, there is certain information that has to be gathered in order to work effectively. However, we can only ask for information which is directly relevant, such as: health or medical information
records from previous schools
records for children who have special education needs.
Contact number and address
The act helps to make sure that the information held on computers and in some paper-based systems is managed properly. We must protect personal information by following the eight principles of good practice: processed fairly and legally
processed for limited purpose and in an appropriate way
relevant and sufficient for the purpose
accurate and keep up to date
kept for no longer than necessary
processed in line with the individual's right
kept secure
only transferred to other countries that have suitable data protection controls
Confidentiality is important within the school. All records are stored safely so that access is restricted to only those who are involved. We should not pass on information without following the correct procedures. It can have a serious impact on parents and their children. We are abusing our profession position by betraying their trust.
It is essential that we reassurance parents that all of their information is kept in confidential manner. Assure them that information will not be discussed with anyone. If for some cases, information of a child needs to be share with other professional such as the social service, parent consent would need to be given. Although not all information is confidential. There may also be cases where information on pupils need to be accessible to all staff, for example, where pupils have specific medical conditions such as asthma, so that all staff are aware of these pupils.
As a matter of good practice practitioners should inform children, young people and families about their service's policy on how information will be shared and seek their consent. All information is strictly confidential except if we are made aware of the child's situation that may or has caused harm to them. For example: when we suspect that the child is being abused
when there has been an injuries, illness or similar manner that medical staff need the information on how it might have happened the child is at risk of a sexual abused
We should at all time let the individual knows that we will not be able to keep confidentiality if they disclose something which we cannot keep to ourselves for these reasons as a safeguarding and the welfare of the child.