Communication Methods
Remember! This is just a sample.
You can get your custom paper by one of our expert writers.
Get custom essay
89 writers online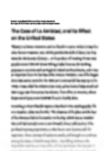 Drugs are constantly under scrutiny from various organizations. The removal of medication is costly in product and reputation. However, it is important that withdrawal of a drug, which may affect the safety of patient's withdrawal from the market, is imperative. Usually this prompts unexpected adverse effects that were not detected during clinical trials and apparent from surveillance of the data from the patient community. The scenario outlined involves the removal of medication from the shelves of hospitals, drugstores, and individuals home. It is imperative that communication reaches the masses in a concise and timely manner. The different types of communication are verbal, non-verbal, written and visual. Verbal communication simply involves face-to-face communication with another or group of people or communication over the telephone. For verbal communication, success requires the sender and receiver obtain what is required to make communication effective.
When communicating verbally tone, dialect, and language are important factors (Cheesboro, O'Connor, Rios, 2010). Non-Verbal communication involves communicating without words. Non-Verbal communication ultimately ties in with verbal communication, without even speaking your body language, eye contact, posture, and facial expressions are all communicating. Cultures also exist with non-verbal communication. Cultural difference exist in the way people greet each other, what gestures mean, how far or how close to stand when interacting with someone and so forth (Cheesboro, O'Connor, & Rios 2010). Written communication involves writing letters and emails. Written communication skills are just as important as verbal communication skills. Last, there is visual communication and the portrayal is through some form of visual aid such as; signs, drawings, power points, graphs and many others. When using visual communication verbal and written communication may be involved (Chessbor, O'Connor, & Rios, 2010).
Communication has advantages and disadvantages and traditional communication is still the number one form of communication to use if clarity is a primary factor. Traditional communication usually includes face to face or over the phone. When communicating face to face you always receives the opportunity to interact in a back and forth discussion. The use of non -verbal's, facials and gestures maybe an advantage to some and a disadvantage to others.
Disadvantages of traditional communication can be that conflict can be more intense and difficult to diffuse. Electronic communication is more prevalent but it still has its pros and cons. Many companies depend on electronic communication because information delivery occurs within different locations. There are also people that travel on their job and have no choice but to communicate through electronics.
Not only is electronic communication fast and convenient it is the source of communication which allows for the responses and flexibility in replying. Despite the many advantages of electronic technology in the workplace, there are potential disadvantages including, the possibility of decreases patient safety, and breach of confidentiality (Broussard 2013). Many caregivers or physicians have mobile devices usually supplied by their organization. The concern with phones at one's use at all time is the employee focus on sending a text or responding to an email versus delivery the appropriate care to the patient. Confidentiality concerns can come about form a simple phone conversation where names may not be spoken, but enough patient history and information is more than enough details. There is also the use of language. Being precise and complete is necessary when sending any form of electronic message (Cheesboro, O'Connor, & Rios, 2010).
Remembering basic grammar and formatting can go completely wrong. A professional email can become very unprofessional fast especially if the sender fails to review it prior to pressing send. With this concern comes the major issue of decrease in patient safety, possible violation of the HIPPA, patient safety, and breach of confidentiality.. Social media plays a major part in daily life for most people. Many advantages and disadvantages come along with using social media especially in a health care setting. First, the use of social media depends on the organization. Not every health organization is equipped or in need of the use of social media. However, when an organization does choose to use social media advantages can be the use of improved communication. Employees and others can discuss post and view new ideas and plans for the company (Society for Human Resources, 2012). There is an opportunity to gain more clients and reach a wider range of people especially if the organization is worldwide. Marketing opportunities are everywhere on social networks.
Disadvantages can be employees misusing the social network. Potentially results in negative comments from employees about the company or potential legal consequences if employees use these sites to view objectionable, illicit or offensive material (Society for Human Resources 2012). Technology is not perfect and is still prone to malfunctions. There is also the possibility of virus' or hackers to come about when organizations are using social media. When a health organization uses social media it is important to have basic rules and regulation set in place to help ensure efficiency versus misuse. In the health care world, patient confidentiality is a primary concern. HIPPA is what help to protect patient's personal medical information.
Electronic and social media communication use in health care communication enforces patient security and adherence to Joint Commission guidelines and rules. Maintaining confidentiality, however, is becoming more difficult. It was easy to ensure the protection of individual privacy when files are in paper folders. It was not a perfect method, but it worked because information is powerful and it must be available for all to review. Information systems and other technology now allow instant retrieval of medical information, along with widening access for a greater number of people (McCall, 2000).
The use of electronic and social media communication will ultimately affect HIPPA, because these forms of technology evolve in the health care world the HIPPA law must also transform and change continuously protect patients (McCall, 2000). The HIPPA law is in place to protect patients and although communicating through social media or any other form of electronics. The use of these forms of communication does put the exposure of private information risks. However, it is important for every health care organization to have their own set of rules and regulations to help prevent exposures.
Each entity engaged in electronic transmission of health information must assess potential risks and vulnerabilities to the individual electronic health data. Organizations must develop, implement, maintain, and document appropriate security measures based on the risk assessment (Peterson 2001). In conclusion, health care and communication go hand in hand. Traditional communication is still at the forefront in health care when it comes to efficient communication. Electronic communication is very convenient and necessary when it comes to many different job types. Lastly, social media helps to market and bring in new ideas to the health care field. Overall, Traditional, Electronic, and social media will continue to play a part in health care communication. As health care evolves communication, as well privacy and security methods must evolve as well.
References
Broussard, B. S., & Broussard, A. B. (2013). Using Electronic Communication Safely in Health Care Settings. Nursing For Women's Health, 17(1), 59-62. doi:10.1111/1751-486X.12007. Retrieved from http://www.EBSCOhost.com Cheesboro, O'Connor, Rios. (2010) Communicating in the workplace. New York, New York: Pearson Education. McCall, M. (2000). HIPPA regulations:Challenges for perspective leaders. Surgical Services Management, 6(10), 18. Retrieved from http://search.proquest.com/docview/237194292?accountid=458 Petersen, C. (2001). How private is private? HIPPA. SSM, 7(6), 49. Retrieved from http://search.proquest.com/docview/237195101?accountid=458 Society For Human Resources, 2012. Social Media:What are the advantages and disadvantages of social networking sites? What should we include in a policy? Retrieved from http://www.societforhumanresources.org