Communications and media. Persuasive Message
Published:
1 September 2015
Remember! This is just a sample.
You can get your custom paper by one of our expert writers.
Get custom essay
91 writers online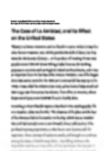 The importance of this letter is to familiarize our Supermarket, XYZ Supermarket Ltd, which has been active in the investment since 1990. Here at XYZ, we have introduced a State of the Art Bakery and new methods of branding farm products. In our Bakery, we are we are manufacturing new range of products like breads, new designs of cakes that are customized to meet the customers needs, Dairy products and other meat products. More so, we believe that great businesses are not born, they are made, and this is why we have made XYZ as one of the best customer friendly venture that have received great reputation and connections to many customers needs and other organizations. We are happy to let you know we have established close relationship with leading clients distributed all across the cities and the neighboring countries. Since beginning, we have successfully provided customers with cost effective goods in our business that operates around the clock.
XYZ also, offers other services like events planning and decorations such as wedding setups/parties , transport services to customers that purchases bulky goods while delivering these goods to any customers location at little fee. We are guaranteed that our investment strategies remain the leading in these business environments. Part of this letter, you will find enclosed information pamphlets, documents and brochures about us. Our services are offered after thorough considerations of our client's needs by charging normal fee.
We are fully aware that you are interested in the same options of company's goods and services, and you must need time to think about. Through our great pleasure, we have stocked new range of products that we believe might best suit your needs. After meticulous field research and surveys, we came up with new products directly from new business people from the agricultural market, whereby, other products are manufactured or blend within our business venture. As we are all aware, the Government has provided farms supplies, loan and other incentives to our farmers, and, therefore, agricultural production and improved greatly while new farm produce is getting to our existing markets. More so, new entrepreneurs are offering new products that we are stocking and, therefore, these products will be essential for you.
The new ranges of farm produce are produced in modern ways of farming especially the incorporation of technology in the farms. They are, therefore, of higher quality than the average ones already in other shelves. The new products are cost effective, fast moving goods that everyone is after, well packaged and more so, beneficial to our health especially in preventing and curing of common diseases. For instance, we are blending and manufacturing new range of breads from a wide variety of balanced protein, vitamin and vital fats' collected from the new farm produce. These breads are so enriched "you might be tempted to skip some meals" for their balanced and satisfying characteristics. Their packaging is so modern and attractive that everyone will be interested in looking or tasting. Brochures furnishing the details of each product have been enclosed with this letter. Being our esteemed customer, we would like to offer you a range of free products in our shelves before the current stock runs out. We are working with highly qualified staffs that assures every customer detail is handled and taken care of physically or through our business contacts 24/7.
Please note that we are working with new top sales representative, Mr. George Brown, as a Business Manager and being a former sales staff from Amazon Ventures Ltd in Paris. Mr. George has 21 years of experience in sales and marketing and was formally working in other great business companies like Virginia Green Garden, one of the largest importer and manufacturer of farm Produce in Europe. He is a graduate from Oxford University and recently completed his management studies from Michigan University. Through the combined experiences and expertise within our staffs, we have been ranked one of the best business investments and that we have developed close ties with staffs (clients) from IBM. We sometimes ask ourselves, if IBM staffs are interested with the Farm Products in our shelves, who else can't buy from us? We, therefore, introduce and welcome all of our esteemed customers including you to these new ranges of products.
Finally, we acknowledge your time and effort in reading this letter and hopeful that you may share our good news to your close colleagues especially by showing them some of the attached business brochures accompanying this letter.
Mr. George is available to ascertain the prior commitments and orders. Incase of any special arrangements or enquiries, our lines, are open and can also reach our Manager at 07-05-123456 anytime between 9 A.M to 8 P.M. Further contact details can be referenced from one of the brochures.
We are grateful for your concern in our Business.
Sincerely
……………………………
References
Communications and media. (1974). Sydney: London : Angus & Robertson.