Community Service
Published:
22 February 2016
Remember! This is just a sample.
You can get your custom paper by one of our expert writers.
Get custom essay
99 writers online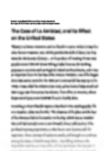 Being a nominee, I realize that the National Honor Society is an honor to be in itself. Since The National Honor Society is dedicated to helping the needy, children, the elderly and non-profit organizations. I feel that this is the right society for me because since I was a child, I have been noted for my exceptional empathy. My parents have always instilled in me a sense of responsibility and care for others. I feel obligated to utilize my gifts in an organization as prestigious as the National Honor Society. Over the past years as a scholar, I believe that I have demonstrated all four principles: scholarship, leadership, character, and service.
During my high school career, I have put a lot of effort into my schoolwork and have challenged myself with many advanced courses. I have successfully been competing with other students for the top position in certain subjects since elementary school.
I have received the Honor roll every year since I moved to the United States. Being selected as a potential candidate for the NHS proves my academics but what makes me a great candidate is not just my average.
It is difficult to narrow down the many instances where I have showed great leadership but many can be found in my involvements in teamwork. I have been looked to as a leader and have taken responsibility for various group projects. I have discovered much about fairness, compromise, and responsible qualities that are required to be a "good" leader. Often, I have had to sacrifice my own free time and personal desires for the benefit of the group. I believe this is the most important part of being a leader, the ability to sacrifice individual time and desires for the overall gain of the people that you are leading.
I haven't had much involvement in the local community but I have been a benefit to the internet community. I design and maintain web sites at my own cost and time and hold administrator and moderator positions in several popular online forums related to technology and computers. I spend over 20-hours a week on maintaining the sites. My main role is to answer people's questions and help them with technological problems. My skills are broad in this category. I have knowledge of several programming languages, including HTML, BASIC, PHP, and VB and also do graphic design. Part of my requirement, is to use those skills and help people that need it. The only payment I receive out of this is the pleasure and self satisfaction of helping others.
There are great qualities in my character and the following are only a few of the many. I have discovered that I have a lot of empathy towards the needy. I uphold principles of morality and ethics. I am very cooperative. I try very hard to be completely honest and reliable. I am not judgmental towards my peers' differences. I also am a very curious person by nature.
Due to my abilities and previous experience, I can be considered a valuable candidate because I demonstrate the qualities of leadership, scholarship, service, and character. I also feel that if I am fortunate enough to earn inclusion in the NHS, that I would do nothing detract from the prestige and respectability that is associated with the National Honor Society.