Compare and Contrast Maroubra and Kogarah
Remember! This is just a sample.
You can get your custom paper by one of our expert writers.
Get custom essay
87 writers online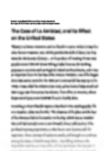 Maroubra and Kogarah are two suburbs located in Sydney, Australia. Maroubra is about 10 km to the south-east of the CBD while Kogarah is 4 km farther from the CBD to the south. They vary in many ways, but there are some things in common also. This report will compare and contrast in respect to the population, housing and services of the two suburbs. The two suburbs are broadly similar in people. Although Marouba's population is extremely different from Kogarah's, they still share several features in background. The ethnic composition of the two suburbs is diverse. The indigenous people in Maroubra create 53% while the percentage of native people in Kogarah is 47%. Furthermore, the majority of the two suburbs' immigrants are from Europe and Asia. Most people born overseas in Maroubra are British and Indonesia, whereas in Kogarah are from China and Greece. Housing in Maroubra is extremely different from housing in Kogarah. The average house and apartment price in Kogarah is lower than in Maroubra. The median price for house in Maroubra is approximately $1 million, but in Kogarah it is only $650,000. In addition, apartments vary in average price, about $500,000 in Maroubra and $420,000 in Kogarah. Because of expensive houses many people decide to live in apartment in both of the suburbs. Percentage of surburbans living in apartment in Maroubra is 42%, while in Kogarah it is 46%. Finally, there are similarities and differences in services of the two suburbs. On the one hand, the retail and hospitals in both of them have several things in common. There are a shopping centre, small shops and cafes. Although they both have private clinics but in Maroubra, it is about 3km to the maior hospital.On the other hand, the two suburbs have a lot of different aspects such as transport and education facilities. Unlike Kogarah, Maroubra does not have a train service so people driving to work create more than 50%. Additionally, there are many schools from private to public school but Kogarah has one college while Maroubra does not have any.