Comparison between Colgate and Close Up
Remember! This is just a sample.
You can get your custom paper by one of our expert writers.
Get custom essay
75 writers online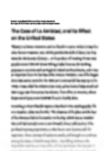 Colgate Sparkling White Cinnamint toothpaste is one of the newer cinnamon-flavored toothpastes on the market. Colgate knows it must compete with the long-reigning cinnamon toothpaste, Close-Up. How does Colgate Cinnamint compare to Close-Up? I put it to the test and will give you the results right here. First of all, I'm fond of cinnamon (real or artificial) and so I've always been fond of cinnamon flavored toothpaste. I like mint toothpaste too, but I frequently buy cinnamon-flavored toothpaste such as Close-Up. Until two weeks ago, Close-Up toothpaste has been the only cinnamon toothpaste I had ever tried. Colgate Sparkling White Cinnamint was a pleasant surprise. Here is how the toothpastes compare.
Taste
Close-Up toothpaste has a slightly different, more candy-like taste. It has a good, strong cinnamon taste, but Colgate Cinnamint has more of a bite. By that I mean Colgate burns a bit more (in a good way) and is less sweet (these two differences could be my imagination, but I don't believe so). Colgate has more of a pleasant, refreshing mouth-feel than Close-up. If you like toothpaste that makes your mouth tingle, you would probably prefer Colgate's Cinnamint over Close-Up toothpaste. The packaging proclaims that Colgate's Cinnamint has "Exciting Flavor!" As much as flavors can be "exciting" it does have this quality. Whitening power
Colgate Sparkling White Cinnamint wins this hands down. I am impressed with the whitening power of this toothpaste. To be fair, I will add that Close-up has a new formula out called "Whitening Cinnamon Sparkle Gel," which has "micro-crystals." These are probably similar to the silica crystals in many whitening toothpastes (like Colgate) which help remove surface stains. Still, regular Close-up, the Freshening Cinnamon Red Gel does claim to be a whitening toothpaste. As such, it loses to Colgate Sparkling White Cinnamint. Overall satisfaction
I like the flavor of both, but I like Cinnamint better. I also noticed my teeth looked whiter and brighter after just a few uses. In keeping the breath fresh, the toothpastes rate equally. Merely brushing the teeth regularly helps keep breath fresh, however, so this is not saying much. One other thing I have noticed is Colgate is not as "sticky" as Close-Up. I'm not sure what ingredient it is in Close-Up that makes it extra gummy, but one bad side-effect of that is it creates an unpleasant gumminess around the cap. Unless Close-Up is on sale for a great price, I would buy Colgate Sparkling White Cinnamint over Close-up. My mouth felt fresher and my teeth were whiter after using Colgate Cinnamint. Colgate Sparkling White Cinnamint wins this round over Close-Up.
Global Top Companies for Leaders — Fortune Magazine
CLOSE-UP, a toothpaste brand from has been conferred with the Product Excellence Award (PEA) in the maiden edition of the Nigeria Consumer Awards (NiCA). The Nigeria Consumer Awards (NiCA) was instituted by the Consumer Protection Council (CPC) to bestow awards and honours on those who contribute to enhanced consumer welfare, thereby improving the regime of consumer protection in Nigeria. Close Up was announced as the winner among three nominated brands in the Personal Care Products category at the award ceremony held recently in Abuja.
According to the organizer, the winners in the various categories of the awards were chosen by votes of consumers using the instruments of survey and text messages. "In guaranteeing the integrity and transparency of the process, the result of voting was verified and authenticated by an award verification panel made up of highly reputable members, drawn from a cross-section of organisations, namely, the Media, Organised Private Sector, National Association of Nigerian Students (NANS), Standards Organisation of Nigeria (SON) among others.
Speaking at the award ceremony, Minister for Trade and Investment, Olusegun Aganga, commended the CPC for organising the awards and stated that the organization must always reward products and services that excel in their areas of operation. Also, First Lady of the Federal Republic of Nigeria, Dame Patience Jonathan, who spoke through a representative said that consumers on their part must avail themselves of the opportunity to see their participation in the awards as an obligation that will, on a yearly basis, remind businesses that consumers are watching. She also called on all Nigerians, particularly Industry leaders and entire members of the business community, to take advantage of the platform to better the lot of the average Nigerian consumer.