Comparison of a national sample of homicides committed by lone and multiple perpetrators
Remember! This is just a sample.
You can get your custom paper by one of our expert writers.
Get custom essay
82 writers online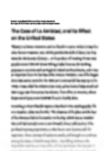 Homicides have been one of the crimes that are often committed in England and Wales. However, despite the great number of cases reported, there has been very minimal or limited research that could help establish the relationship between multiple-perpetrators of homicides the rates of homicides committed (Roscoe, et al., 2012). Furthermore, there is a lack of extensive research to help establish the effects of psychiatric differences that may contribute to the number of homicides. Research has indicated that there are many young people who are involved in homicides as well as those who have been convicted multiple times. Race also has been noted as one of the distinctive aspects of many cases of homicide. Previous research has indicated that most of the multiple perpetrators of homicide are likely to be young (Roscoe et al., 2012). Furthermore, they have come from minority ethnic groups and often are not married.
Over the years, there has been a rise in the number of homicides reported across England and Wales. The purpose of this research was primarily to help provide sufficient information regarding homicides in England and Wales. Furthermore, the research was aimed at helping to identify the relationship that exists between multiple perpetrators of violence and homicide rates in the two regions. Another purpose of this research was to help identify the relationship between age and the number of homicides that are committed in England and Wales (Roscoe et al., 2012). The authors of this research also aimed to provide much-needed information on homicides and multiple perpetrators of violence because there has been limited or minimal research conducted that can be relied upon to make conclusions.
The method of research involved the use of secondary data collected from various government databases on people who had been convicted for committing homicide. The researchers obtained records on the social and clinical histories of the participants, together with records of previous offenses (Roscoe et al., 2012). The researchers used questionnaires to collect data on participants who had mental health histories. Mental health teams and clinicians who had supervised the convicted persons completed questionnaires to help establish the mental health histories of the convicts. The questionnaires sought information regarding the characteristics of the offenders, the care provided, and their forensic and clinical histories (Roscoe et al., 2012). The researchers presented findings in the form of graphs and tables to help enhance understanding of the data and information.
The conclusion of this research indicated that there is a difference between lone and multiple perpetrators of homicide. This research also concluded that young people are commonly involved in homicide cases with multiple perpetrators (Roscoe et al., 2012). Gang members have been seen to be less involved in homicides as a result of being identified by police and the courts (Roscoe et al., 2012). Therefore, it is important that young people be provided with services that are supportive to help reduce the possibility of their involvement in homicide cases (Roscoe et al., 2012).
Reference
Roscoe, A., Rahman, M. S., Mehta, H., While, D., Appleby, L., & Shaw, J. (2012). Comparison of a national sample of homicides committed by lone and multiple perpetrators. Journal Of Forensic Psychiatry & Psychology, 23(4), 510-521. doi:10.1080/14789949.2012.704639