Compassion fatigue in nursing and how it relates to home health nurses
Published:
20 December 2015
Remember! This is just a sample.
You can get your custom paper by one of our expert writers.
Get custom essay
91 writers online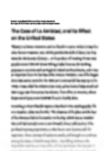 Compassion fatigue in nursing and how it relates to home health nurses
Introduction
            Compassion fatigue is the psychological, spiritual, and bodily exhaustion of nurses, especially those that provide care to patients suffering from high levels of physical and emotional pain (Anewalt, 2009). The phenomenon has been reported in many specialized lines of nursing care, including emergency care, cancer care RNs and casualty staffs (Lombardo & Eyre, 2011). Compassion fatigue has been commonly reported in Care giving nurses, as a unique burnout that limits their ability to show compassion or perform excellently in other spheres of care delivery. The phenomenon of compassion fatigue has been commonly reported among the nurses that provide care at home, especially where the nurse feels that they are not able to stop the pain of their patient (Yoder, 2010). The feelings of being desperate about the inability to manage or halt the suffering of the patient trigger the feelings of distress and guilt among the doctors and patients (Ward-Griffin, St-Amant & Brown, 2011). This paper will explore the phenomenon of compassion fatigue among the nurses that provide care at home, and the relevance of the subject to nursing practice.
Significance and background of Study
            There have been concerns that the nurses that provide home health care to parents, relatives, and friends, especially those providing care to their aging parents are more vulnerable to compassion fatigue. From the Canadian and the US environment, observations include that the years of many nurses have been increasing. The increment of the average nurse's age further implies advancements in the mean years of their parents. The advancing age of parents and relatives increases their burden of delivering home health care (Aiken, 2007; Newson, 2010). There has also been growing threat that the personal balance between the responsibilities of carrying out their duties at the hospital and caring for their aging parents has been a major issue for healthcare organizations.
            Unfortunately, there are no statistics showing the prevalence of double-duty delivery of care among these nurses. In the current study, the phenomenon of double-duty is conceptualized as working in a healthcare organization or setting, and then offering care at home, to parents or other relatives. However, the studies in the area, give indications that between one-third and half the number of nurses care for their aging relatives and friends (Ward-Griffin et al., 2009). Taking into account that the problem of an aging nursing population and the necessity to provide care to aging relatives correspond with one another. It became apparent that studying the issue of compassion fatigue was necessary (Ward-Griffin et al., 2009; Hsu, 2010).
The problem of compassion fatigue in care delivery
            Compassion fatigue is often the effect of finding distinctive constraints in the way of care delivery, whether the limitations are of a psychological, institutional or personal nature (Epstein & Hamric, 2009). These constraints are those that are likely to hinder the process of care delivery, because they inhibit the capacity to do what is considered morally right. One of the individual-based manifestations of the phenomenon includes the feelings of anger, aggravation and guilt/ self-blame, at being unable to deliver maximum care of the sickly or aged patients at home. The root causes of the problem in a nurse's work and professional life include the self-professed violation of professional or individual-based responsibilities and core values. The problem is usually overtly expressed or manifested, whenever it coincides with the experience of being inhibited from taking the decision and/or action that is thought of, as ethically appropriate.
            From a personal point of view, as a nursing practitioner, the principal values that I feel that I must devote myself to, including my God, family, work, and community. Among the four top focal points that demand my attention emotionally and physically, I have the inherent feeling that is serving the requirements of God and my family are the first priorities, because these social spheres are irreplaceable. The delivery of service to my workplace and the community is different, in that it is a personal choice. For example, it is personal, whether I am satisfied with the work offered by a healthcare facility. The same situation applies to the community of residence because the lack of satisfaction with the social fabric or the values of one society can be solved by moving into another one. One of the unfortunate events that demonstrated the experience of compassion fatigue, was the case that forced me to call in an oncologist friend, so that she could deliver care to my mother, after I was called in for an emergency at the healthcare centre (McCarthy & Deady, 2008). After being called for the emergency duty, I tried to avoid the task so that I could deliver care to her, but it was unfortunate that the hospital reported having attempted to reach other nurses unsuccessfully.
            At that point, the decision and the emotional turmoil resulted from the feelings that I would be turning away from delivering the best care that I wanted my mother to receive. The home health (personal) responsibility also had to be balanced off with the need to provide care to the at-risk patient facing the risk of death at the hospital. At the end of the ordeal, I had to call the friend, so that she could check on my mother, as I rushed to the hospital to save the patient under emergency care (McCarthy & Deady, 2008). The phenomenon has also been apparent in the cases where I have had to be called in for the facility, while delivering care to the home health clients that have contacted me to offer care outside my official hours of work (Hamric & Blackhall, 2007).
Knowledge development around the problem of Compassion fatigue
            In order to continue to develop knowledge for practice improvement in this core area of service delivery, I will explore the fields of nursing that are at higher risks of suffering from compassion fatigue. One of the studies that have been instrumental, and one that will continue to be, is that by Bourassa (2009). The study pointed out that some nursing groups are more vulnerable. The groups that are at a higher risk of suffering from compassion fatigue include social workers, support staff for the victims of domestic violence, oncologists, genetic consultation nurses, and palliative care nurses (Bourassa, 2009). Through the study of the various fields of nursing care delivery, I discovered that they all share some common characteristics, including that they are caregivers for vulnerable groups. The sources of the compassion fatigue are that they all tend to internalize the suffering of the patients suffering from life-threatening conditions and the abuses experienced by the victims of ill-treatment. Other groups that are at high levels of vulnerability to developing compassion fatigue include those that deliver care to helpless patients. These lines of nursing care include those working in the conditions of mental care; end-of-life and pediatrician care (McCarthy & Deady, 2008).
            Towards developing more knowledge and exposure in the professional skills and the discipline needed to deal with the problem of compassion fatigue, I have enrolled in courses on compassion fatigue. Apart from starting a course on compassion fatigue, with the Traumatology Institute, I have joined their professional network, which offers its members with updated information from practice-based research and changing practice dynamics (Traumatologyinstitute, 2014). Further, from a study done by Potter and colleagues (2013), it was found that the training and development delivered through compassion fatigue hardiness courses were effective in increasing a nurse's knowledge stock. More importantly, the study reported that the programs were effective in improving the nurse's ability to counter the adverse effects of compassion fatigue. The findings of the study showed that secondary trauma effects reduced drastically, immediately after starting the resiliency training. Therefore, this will be another important source of education and development, as well as knowledge development for more advanced care delivery. The measures of progress will be the number of training hours accessed, and the scores attained on a variety of scales. This includes the "IES-R (Impact of Event Scale-Revised) and the ProQOL (professional Quality of Life" levels (Potter et al., 2013). The ProQOL measurement model will be the most critical test, and the analysis tool is included as an appendix at the end of this paper (Baranowsky & Gentry, 2010).
Outside resources for knowledge development
            Evaluation of a compassion fatigue resiliency program for oncology nurses. Oncol Nurs Forum, 40 (2), by Potter and colleagues will be an imperative resource for improving my knowledge of compassion fatigue and updated care models. The source will be very helpful because it has reported the effectiveness of resiliency training, which is an important piece of my quality improvement plan.
            The Traumatology Institute, apart from being the provider of the courses I plan to take, on compassion fatigue is paramount. The benefits to be enjoyed from being a member of the institute include that I will get access to their periodic publications, which reported evidence and practice-based findings and information (Traumatologyinstitute, 2014).
Potential barriers to knowledge development
            The first primary hindrance is lacking enabling resources and structures. For example, at the health facility I am attached to, there are no resources that can offer useful information on compassion fatigue (Shariff, 2014). The second barrier is monetary, because my finances will limit me from joining more professional institutions and courses like Traumatology Institute.
Conclusion
            Compassion fatigue has been defined in many ways, but its key features are psychological and physical exhaustion, due to the provision of care to patients or groups suffering from high levels of pain and suffering. The phenomenon is common among oncologists among other lines of nursing. The issue is crucial to my practice, as a nurse, because I often encounter conflicts between caring for my family and meeting professional demands. Towards the expansion of the knowledge developed around the issue of compassion fatigue, I have joined a learning institution and will be self-administering tests to gauge my levels of compassion fatigue.
References
Aiken, L. (2007). U.S. Nurse Labor Market Dynamics Are Key to Global Nurse Sufficiency. Health Serv Res, 42 (3 PT 2), 1299-1320.
Anewalt, P. (2009). Fired up or burned out? Understanding the importance of professional boundaries in home health care hospice. Home Healthcare Nurse, 27 (10), 591-597.
Baranowsky, A.B., & Gentry, E.J. (2010). Trauma Practice, Tools for Stabilization and
Recovery (2nd Ed). Oxford: Hogrefe Publishing.
Bourassa, D.B. (2009). Compassion fatigue and the adult protective services social worker. Journal of Gerontological Social Work, 52, 215-229.
Epstein, E., & Hamric, A. (2009). Moral Distress, Moral Residue, and the Crescendo Effect. J Clin Ethics, 20 (4), 330-342.
Hamric, A. B., & Blackhall, L. J. (2007). Nurse-Physician Perspectives on the Care of Dying Patients in Intensive Care Units: Collaboration, Moral Distress, and Ethical Climate. Critical Care Medicine, 35 (2), 422-429.
Hsu, J. (2010). The relative efficiency of public and private service delivery. World Health Report (2010) Background Paper, 39, 4-9.
Lombardo, B., & Eyre, C. (2011). Compassion Fatigue: A Nurse's Primer. The Online Journal of Issues in Nursing, 16(1), 1-8.
McCarthy, J., & Deady, R. (2008). Moral Distress Reconsidered. Nursing Ethics, 15(2), 254-262.
Newson, R. (2010). Compassion fatigue: Nothing left to give. Nursing Management, 41(4), 42-45.
Potter, P., Deshields, T., Berger, J. A., Clarke, M., Olsen, S., & Chen, L. (2013). Evaluation of a compassion fatigue resiliency program for oncology nurses. Oncol Nurs Forum, 40(2), 180-7.
Shariff, N. (2014). Factors that act as facilitators and barriers to nurse leaders' participation in health policy development. BMC Nursing, 13, 20.
Traumatologyinstitute. (2014). Compassion Fatigue Courses. Traumatology Institute. Retrieved from: http://psychink.com/training-courses/compassion-fatigue-courses/Ward-Griffin, C., St-Amant, O., & Brown, J., (2011). Compassion Fatigue within Double Duty Caregiving: Nurse-Daughters Caring for Elderly Parents. The Online Journal of Issues in Nursing, 16(1), 1-9.
Ward-Griffin, C., Keefe, J., Martin-Matthews, A., Kerr, M., Brown, J.B., & Oudshoorn, A. (2009). Development and validation of the double duty caregiving scale. Canadian Journal of Nursing Research, 41(3), 108-128.
Yoder, E. (2010). Compassion fatigue in nurses. Applied Nursing Research, 23,191-197.