Compensation Strategy
Remember! This is just a sample.
You can get your custom paper by one of our expert writers.
Get custom essay
100 writers online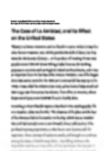 1) Briefly describe the company you researched, its compensation strategy, best practices they are applying, and compensation-related challenges they are facing. Marriott International, Inc.-formed in 1993 when Marriott Corporation split into two separate companies-is the world's leading lodging and contract services company. Marriott International has two operating groups: Marriott Lodging, which generates about 60 percent of company revenue, and the Marriott Service Group, its contract services operation. Marriott Lodging manages or franchises more than 1,350 lodging properties under 10 hotel brands worldwide. It also operates more than 30 timeshare vacation properties through Marriott Vacation Club International, and 25 U.S. conference centers through Marriott Conference Centers. The Marriott Service Group includes Marriott Management Services, which provides food and facilities management for business, education, and health care clients; Marriott Senior Living Services, which manages 75 senior living communities; and Marriott Distribution Services, which operates 15 distribution centers nationwide that provide food and related products to internal Marriott and external clients. Marriottinternational.com
Compensation strategies
Culture and Global Diversity and Inclusion
Marriott founder, J. Willard Marriott coached managers to "take care of your employees and they'll take care of guests." It's this philosophy that is the cornerstone of our culture and the foundation of our success. We are committed to providing an environment where employees have the opportunity to achieve their potential, are highly engaged and are empowered to deliver great guest service. We are proud that our inclusive culture is the main ingredient that sets us apart from other companies. We know that when our employees feel valued and respected, they'll help make our guests feel that way too.
At Marriott, everything they do is built on their culture of "people first." From investing in their employees' health and well being, to rewards for hard work and recognition for length and talent in service, Marriott is proud to reward and recognize their employees for the work they do everyday. In addition to competitive benefit packages (which may vary by country according to employment laws and practices) Marriott employees enjoy: Valuable room rate, food and beverage, and retail discounts at global Marriott locations Well-known training and learning opportunities and educational assistance to ensure you're equipped to do your job and prepared for the next step in your career Employees for the work they do everyday.
In addition to competitive benefit packages (which may vary by country according to employment laws and practices) Marriott employees enjoy: Valuable room rate, food and beverage, and retail discounts at global Marriott locations Well-known training and learning opportunities and educational assistance to ensure you're equipped to do your job and prepared for the next step in your career Workplace Recognition
At Marriott they recognize their employees for their commitment to delivering exceptional guest experiences and their passion for our business, including recognition of: Non-management employees who demonstrate outstanding commitment to our guests, and recognition of managers who demonstrate exceptional leadership each quarter. Employees for their contributions to the success of their location as well as demonstrating commitment to their local communities. Years of service, at 5 year intervals.
Employees with 25 years of service with free weekend stays at Marriott properties around the world. Best practices and related challenges
As one of the world's largest hotel brands, Marriott International employs approximately 110,000 associates in its 700 managed U.S. hotels. With a large staff and significant safety challenges, Marriott has developed a sophisticated and innovative workers' compensation program, recognized by the 2007 Theodore Roosevelt Workers' Compensation Award committee as one of the best programs in the country. The objectives of Marriott's workers' compensation program are simple: promptly respond to workplace injuries with quality medical care and return associates to work as quickly and safely as possible—all while controlling costs. The program has an impressive track record of success—over the past five years, its claims frequency has dropped by 15 percent, and claims costs also decreased by 15 percent. 2) Analyze how your company applies compensation practice to determine the positive or negative impact to the company and its stakeholders.
The Compensation Policy Committee (the "Committee"), which is composed solely of independent members of the Board, assists the Board in fulfilling its responsibilities relating to executive compensation. The Committee is responsible for overseeing compensation programs that enable the Company to attract, retain and motivate executives capable of establishing and implementing business plans in the best interests of the shareholders. The Committee, on behalf of and in certain instances subject to the approval of the Board, reviews and approves compensation programs for certain senior officer positions. In this context, the Committee reviewed and discussed with management the Company's Compensation Discussion and Analysis required by Item 402(b) of SEC Regulation S-K. Following the reviews and discussions referred to above, the Committee recommended to the Board that the Compensation Discussion and Analysis be included in the Company's annual report on Form 10-K and this proxy statement.
The Committee reviews individual base salaries for the NEOs each February for the current fiscal year. As a part of this review, the Committee considers whether base salary levels are commensurate with the executives' responsibilities and the external market. For 2011, management recommended a 3.5% salary increase for each of the NEOs, except for Mr. Berquist for whom management recommended a salary increase of 5.0% based on a review of market data. The increases, as shown in the table below, were consistent with the increase for all eligible management associates and with salary increases in the marketplace. The Compensation Consultant reviewed and supported the recommendation, which was approved by the Committee and, with respect to Messrs. Marriott and Sorenson, by the Board.
To promote growth and profitability, the Company maintains two annual cash bonus plans: the Marriott International, Inc. Executive Officer Incentive Plan ("Incentive Plan"), which focuses on a diluted EPS objective, and the Marriott International, Inc. Executive Officer Individual Performance Plan ("Individual Plan"), which targets several other financial, operational and human capital objectives for the year. Together, the plans are designed to provide executives with appropriate compensation incentives to achieve identified annual corporate and individual performance objectives. At its February 2011 meeting, the Committee approved the specific performance objectives under each bonus plan for 2011. In February 2012, after the release of the 2011 fiscal year audited financial results, the Committee reviewed each NEO's performance The Incentive Plan rewards executives for the Company's achievement of pre-established Company financial objectives. The Incentive Plan payout represents 60% of the total annual bonus opportunity under the combined Incentive Plan and Individual Plan for all named executives other than Mr. Capuano, for whom it represents 10%.
For Mr. Capuano, the largest relative component of his annual bonus opportunity is room growth, consistent with his primary area of responsibility. In 2011, the Incentive Plan focused entirely on diluted EPS performance. The Company places a heavy emphasis on diluted EPS as a performance measure because diluted EPS is an important indicator of Company profitability and aligns the interests of management with those of shareholders. For the purpose of the Incentive Plan, the Company uses diluted EPS as reported under U.S. GAAP, as may be modified during the target-setting process for items that are not expected to have a direct impact on the business going forward. Although no such adjustments were made during the target-setting process for 2011, in February 2012 the Committee adjusted the diluted EPS target and diluted EPS results to reflect the spin-off of the Company's timeshare business as described below. www.files.shareholders.com 3) Examine the ways in which laws, labor unions, and market factors impact the company's compensation practices. Provide specific examples to support your response. There are six main forces in any company's Macro-environment.
Political
Political factors can affect the company's macro-economy. As it did when there was a blast in Islamabad in 2008, which had a negative effect on the business of the company. People get scared and loyalty guests of Marriott were lost to some extent.
Economic
Keeping in mind the competition by major hotels like Hilton the Marriott has an extensive growth plan with many projects pipelined in 2011 in many countries like India, Vietnam, China, etc.
Socio-cultural
Marriott contributes towards American Red Cross societies by driving towards the blood donation rides by the employees contributing towards disaster relief and it contributes towards the Red Cross relief fund annually. The
company supports Children Miracle Network's since 1983 and was the first to support. Marriott Vienna started supporting the SOS children groups in 2004. Marriott got many rewards ³America most admired company award.´- (fortune magazine 2000-2007) 250 properties of Marriott hotels have ³ENERGY STAR´ label Technological
Marriott have developed a lot since 1998. Earlier reservations were just done by calling on particular numbers or by travel agents, tour operators. Currently they have centralized reservation system where you can book the hotels from anywhere in the world. They have accurate room rates on their website. Environmental factors
Marriott international is very environmental friendly brand. Most of the amenities used are eco-friendly and have water recycling plan 4) Evaluate the effectiveness of traditional bases for pay at the company you researched. Key Objectives for an Effective Pay System
• It should encourage people to develop the kind of skills that will make them more productive, will enhance their self-esteem/self-worth, and will help the organization become more effective. • The pay system needs to attract and retain the right kind of individuals for the organization. • It should reinforce the kind of behaviors the organization needs in order to be effective. • It must motivate performance
• It should impact the culture of the organization in a positive way. Some specifics could include: – Have at worst a neutral impact on labor management cooperation – Contribute to teamwork or at least not get in the way of teamwork – Support the idea of life long learning as appropriate
• It should have some cost dimensions that are favorable for the organization such as being competitive in the marketplace. Center for competitive management