Corporate Finance Case Study: Volkswagen
Remember! This is just a sample.
You can get your custom paper by one of our expert writers.
Get custom essay
72 writers online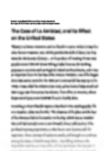 Volkswagen (VW)
Volkswagen (VW) is a German automobile manufacturer which was originally founded in 1937. Now VW Group is one of world's leading automobile manufacturers and the largest carmaker in Europe, with its recent headquarter in Wolfsburg. VW is one of the ten brands under VW Group. (Volkswagen Homepage, 2011) 2011 VW's revenue is 159,337 million EUR; net income is 15,409 million EUR, with a profit margin of 9.6707%. (Bloomberg, 2012) The increase from 2010 to 2011 is illustrated obviously in the following chart. (Bloomberg, 2012)
Income Statement for Volkswagen AG (VOW) 2010-2011, Bloomberg, 2012 Volkswagen stock (VOW: GR)
The current share price, close (Apr 13, 2012) is 119.3 EUR, its 52-week range is 82.350 – 138.800 EUR, and its 1-year return is 14.26%, as well as, market capitalization is 56,601.00 million EUR. (Bloomberg, 2012) Interactive One-year Stock Chart for Volkswagen AG (VOW), Bloomberg, 2011-2012 VOW's Earning Per Share (ttm) is 33.1 EUR, current P/E Ratio (ttm) is 3.5408, and Dividend Per Share (yield annualized) is 1.8771 EUR. (Bloomberg, 2012) SWOT Analysis
In order to draw a conclusion for VW's stock rating, SWOT analysis is conducted in this part. Strengths
High product quality
Strong brand equity
VW group's brand portfolio includes Audi, Bentley, Bugatti, Lamborghini, SEAT, 49.9% of Porsche, Giugiaro, Škoda marques and the truck manufacturer Scania and MAN. (VW Homepage, 2012) Strong R&D
Weaknesses
High costs for implementing the new modular technology (Just-auto, 2012) Inadequate focus on shareholder interests (VW Corporate Governance Code,
2010) Comparatively low productivity
Opportunities
Good return on VW stocks
VW Group Share EPS 2003-2010, VW investor relations, 2012
Large purchasing power increase in Chinese market
Acquisitions
The Volkswagen Group continued its strategic growth trajectory by acquiring Porsche Holding Salzburg and increasing its stake in MAN SE. (VW ad hoc, 2011) Threats
Euro-zone's debt crisis and consequently global recession in 2011 Increasing fuel price
Strong competition from Japanese and American manufacturers
Such as Ford, Toyota, Honda, e.t.c.
Stock Rating
The investment decision made in this report is to hold VW stock, namely equal-weight as its stock rating. First of all, VW has good performance last year; for instance, both VW's revenue and net income grew considerably from 2010 to 2011, even with the negative influence from European debt crisis in the 4th quarter of 2011. Moreover, last year VW Group continued its strategic growth by acquiring 49.9% of Porsche and increasing its stake in MAN SE. This year only in January and February, VW Passenger Cars' delivery to customers reached the number of 818,800, with an 8% growth comparing with the same time of last year. In addition, VW's market is growing continuously and dramatically in China these years. Until 2018, VW's goal of market growth in China is 29.1%. (VW strategy 2018, 2012)
Secondly, VW share's valuation and earning kept growing stably under the recent years, expect 2009. For example, stock's EPS grew substantially from 2005 to 2010, which is illustrated clearly in VW Group Share EPS 2003-2010 chart above. Last but not least, from the long-term perspective, VW has very good potential of strategically growth. According to VW's strategic plan 2018, their future vision is to become the world's most profitable, fascinating and sustainable automobile manufacturer. Furthermore, even today VW has already very high customer satisfaction (rating scale 8.55 out of 10, 2011) because its high quality and service standards.
In order to draw a conclusion, if we look into the previous SWOT analysis again, today's internal weakness could become tomorrow's strength; applying new modular transverse toolkit technique would bring large profit to VW in the long-run, in spite of today's high R&D and implementing costs. Thus, VW share is a good choice for long-term investment. Nevertheless, taking the external threats into consideration, especially facing nowadays' depression for both automobile industry and global economy, stock investment should be very cautious, therefore, in summary, we rated VW stock as equal-weight, which means it is recommended to hold the share as long-term investment.
References
Bloomberg, 2012. http://www.bloomberg.com/quote/VOW:GR
Just-auto, 2012. http://www.just-auto.com/news/4-volkswagen-hikes-2011-operating-profit-59-to-new-record_id120644.aspx Volkswagen Homepage, 2011. http://www.volkswagenag.com/content/vwcorp/content/en/homepage.html VW strategy 2018, 2012. http://www.volkswagenag.com/content/vwcorp/info_center/en/talks_and_presentations/2012/03/JPK_IK_2012_Part_III_.bin.html/binarystorageitem/file/Part_III_Charts_Winterkorn.pdf