Monkey story. Creative Writing
Published:
6 January 2016
Remember! This is just a sample.
You can get your custom paper by one of our expert writers.
Get custom essay
95 writers online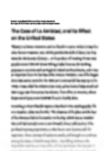 Monkey story is one of the most intriguing stories in the history of China. It involves the famous monkey and its endeavor to be strong and famous. First, the monkey was born in a stone that was worked in heaven and earth and through the uniqueness; he was able to make himself the king of the monkeys. He is very happy as a king and he thinks that he is immortal. He even embarks on journeys that will ensure that he cheats death. Fortunately, on his journey he manages to find a patriarch who is willing to teach him all the magic that he requires to know. After the lessons, he feels that he is stronger than the other students are and starts showing and he is banished as a result (Wu 56).
Upon his return home, he finds himself and manages to kill a demon hence freeing the other monkeys. He continues to be mischievous and the emperor of heaven declares war on him. However, he hardens the body very much and it is not possible to punish. Consequently, he is tricked by Buddha to live under the mountain until somebody comes to save him. The events are paramount in the character development of the monkey since the journey reveal the actual character of the monkey (Wu 56).The patriarch appears to be the most important person in development and character molding of the monkey. He shapes the monkey into what he becomes. He teaches the monkey stone magic the fact that makes him very arrogant. The arrogance contributes to the eventual action of the emperor declaring war on him. The magic that patriarch gave the stone monkey helps him to kill the demon and frees the other monkeys hence proving it crucial. Finally, the most significant event in the journey of the monkey is the time he encountered a demon and killed it. The killing of the demon makes it clear that he is strong and he can defend the other monkeys from attack by the demons (Wu 67). The demons are attacking the monkeys and hence the action of the monkey is proved important in the end.
Reference
Wu, Cheng. Monkey. New York: Grove Press, Inc., 1958. Print.