Crime Essay Outline
Remember! This is just a sample.
You can get your custom paper by one of our expert writers.
Get custom essay
85 writers online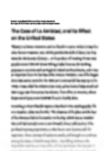 Critically examine the methods used to measure crime in Australia. In your answer you should discuss the following: How are crime statistics collected, collated and used? What are the strengths and weaknesses of official statistics versus unofficial statistics and alternative methods? How might these weaknesses be overcome?
Introduction:
By measuring crime, accurate crime data can be used for access the effectiveness of public policies, including the measurement of crime trends and the evaluation of crime control initiatives (Weatherburn 2011). This essay will discuss how crime statistics be used in Australia, the variances between official and unofficial statistics and the solutions of the weaknesses of official statistic. The definitions of concepts:
Official statistics- They are produced by government institutions such as police offence information systems and Australian Institute of Criminology.
Unofficial statistics – They are produced by people and agencies that are not involved in the criminal justices system.
The methods used to measure crime
According to Addington (2010), the main sources of crime data are crimes report from police, victim surveys and self-report surveys. Police recorded crime statistic
Easy to conduct
Including information about the nature of the recorded crime, location, time, what weapons were used etc. (Weatherburn 2011). Regionally and nationally
Reliable
Police were trained under criminological background
Police are experienced
Victim surveys
Measure the dark figure of crime
Crimes reported to an interviewer by the victim
Nationally
Based on sample of address (Block, C. R., Block R. L. 1984)
Six index offenses
Rape, aggravated assault, robbery, burglary, larceny, and automobile theft (Decker 1977) Self-report surveys
Rarely reported to police
Examples are illegal drug use and tax evasion (Weatherburn 2011)
The advantages
Official statistics
Administrative data such as data from state and Territory police forces, courts, hospitals, community services (Browyn 2004). Represent an official record of crime
Up-to-date information (Browyn 2004).
Can be used for comparative purposes and deduction of crime trend.
The limitations
Official statistics
Not all crimes committed are detected
Not all crimes committed are reported
Attitudes about the potential effectiveness of police in handing matters (Browyn 2004). Who are involved in an incident (Browyn 2004).
The possible implication for victims (Browyn 2004).
Not all crimes reported to police are recorded
Technical difficulties
A lack of sufficiently precise definitions for the phenomena to be measured (Security Publique Quebec 1993). A lack of uniformity or rigour in administrative practices used to compile the date (Security Publique Quebec 1993). Statistics only reflect the visible face of crime and do not make it possible to measure all the crimes perpetrated (Security Publique Quebec 1993). Selective use of data
The lag in reporting
Solutions
Ensure independence (UK statistics Authority 2010)
Public confidence as a target
A augment that statistics needed to be at heart of policy-making and performance management Reinforce supervision on media
The media plays an important role in forming people's views on official statists (UK statistics Authority 2010). 'The misreporting and under –reporting apparently endemic in current statistic has led to their widespread devaluation' (Skogan 1975) Prevent from abuse of official statistics
Conclusion
Official statistics are more credible but need to overcome their weaknesses. There are two possible options which are ensuring independence and reinforcing supervision on media can be considered as solutions in this paper.
References:
Block, Carolyn R. , Block, Richard L. (1984) 'Crime definition, crime measurement, and Victim Surveys', Journal of Social issues, Vol. 40, No.1, pp 137-160 Browyn, H. (2004) 'measuring crime in Australia', crime in the community, chapter 4, pp 64-78 Decker, Scott H. (1977) 'Official crime rates and victim surveys: an empirical comparison', Journal of Criminal Justice, Vol. 5, pp 47-54 Lynn A. Addington (2010) 'Measuring Crime', Oxford Available from Oxford Bibliographies [30 March 2014] Security Publique Quebec (1993) 'Partners in Crime Prevention: For a Safer Quebec Report of the Task Force on crime prevention' Skogan, W. G. (1975) 'Measurement problems in official and survey crime rates', Journal of Criminal Justice, Vol3, pp17-32 UK statistics Authority (2010) 'Overcoming Barriers to Trust in: Crime Statistics: England and Wales', Monitoring report 5 Weatherburn, D. (2011) 'Uses and abuses of crime statistics' Crime and Justice Bulletin, no. 153