Crisis and Trauma Counseling
Published:
2 November 2015
Remember! This is just a sample.
You can get your custom paper by one of our expert writers.
Get custom essay
92 writers online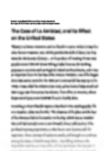 Crisis and Trauma Counseling
Introduction
            Wright who is the author of this book begins by discussing his own individual dilemma where he had to make a decision. Wright narrates a life story which serves as a basis through which the human decision making subject is built. Wright uses this approach to relate to his reader whilst examining trauma counseling and also personal crisis. Wright defined the crisis nature where he depicted that there is no individual who can escape the crisis inevitability. In this regard the author stated that individuals should always be prepared on how to deal with crisis which is a critical issue. In this book focus eventually shifts to describe the biblical ways which can be used in helping individuals to pull through from the traumatic experiences. Through his book, Wright shows a strong understanding of emotions and feelings of the people (Wright, 2011).
Abstract
            This book depicts the Christian mission in assisting those who are in dire need in a manner that Jesus did. In the book, Wright provides valuable information that would serve as an asset for lay person or Christian counselors. He also discusses about the life of Jesus where he states that Jesus was and even now is a model to be emulated by all the Christian counselors. All the Christian counselors should lead by example and all their efforts should be directed in helping those individuals who are facing crisis and not hurting them. Wright provides some biblical principles including ways of applying scripture during a counseling session and understanding the trauma or crisis process. The biblical perspective of Wright can be of great importance to those individuals who are in helping profession and seek out in doing the work of God. Wright also emphasizes on listening, building rapport, having empathy, trust and giving hope to those experiencing trauma and crisis. He also provides scriptures together with personal accounts purposed to form basis for inexperienced counselors in the profession in addition to those who want to improve their skills. He also provides a variety of techniques to the readers with an aim of guiding the Christian counselors through their journey in helping victims who are in crisis. The book also providers the readers with improved understanding ways of approaching topics like loss of loved ones or suicide; whether they are children, adolescence or adults (Wright, 2011).
            Wright recognizes the fears that ministers while walking into new situations which involves crisis or trauma. He states that learning on ways of handling these situations through practice and education will improve the skills of the minister in assisting the victims. The author also advises readers on using biblical principles to assist the person to develop courage to help him or her to persevere through the hard times. The author in his book a good counselor should have the ability to hold her or his tongue. In this regard Wright shows that a good counselor should practice active listening. In this regard they should listen with their body, eyes and also by affirming understanding as well as empathy. Wright gives a recommendation that counselors should scrutinize themselves prior to advising other individuals on situations. One recommendation of the boob is that ministers should use Jesus like an example to them of how to treat the trauma/ crisis victims. This is because Jesus portrayed his ability to accept those individuals who were hurting. In this regard, Jesus was able to help and love individuals through their grief through this acceptance. The author also advises about the counselors asking the questions from the clients so as to understand more about the situation of the client prior to giving counsel (Wright, 2011).
Concrete Responses
            I had a very traumatizing experience when I was only 9 years old. This was when I was kidnapped by unknown criminals as I was coming back home from school. They pretended that they were enquiring something from me and then they got hold me and I was forced to enter into an awaiting car and then sped off at high speed. They were four guys and I was threatened that in case I tried screaming they would shoot me to death and I was very terrified. One of the guys covered my eyes using a piece of cloth and I was taken to an unknown building. I was chained and I was tortured both physically and psychologically. I was beaten using a cane and even shocked with the electric cords where I went through untold suffering. The torturers threatened that they will eventually kill me and I will never see my family and friends again. Those evil torturers also tortured me by pouring boiling water to my legs. Eventually, I was rescued after two weeks of hell and I was rushed to a hospital where I was admitted for a month. All this time, many questions kept lingering in my mind regarding to why I had to go through this traumatizing experience at such a tender age. I developed hate and bitterness to every stranger and I had to be taken to counseling sessions to recover from the entire traumatizing event. My family and friends were equally disturbed by that traumatizing experience. I will never forget about that terrible experience in the rest of my life.
Reflection
            This book has many positives and Wright who is the author is able to provide a valuable guide on how to deal with trauma and crisis. He is able to relate all this biblical principles through his biblical perspective which instills hope to those who are suffering. Through this biblical perspective the Christian counselors are able to understand the whole process of trauma or crisis thus they are able to apply scripture in their counseling sessions. Through the use of biblical principles those people who are undergoing hard times are able to gain courage to persevere. The author advises the counselors on how to become good counselors so as to be able to help individuals to pull through from traumatic events. The author also shows a great understanding of the feelings and emotions of the individuals. He also advised the counselors to emulate Jesus as a perfect example of how to treat the trauma/crisis victims (Wright, 2011).
            There are also some negatives about the book for instance; the author states that traumatic events were not common in the past as they are in the contemporary society. This is not necessarily so because in the past people did disclose their traumatic experiences that happened to them. Also in the past the media did not publicize violence heavily as it does today since in the past individuals were more private regarding such matters. Another negative thing concerning the book is the way Wright treated the subject concerning confrontation. Before he mentions confrontation Wright focuses more on counseling skills like empathy connecting these skills to the behaviors that Jesus portrayed. Wright went ahead to relate confrontation to showing empathy for a person in assisting them to make improved choices. Nevertheless, the book fails to point out the thought of biblical rebuke and also the ideal situation when this sort of confrontation should be used. This is because when confrontation is employed too early in a case of a relationship it can spoil the rapport of the minister with the client; however the kind of confrontation required is also a crucial subject which is supposed to be discussed. Therefore, the author provided limited information regarding how to confront the clients and also deciding the ideal timing for such confrontation (Wright, 2011).
Action
            This book will act as an important guide in my life so that I can be able to help those who are going through various traumatic experiences in their lives. Life is full of such events and therefore this will help me in preparing me to deal with such situations and gain courage to persevere such experiences. I will start basing all the experiences that I undergo and those that my friends are undergoing though a biblical perspective. I have learnt to be a good counselor by adopting active listening when helping the victims of trauma/crisis. I have learnt on how to treat the victims facing crisis/trauma through listening to them, building rapport, having empathy, trust and instilling hope to them. I have also learnt how to approach topics like loss of loved ones and suicide among others. I have also decided to take an action and emulate Jesus who was an exemplary figure in assisting people. I will also be referring to the book from time to time as a way of polishing my skills as a counselor. I have also learnt how and when to ask questions from the victims needing help so that I can be able to understand their situation so that I can be able to give them valuable counsel (Wright, 2011).
References
Wright, H. N., & Wright, H. N. (2011). The complete guide to crisis & trauma counseling: what to do and say when it matters most! (Updated & expanded. ed.). Ventura, Calif.: Regal/From Gospel Light.