Critical inquiry in Practical Nursing
Published:
9 November 2015
Remember! This is just a sample.
You can get your custom paper by one of our expert writers.
Get custom essay
88 writers online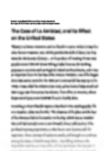 Question 1- According to Kerr et al (2012), the purpose of the study is to examine the nurses' opinions on the introduction of a medical administrative to the enrolled nurses and its impact in the error rate of medication.
Question 2- The author's rationale was to:
-To examine nurses' opinions on enrolled medical administration
-To analyze whether the enrolled nurses introduction effects of the medication error in organizations.
Question 3- Quantitative, experimental.Question 4-The sample used was the different types of nurses who answered questions online at the website of the organization. The selected lot answers specific questions in a questionnaire related to the topic of discussion.
Question 5-a)Descriptive b)InferentialQuestion 6-Education
Question 7-Demographic data
– Response to nurses' survey items
– Rates of medication errors- Collected within twelve months
Question 8- Survey question regarding support for administration of medications by qualified ENs
RN SupportiveIn %RN Non-SupportiveIn %Statistically Significant?
73.8%,26.2%Yes / No
Survey question measuring positive change
EN SupportiveIn nEN non-supportiveIn nStatistically Significant?
73.626.4Yes / No
Survey question regarding the level of education for ENs who administer medications
ENME SupportiveIn %ENME Non-SupportiveIn %Statistically Significant?
73.726.3%Yes / No
Question 9- Population 118, 268-256, 302
Question 10- It is true to say that A significant result (p=0.265, p<0.05) occurred when subjects were surveyed whether the administration of medication by ENMEs had resulted in a positive change.
        Question 11- The participants entered the research in a voluntary basis. The views of the nonparticipants were not considered and only left the authors guessing on their views. This is a main challenge as no conclusive report that is included would be written. Secondly, the number of ENME was higher than that of the RN. This may be due to lack of hiring in some areas which causes an imbalance in the last report.
Question 12- The rate of medication errors does not change in any significant way when ENMEs are used to administer medications. The errors are however being considered preventable.
Reference
Kerr, D., Lu, S., Mill, D., & Mckinlay, L. (2012). Medication Administration by Enrolled Nurses: Opinions of Nurses in an Australian Healthcare Organization. Nursing Forum, 47(4), 203-209. doi:10.1111/j.1744-6198.2012.00281.x