Cruise Ships Accident
Remember! This is just a sample.
You can get your custom paper by one of our expert writers.
Get custom essay
78 writers online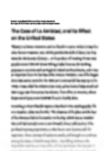 Rogue wave
Rogue waves up to 100 feet tall are a spontaneous natural phenomenon that cannot easily be predicted. In 2005, the Grand Voyager of Iberojet Cruises was smacked by a wave that knocked out propulsion and communications systems and injured 20 passengers. In 2010, the Louis Majesty, operated by Louis Cruise Lines, was struck by 26-foot waves off the coast of France, smashing glass and killing two of the 1,400 passengers and injuring another 14. Preventive measures: Ship windows are being strengthened, and scientists are studying the prevalence of rogue waves across the ocean so that ships can be warned to avoid high-risk areas. Effectiveness: The unpredictable nature of these waves can make them difficult to forecast. Researchers are continuing to improve their methods, in the hope of one day developing a more accurate early-warning system. Most common reason for failure: Lack of reliable data.
Storms
Cruise lines carefully monitor storms. If a ship gets caught in rough weather, the results can be deadly. In 1998, all 100 passengers on Windjammer Cruises' Fantome disembarked safely in Belize, but the crew (on company orders) attempted to sail the ship out of the path of Hurricane Mitch. The storm changed course and obliterated the vessel, killing all 31 crew. Preventive measures: Buoys and satellites keep crew informed of changing weather. Effectiveness: Modern weather surveillance is highly effective at charting and predicting storm paths, allowing cruise ships to easily avoid dangerous weather. Most common reason for failure: Human error.
Fires
There were 72 fires aboard cruise ships over the last 20 years. In 2011, an engine room fire on the M.S. Nordlys, operated by the Norwegian cruise company Hurtigruten, killed two passengers and injured an additional 16 people. In April, the Azamara Quest's engine room caught fire, with the blaze was quickly extinguished by the crew. Preventive measures: Firefighting teams, miles of sprinkler piping, smoke detectors throughout the ship, and fire shutters to contain any blaze. Effectiveness: Fires on ships are almost always contained and are rarely fatal. Most common reason for failure: Mechanical problems.
Collisions
Rocks, reefs and icebergs have sunk five ships in the past 20 years. Ships have also collided with piers and other vessels. One of the most serious incidents occurred in 1992, when a Greek cruise ship hit a fishing trawler, killing more than 30 passengers. More recently, in March, Silversea's Silver Shadow, sailing through heavy fog in Vietnam, collided with a container ship — none of the cruise ship's passengers or crew were injured. Preventive measures: Radio communication and navigational aids that use GPS and maritime charts to plot location and warn crew of obstacles ahead. Effectiveness: The technology is only as accurate as the charts that the crew upload into the system (outdated charts have caused collisions) and is effective only when used properly. Most common reason for failure: Human error.
Collisions
Collisions are not uncommon in the cruise industry. These types of accidents occur when a ship crashes into another vessel or an object in the ocean or in port, such as a rock, dock, or in the infamous and tragic case of the Titanic, an ice berg. These days, the chance that a huge chunk of ice will cause a ship to sink is rare, as cruise lines have implemented new technology to detect and avoid icebergs. However, there are times in which collisions can occur, similar to last year's accident involving the Norwegian Star and Royal Caribbean's Explorer of the Seas, in which the Star collided with the Explorer of the Seas in September, 2012, after strong winds caused the Star to break from its mooring and crash into the Explorer of the Seas. However, collisions can also occur because of the negligence and wrongdoing of the vessels Captain and/or crew. Such an incident took place in Hong Kong in October, 2012, when a ferry called the Sea Smooth crashed into a party boat called the Lamma IV, killing 39 people – 8 of which were children. The captain of the Sea Smooth tried to cross in front of the Lamma IV, this led to a head-on collision between the two vessels. This is a prime example of how negligence, speeding and a disregard for safety can cause amaritime collision.
Groundings
Ship groundings actually take place more frequently than cruise passengers might imagine. When a vessel "runs aground" this means that a vessel has come into contact with the seabed, the result of which may include damage to the part of the vessel's hull that is submerged. Often caused by negligence, these accidents can be very dangerous because if the damage to a ship's hull includes a tear or gash, water may enter the vessel through the opening and lead it to sink. There are reports of cruise ships and cargo vessels grounding nearly every week, but they don't always result in serious injuries and are not as publicized as are major maritime disasters. However, there is one tragic cruise ship grounding that will never be forgotten: The Costa Concordia. January 13, 2012 will forever be remembered as the day the Costa Concordia ran aground off the coast of Giglio, an island in Italy. The accident was the direct result of the vessel's former captain Francesco Schettino's last minute decision to perform a maneuver called a "salute," which brought the ship too close to shore, where it struck a giant rock, ran aground and partially sank. A total of 32 lives were lost because of Schettino's tragic mistake and the cruise line's inability to prevent an unplanned, unapproved last minute change to the ship's itinerary. Schettino now faces prosecution for manslaughter and abandoning ship.
Fires
Fires are becoming more frequent in the cruise line industry and are usually the result of equipment malfunctions or neglect of safety protocols by either the crew or sometimes passengers. Although they don't occur that often, when they do, they are sudden and usually extensive enough to result in the ending of the voyage. Many people – both passengers and crew members – have been injured or killed by fires onboard vessels. Fortunately the one which took place just two days ago on Memorial Day Monday resulted in no fatalities or injuries. Royal Caribbean's Grandeur of the Seas experienced a fire. In February, the Carnival Triumph experienced a cruise fire which knocked out the vessel's power and left over 3,500 people in deplorable sanitary conditions for days. So what is the best way to reduce the likelihood of an injury on a cruise ship? Abide all safety precautions. Attend all safety drills, always be aware of where the life jackets are at
in case an emergency is declared, keep loved ones close by at all times or bring walkie talkies to communicate onboard the ship, and pack your own first aid kit. Our firm released a new app for smart phones called "Cruise Ship Lawyer" which is also helpful. The app features a section where passengers can take notes of what happened in the incident, take pictures, and keep medical bills in order. It also has a built in flashlight to help avoid slips and falls if the power on a ship goes out, and even has a Skype feature that allows cell phone users to contact our firm in case of an emergency. While cruise lines, especially Carnival, have noted the need to improve safety fleet-wide, it will be months – or even years – before we actually see these improvements in place. In the meantime, it's important that cruise passengers know that accidents can – and do – happen so if you or a loved one are planning on enjoying a cruise vacation anytime soon, keep your eyes open for any sign of danger, never leave children alone, remember where your emergency muster station is located, and try your best not to panic. Often, the worst incidents are magnified because passengers panic while trying to evacuate.