Cultural Evaluation in Japan
Published:
8 November 2015
Remember! This is just a sample.
You can get your custom paper by one of our expert writers.
Get custom essay
95 writers online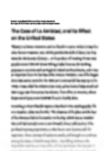 Cultural evaluation in which you identify the ways that arguments or presentation of the arguments would need to be changed as the result of cultural differences in the country of Japan.
         Language is a process of free creation; its laws and principles are fixed, but the manner in which the principles of generation are used is free and infinitely varied. Even the interpretation and use of words involves a process of free creation. 'Noam Chomsky'. Self-expression should be done in an artistic way for the fulfilment of communication.
        Japanese business persons come up with resolutions based on the cultural value of Group frontage. Conclusions tend to be made by group consensus as opposed to Individuality. A foreigner who would desire to venture into business in Japan should not be pretentious as He or She is making advances in establishing a business foundation. Displaying a humanistic culture will be a great principle that will propel the business to greater heights.
Strategic measures to observe as a business person
        For one to hit the expected set mark in a business, observe and apply the following aspects so that your message is communicated virtually, without embarrassing, intimidating, or offending the clients that are within your target.
Speech clarity
       This calls for clear articulation so that people can hear and comprehend every word you are saying. Avoid mumbling in your speech, or speaking extremely fast when addressing the prospective client whose native language is Japanese.
Speak moderately
       Address business people by reducing speech speed. Allow them time to capture your words and abstract the meaning. Provide verbal and non-verbal clues to check for conformity whether you are being understood. When your clients prompt you to repeat what you have said, look puzzled, or respond with difficulty, most likely they have not understood you (Delassus, 1972). Repeat your proposal slowly in the same or different words. In case this does not work out, write it down.
Triangulate the key points
      This approach calls for expressing the same idea more than once in slightly different ways. It provides your clients better chances to capture what you are saying. For example: Entrepreneur's Words and Clients' Thoughts "I presume the equipment will run smoothly…" Yes… or "The gadget will operate properly…"Right…
Maintain appropriate tempo and intonation
     When varying the tone of your voice, switching the tempo, and stressing on areas you would like to emphasize, you provide more hints to help your correspondent grasp your message.
Provide posters through the conversation
        Posters initiate your partners beforehand by informing them about the topic of your discussion or presentation, as well as any changes along the way. For instance: A slide show, model or chart can be very helpful.
Create verification links
        In inter-cultural communication, especially, it is valuable to keep checking whether your listeners are getting along with the discussion. This can be done by; asking questions, providing elaborative statements until the idea is passed across.
Express numerals and dates slowly
       Numbers can be expressed in various ways in different parts of the world These include phone numbers, prices, quotations, , flight numbers, exchange rates, dates addresses,. For example: $1800 can be expressed as eighteen hundred or one thousand eight hundred. October 20th can sound like October 28th.
Write down unfamiliar codes or technical symbols
       When professional jargons are to be used, it is advisable to write them on a white board, provide a slide or handout. Repeat the use of a term that listeners are not familiar to know or cannot understand (Varley, 2000).
Confirm schedules
       Observe protocols related to time or dates. Arriving on time sends a positive signal of commitment and certifiable.
 Maintain a sense of humour
       When expressing yourself, it is important to maintain social relations by sharing humorous experiences in life. Allow the clients to also feel free to share their experiences. Maintain equilibrium.
Be sincere
          Sincerity and taking up responsibility creates a fair relationship, a positive atmosphere for doing Business
References
Delassus, J. F. (1972). The Japanese: A critical evaluation of the character & culture of a people. New York: Hart Pub. Co
http://www.jetro.go.jp/costarica/mercadeo/communicationwith.pdf http://www.presentationprep.com/international-presentations/
Varley, H. P. (2000). Japanese culture. Honolulu: University of Hawaiì Press.