The relationship marketing process: Communication, interaction, dialogue, value
Published:
7 November 2015
Remember! This is just a sample.
You can get your custom paper by one of our expert writers.
Get custom essay
92 writers online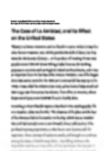 Customer relationship management
     Customer relationship management usually denoted as, CRM, is an assistive system that is used in compiling and analyzing a particular company's customer interactions and other undertakings on different channels. It is defined as the practice, strategies and the technologies that organization put in place to monitor and analyze customer interactions, preference and data in his or her entire lifecycle, with the aim of boosting business relationships, customer retention and increasing sales. The software is made with the purpose of organizing, synchronizing and self-automating customer care, consumer sales, marketing and technical support to the clients. (Peelen 2005).
     A company is only able to implement its CRM systems by:
   Choosing strategic decisions on the specific problems that the CRM system needs to address and also what improvements it should be able to bring in the business operations and processes of the entire organization.
     The firm should choose a qualified project manager since IT will be engaged. However, a manager with customer service or sales and marketing as their main focus should be deeply involved, since the impact of the operations is mainly on the business side.
    To ensure that the CRM system and program is a success, it should have executive sponsorship as well as top management support.
    At this point, the management should empower the trained and authorized team members.
    To ensure efficiency, an approved implementation partner should be selected. Both should vertical and horizontal business knowledge and business chains, as well as the required technical expertise.
    Defining of Key Performance Indicators (KPIs) that will be used as basis for measuring the project's success.
    Finally a phased approach is used from which work towards a long-term enterprise-scale implementation is initiated through a series of smaller, phased implementations.
    It is from five CRM requirements that we see how Customer relationship management functions in an effort to generate value, that is;
    Feature requirements: It does not describe any specific behaviors. They indicate the CRM system's degree of functionality in areas that are yet to be implemented on. The requirements include; Contact management, Account management, Reports, Opportunity management, Knowledge base, Workflow, Outlook integration, Email marketing and Workflow among others.
    Business requirements: This gives the analysis of the current disaster points and the business solutions. Relationship managers should try to present interview information to help top management assess the expectations and needs of customers. This goes a long way in creating value for the organization in the long run.
    Non-functional requirements: It specifies business criteria that assess the CRM's system operation. For instance; Availability of the system, the system should have backups, and disaster recovery, it should not surpass its operational costs. Separating functional requirements from non-functional requirements tend to bring more value to the organization.
    Functional requirement: This gives the basis for the system as to why and how it operates. For instance; the business outcomes after solving a particular problem, the need for the requirement among others.
     System design: it entails the entire plan for implementing and achieving functional requirements of the system. A good design system is required so as to satisfy specific requirements of system users as well as the stakeholders. In CRM, it gives details like field names, pick list values, workflow rules, types of data, flowcharting tools and spreadsheets.
   In this study, we are going to look at a few disciplines of Customer Relationship Management, that is, Understanding relationships and Customer portfolio Management, and how they can be mobilized by suppliers or organizations to successfully generate value.
Understanding relationships
     In this discipline, organizations have come to understand the need to shift away their focus from the products to the customer. They can do so in the following ways;
    Determining mutually exclusive yet satisfying goals between organization and their customers: For instance, customers usually opt for firms that under-promise and over-deliver.
    By establishing and maintaining customer rapport: The management of organizations should engage in rapport building, where they engage or connect when relating to their customers. Positive rapport should be exhibited since it helps customers feel comfortable, relaxed and will be able to communicate effectively regarding issues that the organization can fix. When rapport is successful, it is easier to influence the customers as they have a sense of trust and understanding towards you. For instance, the current brand campaigns by Coca-Cola where customers purchase the product and get to have their soda cans labelled with a name of their choice. This is a proper example of positive rapport.
     Produce positive feelings in the organization and the customers.
    The best way that organizations can understand and enhance their relationship with customers is by anticipating the customer's expectations. A business should anticipate these expectations in an effort to try and maximize the customer's satisfactions and also credibility of their goods and services in the public perception, that is, their tastes and preferences for the product and services. In an effort to understand them;
     First, the organization should carry out a market study and critically analyze the collected data given the nature of its goods and assess their expectations. By carrying out a study, the organization looks at taste and preference for the consumer so they can work on providing the expected good. Also, the study should look at different market segments and how to provide for each group and at what price. For instance, in a movie theatre, there are usually special movie discounts for students. This usually attracts lots of students thus increasing the number of sales from movie tickets.
    Secondly, the organization should understand that there is a rapid change in consumer tastes and preferences. Therefore, the organization has to determine customer expectation on an on-going basis. This will vary depending on social factors, competitor's products and the economic situation at hand. For instance, L'Oreal cosmetics Company exhibits the Fast moving consumer goods (FCMG) type of market. This makes it quite critical for them to have a Research and development department that comes up with beauty products that are more appealing and work on the skin better.
Customer satisfaction
     Customer satisfaction can be explained as a customer's overall evaluation of the performance of an offering to date. Consumer satisfaction is usually used to explain loyalty as behavioral intentions, for instance, what is the likelihood of repurchasing and recommending? The impact of satisfaction on loyalty has been the most popular subject of studies. Some studies done have shown that there is existence of a direct connection between satisfaction and loyalty: the satisfied customers in most cases always become loyal to one supplier in the case of a buying firm while the dissatisfied customers always tend to move to other suppliers with the hope of getting better goods and services or offers.
      Customer satisfaction therefore is defined as an overall positive or negative feeling about the overall net value of services that is received from a particular supplier. It is normally perceived that the net value represents customer cognition of the nature of relational exchanges with their suppliers, while satisfaction usually reflects customers' overall utility or feeling that is derived from the perceived value. On the basis of the behavioral model, affect is significantly influenced by cognition. There is empirical evidence suggesting that customer-perceived value normally has a positive impact on customer satisfaction with regard to the supplier. (Mello 2006)
       Another way by which customers tend to interact with some organizations or suppliers is by monitoring their supply chain processes and activities entailed in the production of the good. To be able to assess all these activities, the customer looks at the overall supplier relationship management. It is denoted as, SRM. It is entails the management of relationships, that is, rationalizing the supplier base, and also selecting and appraising performance of all the suppliers, in order to get extra value and benefits. If a supply chain flow is well managed and organized in an ethical manner, customers would be willing to be involved with such suppliers or organizations hence consumption increases. (CIPS 2007)
       Other tactics that the supplying organization can utilize in order to attract more customers is by showing the manner in which they handle their business affairs with some level of transparency. To main good relations with customers, an organization should always be transparent to an expert on its dealing and also by publishing their corporate social responsibility, CSR and social sustainability criteria. These might include the following:
      Existence of robust CSR policies and also ethical codes.
       Their commitment to been transparent and cooperation with the buyer, that is, the supplier should be willing to let the buyer monitor and evaluate its ethical codes and CSR policies.
     Proximity in relation to the buyer, in a bid to support local businesses, SMEs and the communities at large.
      The supplier or organization should comply with the Fair trade standards which is applicable worldwide.
     The Supplier should also comply with the International Labour Organization standards which mandate that the supplier or both parties should ensure it supports its workers rights and uphold equality for all genders and races and by preventing child labour.
     The supplier should also provide evidence that he adheres to commitment and conformance to all stipulated legislations and regulations, for instance, employee work hours, health insurance and safety provisions, careful transport of hazardous substances and equal employment opportunities.
      The supplier should always provide proof of ethical trading policies where they; support buyers with the aim of building good and collaborative relationships and paying fair prices that would make the supplier-buyer relationship be a win-win situation.
       A customer is more likely to purchase goods and services from a supplier or organization that tends to operate by the guidelines stated above. (Greenberg 2010)
      This discipline of customer relationship management focuses on looking at the different relationships that work together in the delivery and provision of goods and services, that is, supplier to buyer relationship. This relationships starts from the production, manufacture, sales and marketing of the good and finally delivery for purchase. (CIPS 2007)
2.Customer Portfolio Management
      In this discipline, organizations always aim to create and maximize their customer base with the aim of increasing profits.
       Customer portfolio management can be defined as the proper governance of a group of consumers who benefit from each other's undertakings and transactions, thus forming the organizations or firm's customer base. Customer portfolio management involves; interaction and network theories, relationship marketing in relation to customer relationship management and organizational learning, information processing and market orientation theories.
       Interaction and network theories:
       This interaction theory is related to industrial marketing where it tends to describe and understand the exchange as well as supplier-customer relationships in accordance to industrial settings. Therefore companies interact and develop collaborative or long term relationships with the aim of exploiting and developing their resources. Since the business relationships produce something that neither has or cannot be easily imitated.
    The industrial network theory was formulated with the purpose of understanding the CRM systems that interconnected different suppliers and buyers, and also to show the resource interdependency between supplier and buyers.
         Information processing and Market orientation:
      Since customer portfolio management entails more than just analysis, interpreting and comprehending customer information, it is all about the processing of customer information in a special manner. Market information therefore has the following characteristics: it is action-oriented since there is direct application of skills and knowledge in solving a problem; it is knowledge enhancing in that knowledge is used to increase more knowledge and comprehension of matters of interest to the organization; it is affective because the information used makes the customers be able to understand and make the best decisions.
       Market Orientation is about how organizations implement marketing concepts. It directly relates to the organization's performance. When organizations study and learn about customers, it provides a base from which management can strategize thus creating more value for customers which in turn affects overall company performance.
Relationship Marketing
       Service- Marketing based relationship Marketing:-
      The purpose of relationship marketing is to create, maintain and continuously improve the relationship between customers and firms (Gronroos 1994). Despite the fact that it is the Marketing department's duty, the entire organization should be instrumental in enforcing successful service marketing. The idea of relationship marketing is to emphasize on the need for consumer and quality orientation rather than on bluntly managing customers. It is seen as a service profit chain. In the organization, there is a link comprising of: impacts of service quality on customer satisfaction, customer retention on profitability and the satisfaction derived from customer loyalty.
       US-based view of relationship marketing:-
        Relationship marketing is important since the supplier's efforts are towards creating a commitment, loyalty and trust between the customer and itself. (Morgan and Hunt 1994). The focus of the US-based view of relationship marketing theory lies in objectives rather than in processes and activities that pave way for its implementation. It heavily emphasizes on closer individual customer relationships, which makes this theory quite difficult to apply in customer portfolio research and analysis.
      Customer portfolio entails complete customer monetization, which when combined with a hosted technology solution, expertise and state of the art customer marketing services tends to make the data more valuable, thus maximizing customer value (Bowman, Douglas and Nas 2004). All the activities in portfolio management are towards increasing revenues and increasing the customer's lifetime value. The objective of customer portfolio management includes;
       Customer Portfolio Management aims to optimize business performance –whether that means sales growth, enhanced customer profitability, or something else – across the entire customer base.
       It does this by offering differentiated value propositions to different segments of customers.
Customer Value
       Customer value can be defined as the most fundamental basis for all marketing activities. High value is a primary motivation for ensuring customer patronage. In this regard, it can be argued that customer value is a super-ordinate goal while customer loyalty is a subordinate goal, since it is reliant on the behavior of customers given different circumstances. According to goal and action identity theories, a super-ordinate goal is likely to regulate subordinate goals. Thus, customer value regulates "behavioral intentions of loyalty toward the service provider as long as such relational exchanges provides superior value"
     The objective is to examine the antecedent of customer loyalty amongst consumers. The theoretical underpinning of customer loyalty comprises of a Four-Stage Loyalty Model that consists of only four evolving stages, that is; cognitive loyalty, cognitive loyalty, action loyalty and affective loyalty. Three of the stages of loyalty; cognitive loyalty, affective loyalty, and conative loyalty, are usually termed as attitudinal loyalties while action loyalty is termed as behavioral loyalty. (Mello 2006).Recommendations:
     For performance to improve within the organization, it should be in alignment with tactical objectives such as;
    Securing supply within the given timescales required by the given production orders, production schedule and marketing plans.
     Ensuring that satisfactory levels of process control and performance are met in the timescales as planned in the organizational and project plans.
     The organization should have the capability of fulfilling given specifications and meeting specific objectives, goals, standards and key performance indicators.
      ConclusionIn conclusion, it can be observed that with a great customer relationship management it is easy to observe the behavior of consumers in terms of their taste and preferences for goods, monitor the constant change in consumption of goods, interact with customers to enjoy large economies of scale and great profits.
       Having Relationship managers who understand and can clearly put a course of action to improve relationships is crucial, since it helps the top executives make decisions with the customer's best interest at heart. Retaining customers is vital since it is inexpensive to make an already satisfied customer purchase more goods and services, rather than finding a new customer (Gronroos 1995).
       Portfolio managers should always aim to maximize customer value to give them greater satisfaction. They can do this by taking risk management measures through assessment of different relationships and transactional customer groups, that is, segmenting the customer groups and ranking them with the level of priority to give.
References
Bowman, Douglas N., Das. (2004). Linking customer management effort to customer profitability in business markets. Journal of marketing research.CIPS. (2007). Strategic supply chain management: Pass notes. Maidenhead, Berks: Profex Pub.
Greenberg, P. (2010). CRM at the speed of light: Social CRM strategies, tools, and techniques for engaging your customers. New York: McGraw-Hill.
Gronroos C. (2004). The relationship marketing process: Communication, interaction, dialogue, value. Journal of Business and Industrial Marketing.Mello S. (2006). Value innovation portfolio management: Achieving double-digit growth through customer value. Ft. Lauderdale, Fla: J. Ross Pub.
Peelen E. (2005). Customer relationship management. Harlow, England: FT Prentice Hall.