Debate About K to 12
Remember! This is just a sample.
You can get your custom paper by one of our expert writers.
Get custom essay
76 writers online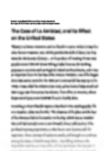 Debate About K – 12
JOEL: Good morning/Good afternoon as the case maybe! The Department of Education is currently facing the issue about —DepEd Order No. 32, series of 2012 (otherwise known as the implementing rules and regulations of Republic Act No. 10157 or the Kindergarten Education Act); and DepEd Order No. 31, series of 2012 (policy guidelines on the implementation of Grades 1 to 10 of the K to 12 Basic Education Curriculum). These curricula are bombarded with a lot of doubt and questions, not being part of the Department concerned with the implementation of these programs.
The Department of Education's planned shift to K+12 seeks to enhance the current curriculum and allow high school graduates to specialize and be equipped with skills to enter industry, a vocation or engage in entrepreneurial activity. Though reforms have been discussed since the Unesco Mission survey in 1949, it is only now that definite action on K+12 is being taken to move our education system up to international standards. But this does not end here. The move to K+12 is a gradual process that will need the time and commitment of all stakeholders, especially parents and teachers, because this kind of reform is not focused on one area alone but involves cohesive action from all sectors to address the needs of their communities.
According to some studies and researchers, 10 years of studying is not enough for us to be that ready. That equipped to face all the challenges in life. We are living in this ever – changing world, the reason why we need to be always ready, to be always at our best to face those changes, for us to be fully armed in the time of battle – the battle of the brain, the real battle of life. But is there really a need to add 2 more years just to make us ready and that knowledgeable enough? Is an additional of 2 more years in education really satisfies the need of Filipino people? We are aware that many Filipino suffered and still suffering from hunger, malnutrition, maltreatment, unemployment and many more. Many are suffering from being uneducated and maybe it is true K – 12 is a great help. But the question is can we afford it? There are many out – of – school youth today because of poverty.
Because their parents had no means of living, those who are called as "isang kahig, isang tuka". The money they have is just enough for the food and it is too tough for them to go to school and spend their 10 years of life in studying. Because for them what matter most is that they have food to eat. So they choose to work rather than studying. In fact 10 years of studying is really spending a lot of money and another 2 years, more money again. Also, students find it boring and feel like studying is a never ending journey. Additional years in education system will really require more budgets not just from the government but from the parents as well. Aside from that, students will need additional classrooms, school supplies, program and more qualified teachers as well.
CHAWEE: We've heard the argument on the effectiveness of K+12 if the students don't even have tables to work on, or can't even get to school because of poor infrastructure. These are programs that the private sector, through civil society, is actively working on with the help of the government. Local government units have a large role in making sure that the educational needs of their communities are met. The Synergia Foundation has been effective in working with LGUs to improve their communities.
ESPLENIA: Are we ready for E-Learning? Maybe yes, or maybe no, but if we don't prepare for it now we will never be. The technology and the infrastructure have been introduced to the public schools through Gilas, a public-private sector initiative that has been at the forefront of providing computers and Internet connectivity to public schools nationwide. Through Gilas many teachers and students have been trained on the use of technology for learning. An eLearning program called Genyo has proven an effective tool for public school teachers and students. The software is currently being used in private schools and has been donated to public schools through Gilas and the initiative of private foundations.
Manuel "Boy" Mejorada says:
November 12, 2010 at 9:57 am
JOEL: I must add that the K-12 revised curriculum isn't the cure-all solution for our educational woes. Huge investments need to be made on strengthening the education infrastructure — classrooms, textbooks, learning aids, teacher training — at all levels. Adding the two years will not repair the defect if the foundations of a child's education are weak in the first place. The problem about the present curriculum in squeezing 12 years of basic education into just 10 is that students are overloaded with subjects. Without even having to go inside a classroom, the ordinary observer can already see this from the oversized bags that students have to lug everyday, filled with books and other learning materials
One consequence is that the ordinary school day leaves our kids exhausted, with little time for play and socializing at school. This leads to the exclusion of learning social skills which is an essential part of growing up.
The main objection of parents against the K-12 is more economic than anything else. Parents fear the extra years will result in more expenses to be shouldered. They miss the point about the proposed curriculum leading to improved learning for their children.
Dean Jorge Bocobo says:
ESPLENIA: I also realized that indeed "TEACHING IS NOT FILLING UP THE PAIL, IT IS ABOUT LIGHTING THE FIRE." Blatantly true indeed—we should not see out students to be blank sheets, who are incapable of thinking for themselves. My teaching career was and is a continuing humbling experience. Our students are geniuses in their own rights, and as educators we should be able to tap on these hidden gifts of theirs. Which brings me to the point of my discussion, will this philosophy that teaching is not merely filling up the pail, rather it is lighting up the fire be heightened or diminished by what is now called the K to 12 program of the Philippine Educational System?
CHAWEE: Another point to consider is that children of this generation, this NEW generation, more specifically, get easily bored. They have shorter attention span and will most likely display their boredom and discontent more obviously. So will they be able to bear and cope with the additional years in school? I am also concerned on the preparedness in general with regards to the implementation of this program. Although the program was based on foreign research and was seen to be successful in different countries, but are we certain that this curriculum will be adaptable to the Filipino learners, and are the teachers ready to adapt yet again another curriculum—believing that this could be the solution to our deteriorating educational system.
JOEL: believing that this could be the solution to our deteriorating educational system. Are the teachers well-informed about the program? Do they have enough training, seminar-workshops and the likes? Have there been researches on the effects of the K-12 program in the Philippine classroom setting?
Many critics are still bothered that K-12 might be more disastrous than helpful if the transition is not velvety. As sighted by one of the professors from the University of the Philippines-Diliman, integrating K-12 to the educational system is like overhauling the whole system and it obviously require generous time to bring about. Ironically, DepEd keeps reassuring that the time is ample and they will do it gradually. Then if it is true, why was it that most if not all of the kindergarten teachers who underwent the 2-day training for the new kindergarten curriculum have lots of uncertainties in understanding it? In essence, the teachers are the ones who will transmit the program to the students but if they are less capable and less qualified then it may turn ineffectual and waste of time.
CHAWEE: Amor Cielo says: My take on the K+12, although the purpose or the intention of the proponents of this additional school year in the Philippine educational system is perfectly everyone parents dream for their kids – to give them the quality of education at par with the global standards, I feel that it is not ideal in our current educational set-up. I deem that before we must be able to successfully attain the global standards that we are aiming for, the government should first look at the current logistics involving the educational system. The following should be first address which has long been a problem ever since.
Two of my maids from Mindoro experienced the following: * Classroom shortage – my maid can attest that in Mindoro there are classes held under the tree. * Book Shortage – in their school those who are in lower section has a ratio of 1:7 usage. * PC usage – only those in the first section has a chance to use the computers. * Teachers' low salary –Teaching is regarded as a noble profession; they should given proper respect and just compensation / benefits due to them. * Teacher to student ratio – 45 to 50 students or more in one classroom. * Lack of basic facilities needed to provide good learning environment – clean comfort rooms, laboratories, libraries, gymnasium, drinking fountain for potable water, clinic).
JOEL: another important thing to consider is that:
* Parents have to shell out more money (for transportation and food) for the education of their children. * The government does not have the money to pay for two more years of free education, since it does not even have the money too fully support today's ten years. DepEd must first solve the lack of classrooms, furniture and equipment, qualified teachers, and error-free textbooks. * We can do in ten years what everyone else in the world takes 12 years to do. Why do we have to follow what the rest of the world is doing? Filipinos right now are accepted in prestigious graduate schools in the world, even with only ten years of basic education. * As far as the curriculum is concerned, DepEd should fix the current subjects instead of adding new ones.
The problem is the content, not the length, of basic education. As an editorial put it, we need to have better education, not more education. * A high school diploma will not get anybody anywhere, because business firms will not hire fresh high school graduates. * While students are stuck in Grades 11 and 12, colleges and universities will have no freshmen for two years. This will spell financial disaster for many private Higher Education Institutions (HEIs). * The drop-out rate will increase because of the two extra years. More fundamentally adding two more school years would only exacerbate the situation. * While public education is free, a political youth group estimates that a student would still need an average of P20,000 per school year to cover transportation, food, school supplies and other schooling expenses. * Also, based on the latest Family Income and Expenditure Survey, families prioritize spending for food and other basic needs over their children's school needs. Two more years for basic education would inevitably translate to higher dropout rate. * Former Education secretary Mona Valisno stated in a separated study that DepEd needs at least P100 billion to fully address the shortage of 93,599 classrooms and 134,400 seats and P63 million for textbooks and scholarships
ESPLENIA: Objectively, the program is good. But the important thing is what does the public say. Hindrances and opposing minds are there. additional years means additional expenses Thus, an extra effort of explaining is needed as our DepEd secretary brother Luistro Armin explained, let us not look at it as expenses but rather more of an investment. traditionally poor families have their children worked right after high school.On the brighter side, k-12 envisions that graduates of senior high school are equipped with skills to get better job opportunities even if they would not pursue college which means a better income for the family.K-12 is not a perfect program though through years of implementation DepEd were open for criticisms and suggestions. Since, one of its biggest problems is the resources. Lack of classrooms, teachers, textbooks and other materials yet budget in education increases still it is not enough but, arising the spirit of unity. This is not just Deped program or brother Luistro's but instead it is a Filipino program for the Filipinos. Positively, if the people see that it is viable, help from LGUs and private sectors will pour in.
JOEL: History speaks itself that we had gone through BRIDGE, BEC, SEC and many changes in our curriculum. Hope this would be the last; we are unique and adaptable to any kind environment. We Filipinos are survivors. As they say, "bahala na…" let's just cross the bridge when we get there. Prepared by:
Joel A. Raz
In conclusion, let me say that the K to 12 program does not only affect DepEd teachers and personnel—it affects EVERYBODY. But as we all know, we are "prisoners" and we cannot question the authorities; we have become victims of the circumstances. However, I realized that regardless of whatever program is being implemented by the government, or DepEd, or CHED for that matter, what matters is the dedication of the teachers. How are we willing to go farther and further and give it all we've got, even if there's nothing left of us to give? It is not a question of how good is the program; it is a question of how are the teachers willing to answer the call of fidelity to the noblest profession.