Defining the Concept of Voice Through an Assessment of Shakespeares "Twelfth Night"
Published:
30 October 2015
Remember! This is just a sample.
You can get your custom paper by one of our expert writers.
Get custom essay
87 writers online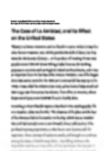 Defining the Concept of Voice Through an Assessment of Shakespeare's "Twelfth Night"
Introduction
            Literary voice is a multifaceted subject that involves both linguistic and stylistic aspects. The readers and editors often significantly demand the involvement of originality and creativity. The level of creativity is required in the development of lasting and satisfactory understanding of the development of the voice. According to Hunter College Reading/Writing Center common characteristics of 'voice' is "Distinct from the terms persona, narrator and tone, voice is associated with the underlying vision of a writer, her general attitude toward the world." This paper is a fervently articulates the definition of voice through the linguistic choices of Shakespeare's in his famous play Twelfth Night in evident through his passion for drama and poetry.
            The voice when applied in rhetoric it demonstrates the clarity of the visions and thoughts of the writer. Voice is specific to every individual more artistically conveyed in the works of writers. The uniqueness of every piece of writing as a piece of artistic work is subject to the distinct figurative role or a unique commentary of the creator "writer". Plays are composed of literal and allegorically unique to develop individuality for the play that is meaningful and captivate. Voice is defined as the distinctive tone or style identifiable of literary work or author.
            Twelfth Night demonstrates a tonal play written out to sound like a poem, where there is rhythmic balance in the pronunciation of the lines. Most importantly, the content reflects a unique commentary that speaks beyond what is given in the play. Any individual who is accustomed to the work of William Shakespeare would be able rapidly to detect that Twelfth Night is one of Shakespeare's works through his techniques of writing. Shakespeare uses a unique combination of writing techniques such as twisted iambic pentameter and soliloquies. At the start of Twelfth Night, Orsino, a Duke, demands if music creates love, then "Give me excess of it, that, surfeiting" (1.1.2). If music be the food of love, play on; Give me excess of it, that, surfeiting, The appetite may sicken, and so die
            That strain again! it had a dying fall: O, it came o'er my ear like the sweet sound, That breathes upon a bank of violets, Stealing and giving odour! Enough; no more: By using iambic pentameter, Shakespeare defines Orsino's character to be different from those of different social class. Here, Shakespeare uses iambic pentameter in a distinct way by switching the tones around to create a different tonal pattern. Instead of the regular iambus of one stressed and one unstressed beat (ba-BUM) for ten syllables straight, he makes a modification to some syllables in order to emphasize certain words.SIR TOBY BELCH Approach, Sir Andrew: not to be abed aftermidnight is to be up betimes; and 'diluculosurgere,' thou know'st,– In act 2 scene 3, The syntax and the preceding semicolon on the first line direct the stress on give at the beginning, but the resulting pattern is choppy and almost dactylic in its meter. He often uses this technique on characters that had a higher social status in his plays. On the contrary, those characters of a lower status were deemed not to have the leisure to experiment with literature speaking in regular prose or verse. For example, Malvolio, a butler, attempts prose in the beginning but changes to speak in verse like, "Daylight and champain discovers not more: this is open. I will be proud I will read politic authors," (2.5.155-157). Iambic pentameter shows control and yet the emphasis here is on the instability and the intensity of class difference. Thus, Shakespeare's manipulation of regular iambic pentameter to create differential approach to the field of play each character has. This inherently configures a reflection of his unique voice, and this leads readers to think that, in literature, voice is distinct and unique to develop a persona.
            Another literary device that commonly found in Shakespeare's Twelfth Night is soliloquy, which involves a character speaking his or her thoughts aloud. The ideas conveyed by the actor are a way providing information from Shakespeare own point view on certain situations. In 2.2 of Twelfth Night, Viola, disguised as Cesario, conveys her realization of the mistakes she caused due to her disguise: Disguise, I see, thou art a wickedness, Wherein the pregnant enemy does much. How easy is it for the proper-false In women's waxen hearts to set their forms!
            Alas, our fraility is the cause, not we, For such as we are made of, such we be. How will this fadge? My master loves her dearly,And I, poor monster, fond as much on him,And she, mistaken, seems to dote on me.What will become of this? As I am man,My state is desperate for my master's love.As I am woman, now, alas the day,What thriftless sighs shall poor Olivia breathe! (2.2.26–38)
            This soliloquy serves a purpose of developing context outside of the literal play. In real life, people don't typically speak their thoughts aloud when alone. Shakespeare's use of soliloquy is a active interpretation of what the audience does not yet understood. Thus, the conscious choice to use a soliloquy is representative of Shakespeare's voice because, it develops Shakespeare's style of presenting mental or non-visible information to become visible to the audience. Soliloquy adequately conveys the strength of Shakespeare to back audience into the scene of play through understanding of the event. Secondly, it develops in a way where Cesario is aware of the whole plot and takes on a role in knowledge as an audience. Furthermore, this foreshadows of how there will be a conclusion to untie this lie, and chaos Viola has created through her disguise. These complex ideas are voices for Shakespeare's readers to notice through his voice beyond the literal sound of the play.
            A complex idea beyond the authentic voice of the play also develops the style that is distinct to Shakespeare. In the same scene, Shakespeare also personifies the concept of a "disguise" to render a style of narration. Shakespeare uses apostrophe, and aside or address inanimate objects as though they are alive. For example Cesario concludes that "Time," which she addresses as a character, must unravel this madness, as she cannot undo Olivia's confusion, "O, Time, thou must unravel this, not I" (2.2.39). In this soliloquy, Caesario highlights the weakness of women, the subjectivity of love and the conflicts presented by appearance versus reality. The use of monologue, apostrophe and iambic pentameter in combination create Shakespeare's voice. It sets his writing apart from other writers who present a similar plot. For example, Ewon Leslie's She's the Man incorporates scenarios from Twelfth Night but is written in an entire different voice and style. Both presenting a story plot of a woman in disguise of men creating a chaotic love web, She's the Man, is different as the literal voice was of modern English. Which does not use poetry, soliloquy, nor personification. Through examining Shakespeare's use of personification and soliloquy, audiences can see that idea of voice is unique on its own and cannot be imitated.
            In fact, it is not only a unique concept to developing a figurative voice for Shakespeare, but also a voice in writing. "It is one of the last of the Elizabethan comedies…reflecting the anxieties and uncertainties of its historical moment," and "first seventeenth century comedy, and is in many ways a beginning -of-century play, inaugurating a new poetics: some commentators have been it as the first of the ' dark comedies'" (Elam 2). This explained through his scene, which prepares us for dramatic irony when Maria, Sir Andrew, and Sir Toby write the letter to Malvolio, under the pretence of Olivia.
            Maria
            I will drop in his way some obscure epistles of love; wherein, by the colour of his beard, the shape of his leg, the manner of his gait, the expressure of his eye, forehead, and complexion, he shall find himself most feelingly personated. I can write very like my lady your niece: on a forgotten matter we can hardly make distinction of our hands. As we, the audiences are aware of the deception, because Malvolio himself is not aware of it when he finds and reads the letter during Act 2, Scene 5. Presuming the letter is for him, and from Olivia, he proceeds to embarrass himself. This structure of the voice develops as Shakespeare style in dramatic irony where the audience becomes important to the play. Voice here holds a distinct figurative role to incorporate audience into understanding voice of Shakespeare. A further technique that is commonly used by Shakespeare and is, therefore, representative of his voice concerns the way in which he incorporates the audience into play. According to Keir Elam, Twelfth Night, "pleasures and trials of spectatorship" (Elam 3). By having spectatorship and asking audience for appraisal, establishes the use of dramatic irony. Audience is present and indulging in the same space as the characters through the lines: Sir An. Here comes the fool, i' faith. Look, here comes a fool. Fes. How now, my hearts! Did you never see the picture of 'We Three'? Hello, my friends! What a pretty picture, three fools all together. Sir To. Welcome, ass. Now let's have a catch. (2.3.12-17) Taking this even further, Shakespeare typically uses a fool to breaks the fourth wall. The fool is present in this piece as he is in many of Shakespeare's plays; for example, Puck in A Midsummer Night's Dream invites the audience to be with them. This analysis of the way Shakespeare uses tone, mood, style and figurative techniques through the fool to demonstrate his thinking and logic provides further insights reflecting his personality and ability to manipulate what is perceived. However, in She's the Man, a movie that "relate only to the plot of the work, the poetry and character being all his own" (Hudson 8), the fool is the audience (not a character). The story presented in She's the Man has every potential to be another copy of Twelfth Night because it shares a similar plot. Referencing stories outside set Twelfth Night apart from She's the Man, such as that Twelfth Night's "setting of the play, Illyria , as an exotic and unfamiliar location associated with literary romance, lyricism, and illusion," (Entland, 149). However, the way it is written, its voice, sets it aside from Twelfth Night, which was very much a play written for characters to perform.
            This leads the audience to form the conclusion that voice is something that is expressed and received by the initiator and a receptor. As such, it was important for Shakespeare to develop a style that was unique to him as, through his writing, he expressed himself: his voice was an extension of his thoughts, feelings and emotions. Through using a combination of technique and language, Shakespeare's voice conveys his opinions, likes, and interests to set up the mood.In fact, the place cannot be found because it is a myth. Thus, voice become unique in bringing the reader to notice outside information that interests the author. Another interesting concept that is presented through the voice of Twelfth Night is the social classicism turn around and move to talking about Shakespeare's voice of who he is.. In Twelfth Night, the characters fail to adhere to social expectations: " how community diagnoses madness when a person fails to perform his known identity… member of a particular class as well"(Schiffer 234). Rise of people who will form the bourgeoisie class matter due to crumbling of aristocrats.
            The play contains a trick on a set of individuals who think they are exercising power and control. Malvolio, a mere butler, perceives himself to be superior to Toby, an alcoholic aristocrat and Maria, a servant. Toby, though an aristocrat, does not exhibit much power initially, but in the end does have most of the power. Toby and Maria's letters ultimately drive Malvolio out of control. This demonstrates the modernist revolution in the arts during the late Renaissance in the service of the avant-garde. And possibly reflect Shakespeare's stance in studies was open to movements such as structuralism and feminism.
            In addition to the literal elements of Shakespeare's voice that are described in the lines of Act 2 Scene 2, there are also figurative aspects that set his work apart from that of other playwrights and authors. According to Christine Ashby, a language researcher, the production of voice and its use as a tool are separate from the thinking of the individual. Figurative voice represents the voice of the person expressed through their idea, concept or logic. Twelfth Night is a play about the "dramatization of currently fashionable issues such as gender and sexuality" (Elam 2). This adheres to the famous recurring plot that is typical of Shakespeare's plays as expressed through the idea of a love triangle, star-crossed lovers, where women is deemed to be powerless when it comes to love. For example, Act 2 Scene 2, Viola expresses how women are subjects to love for men. This derives from a larger social commentary outside of the play.
Conclusion
            Through assessing the work of Shakespeare, voice can be both literal and figurative. It reflects the author's thoughts, desires and provides insights into what the author would like the audience to think, or how he or she would like them to receive the play. Shakespeare's voice is reflected in his unique style and techniques. The aspects of his work that sets him apart from others work in combination to give his work his voice. Examining Shakespeare's work has refined definition of voice as an accurate literal sound of the writer, distinct figurative role, a unique commentary.
References
Ashby, Christine. "Whose "Voice" Is It Anyway?: Giving Voice and Qualitative Research Involving Individuals That Type to Communicate." Disability Studies Quarterly. Syracuse University, 2011. Web. 06 Dec. 2014. <http://dsq-sds.org/article/view/1723/1771>.
"Glossary of Literary Terms." HUNTER COLLEGE READING/WRITING CENTER WRITING FOR ENGLISH COURSES. Ed. Anna C. Rockowitz. Hunter College Reading/Writing Center, 1998. Web. 5 Dec. 2014. <http%3A%2F%2Frwc.hunter.cuny.edu%2Freading-writing%2Fon-line%2Flit-terms.html>.
Hudson, Henry N., Rev. Shakespeare's Twelfth Night; Or, What You Will. Boston: Ginn, 1895. Print.
Schiffer, James. Twelfth Night: New Critical Essays. Abingdon, OX: Routledge, 2011. Print.
Shakespeare, William, and Elizabeth Story Donno. Twelfth Night, Or, What You Will. Cambridge: Cambridge UP, 1985. Print.
Shakespeare, William, and Keir Elam. Twelfth Night, Or, What You Will. London: Arden Shakespeare, 2008. Print.
Shakespeare, William. Twelfth Night; Or, What You Will. New Haven: Yale UP, 1954. Print.
Shakespeare, William. Twelfth Night, by William Shakespeare. London: J. M. Dent, 1935. Print. The New Temple Shakespeare.
She's the Man. Dir. Andy Fickman. Prod. Lauren Shuler-Donner and Ewan Leslie. By Ewan Leslie. Perf. Amanda Bynes, Channing Tatum, and Laura Ramsey. DreamWorks Distribution LLC, 2006.
"Voice." Merriam-Webster. Merriam-Webster, n.d. Web. 07 Dec. 2014. <http://www.merriam-webster.com/dictionary/voice>.