Department store
Published:
26 February 2016
Remember! This is just a sample.
You can get your custom paper by one of our expert writers.
Get custom essay
93 writers online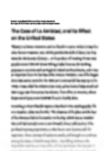 When we want to buy something, we go shopping. There are many kinds of shops in every town or city. Most people prefer to do their shopping at big department stores and supermarkets. Department stores offer a wide range of articles under one roof. Therefore, a customer can purchase all his requirements from a particular place. As a result, the time and labour of customers are saved because they need not go from shop to shop for purchasing different kinds of goods.
Departmental store also offers a number of facilities and services like free home delivery, telephone orders, liberal exchange, etc. with courtesy and fair treatment. Sometimes they even offer to open a current account and buy something on credit. But you must think clearly before get into debt, may be you don't actually need that and to cut down on such luxuries. What about placing a telephone order, it is better than online shopping, because you can go in the department store and touch everything you want to buy and decide if it is good value for money or truly fit for purpose and then order it by telephone or just reserve it. The availability of such services acts as a special attraction to customers. Also many owners want to limelight the customers with the help of their staff. So they introduce a kind of dress code. Sometimes the executives want their employees wear a special uniform, but usually they only forbid their people to wear revealing and light clothes, stiletto heels and order them to be well-groomed and on no account sloppy. What is more, the owners want their staff to be credible and polite with their clients. It is the first step to success! Furthermore, a departmental store is generally located in the heart of the city.
Hence, many people visit such stores and make their purchases. Gradually, such stores develop a reputation of their own, by selling quality goods at centrally located areas and busy centres. This attracts a large number of customers. Departmental stores offer a stunning range of goods at different price levels. They also keep a variety of designs, colours, styles, etc. For example, you can buy designer label clothes from glossy magazines, which have been launched in new collections of famous designers and have already hit the high street. This is the proposal for someone who is interested in high-street fashion and fashion victims. But also there are a lot of hugely popular clothes and other things for everybody! It enables the customers to make a better selection from a wide variety. The department stores generally purchase in bulk quantities. For that, they receive discounts and commissions. Such stores purchase directly from the manufacturer and hence avoid middlemen and so also their commission. As a result, departmental stores are able to sell products, at prices lesser than other retailers.
Thus, economies of large scale buying are transferred to the customers in the form of low prices. Speaking about less pleasant facts, we should speak about complaints and repayments. If you haven't been provided an excellent service or your purchase turned out to be poor quality, you have all grounds for complaint and all these complaints should be taken seriously and handled promptly. Also let's imagine such situation: you have bought the shoes, but after trying them at home you've realized them to be excruciatingly uncomfortable. Don't give up, you will be right to return these shoes during 2 weeks and demand a full refund. All in all, nowadays the department stores are becoming more popular s where people can reserve time and find a necessary good. Due to the wide range of goods offered and various facilities provided by the departmental stores, they are able to make large volume of sales. It is really favorably to do shopping at the department stores in order to save you money.