Description of incident between Black BMW and white Lexus
Published:
19 December 2015
Remember! This is just a sample.
You can get your custom paper by one of our expert writers.
Get custom essay
71 writers online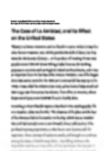 Description of incident
Introduction
            At 9 a.m. Sunday morning, I was on my way to meet a client for a 10:15 a.m. appointment. I was driving northbound on the number two lane of the Northbound I- 110 freeway, at a speed of 70 miles per hour. The freeway was smooth without traffic that morning. While I was driving, a 2005 Black BMW suddenly attempted to move from the number one lane into the number two lane. As a result, I lost control of the vehicle and collided with the 2005 Black BMW on its rear (Doctor Who Online – YaWHO Group – Yahoo! Groups.). The impact caused the 2005 Black BMW to spin and hitting another car, a 2009 white Lexus, which received minor impact. We noticed that the passenger of the BMW was stuck in his vehicle, and his car was leaking fluids. Fortunately, we were able to get the passenger out with minor injuries.
            At 9:20 a.m., I called 911 and the Highway Patrol officer arrived 5 minutes later. He interviewed all the people who were involved in the accident and witnesses as well. After 10 minutes, the Fire Department came to clear out accident and clean the highway. Only minor injuries were reported; hence no one was taken to hospital.
Follow up actions
            After the incident, I interacted with the people involved in the accident. I also took photographs of the damages to the car. At 9:30 a.m., I called my supervisor, Cesar Serrano, to take care of the insurance company. I called the client to inform him that I will not be able to meet with him because of the occurrence. Tomorrow, I plan to submit for check-up on any further injuries.
References
"Doctor Who Online – YaWHO Group – Yahoo! Groups." n.d. Yahoo! Groups. https://groups.yahoo.com/group/drwho-online/messages/2?tidx=1. 5 March 2015.