Design Communication Manual.WCLR Widget developers and networking LTD
Published:
25 September 2015
Remember! This is just a sample.
You can get your custom paper by one of our expert writers.
Get custom essay
78 writers online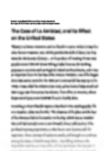 Design Communication Manual
Introduction
WCLR Widget developers and networking LTD
Going it solo
            Many organizations are set with different aims and objectives that are achieved through effective coordination of all departments. These achievements are obtained when the company identifies its main business which is primary, secondary or tertiary. The main primary business of WCLR limited is to come up with widget developers groups with support and networking.
            Communication refers to the process of transferring information in a given organization through the use of a medium (Lacar, 2011). This is very essential to a business organization if done efficiently and information understood by the receiver. A well planned overview of communication within an organizational department like HR is very important as it allows effective implementation of business responsibilities. This benefits the employees as they understand their responsibilities well through the communication department. Supervisors, managers and board of directors also benefits from such a plan as they also understand their roles and ensures effective running of the organization.
Roles and responsibilities
            In every organization, it is necessary for every stakeholder such as employees, supervisors and managers to understand their roles. This reduces confrontations as each team understands its responsibility. Employees are expected to play the following responsibilities:
            Technical expert: it is the role of employees to ensure that they perform properly in their work. This implies that they use competencies and skills and perform their work according to goals, mission, goals and organizational expectations.
Team players
            They should work as a team. Their responsibility is to contribute to a successful team and fulfill their responsibility of attending meetings, participating in problem solving and decision making and organizational projects.
Management
            They have a role of managing different business aspects through managing processes that are assigned to them by the business.
Developers
            They have a responsibility of ensuring that they contribute towards the organizational growth in terms of profits.
Supervisors' roles in a business
            Discipline: they are required to maintain a high level of discipline with the organizational staff. This prevents employees from engaging with prohibited activities and abides by the rules as outlined in the company handbook.
Development
            Being the intermediary between the management department and employees, he has a role of developing skills of employees. A supervisor is also required to determine employees who can perform the work of supervising in future.
Peace maker
            They have a responsibility of addressing conflicts and issues when they arise in the business. They are required to help the employees in conflict prevention from elevating them to executive or management level.
Productivity
            They have a responsibility of ensuring that there is maximum efficiency in the operations of the business. After being presented with the group production goals, they should determine better ways of achieving them.
Day to day mission
            Mission of a business which indicates the purpose, spells out organizational goals, guides in making decisions and providing a business path should be known to everybody. It should be clear and precise to ensure effective implementation.
HR strategic planning
            This refers to a process of establishing future and current HR needs that facilitates the business to achieve its objectives through organizing its resources. It links HRM to the overall organizational strategic plan.
Process of strategic planning
            This is a process that comprises of seven steps that are interrelated such as business units' strategic establishment, organizational mission definition, planning marketing objectives, developing strategies for marketing, doing situational analysis, monitoring results and implementing tactics. This plan comprises of five steps:
Determining your initial point through conducting an internal and external audit;
            This gives a clear understanding of the competitive environment, marketplace and organizational competencies within the business.
            Identifying the important things in the business through focusing on the point that business to be in due time. It gives the business a direction which clearly defines its mission such as customers, markets and products and its vision.
            Define the set objectives that clearly show what business is expected to do to meet its priority issues.
            Determine the person who is accountable to a given responsibility that will give the direction of the business. It strategizes on budgets and action plans for effective communication, human capital, time allocation and money for addressing priority issues and achieving the business objectives.
            Review: its calls for regular formal reviews and refining the necessary processes at least a quarter once. Such a process of strategic planning is very important as it contributes towards organizational growth at a very high rate.
Performance management
            It refers to a systematic process used by an organization to involve its members and individuals in a group, its employees, in order to improve business effectiveness in accomplishing its goals and missions. This type of management should be one through preparing meetings, conducting performance appraisal among other management strategies. Effective performance helps the managers in the following areas and makes their work easy.Alignment of objectives and goals within the organization
            It involves focusing the set goals to the targeted market and reducing utilization of physical and human resources to improve operations of the business.
            Guidance through the mission of the company to managers based on the program of their performance management concerning their responsibilities.
            Performance benchmark of individual work of the employees through evaluating their performance and the basis of any action and a decision made.
            Pinpointing problems of performance: specific metrics used in a program of performance management allows managers to break down the performance. It also enhances pinpointing of problems and proper actions taken to solve them before getting to major issues.
            Providing focused feedback: allow managers to participate in decision making and giving feedback to employees concerning achievement of their set objectives.
 Legal responsibilities
            This refers to a state of exercising legal responsibilities with competence and reasonable care with a lot of professionalism. In an organization, all members involved should carry out their responsibilities with due care. This regards the communication is done through posters and notices. All posters appearing in the business should be legal and put within the authorized areas and by authorized people.
Staffing
            This refers to the area where individuals are selected and trained for a given job function and charged with their responsibilities. This should be done in the business in case a post is left vacant or there need to increase the number of employees. Clear communication should be done through identifying the job description, advertising the post using the agreed medium of communication, inviting for applications. After all applications are received, applicants are shortlisted and an effective interview conducted.
Organizational training for excellence
            Training is done to improve the performance of the business, staff morale and profits gained when workers become effective and productive in their work. This training is beneficial to the workers in the following ways.
            They get new skills, improve their business contribution and build their self-esteem.
            Enhances their promotions within the business that improves their salaries. They acquire new skills to perform different and new tasks. They get a better view of the business as through training they see that business is valuing them through investing in their training.
Training preparations
            These preparations should be made earlier, and the information distributed in due time to avoid confusions. Through should be done through legal considerations, topics of training should be prepared in advance and the training resources distributed evenly.5 Appendix: model resources and documents
            This is an area documents are required to be kept in an orderly and systematic manner. Business documents should be well recorded and kept minimizing wastage and loss of essential information. All heads of departments in the business should have a well kept table of documents which contains: business forms, checklists, policies and resources. This will lead to better management and effective utilization of resources.
            Conclusively, communication should be enhanced in all departments within an organization. A well planned business with effective systems of communication leads to productivity which in turn leads to organizational growth. Regular training should also be recommended to ensure upkeep of employees' skills and well implementation of their responsibilities. Managers and supervisors should also have an overview of their roles to ensure that they set a good example to their subordinates.
References
Basarab, D. J. (2011). Predictive evaluation ensuring training delivers business and organizational results. San Francisco: Berrett-Koehler Publishers.
Buckley, R., & Caple, J. (2009). The theory & practice of training (6th ed.). London: Kogan Page.
Jenkins, H., & Ford, S. (2013). Spreadable media creating value and meaning in a networked culture. New York: New York University Press.
Jha, S. (2010). The project manager's communication toolkit. Boca Raton, FL: CRC Press, Taylor & Francis.
Paulet, E. (2009). Financial markets and the banking sector: roles and responsibilities in a global world. London: Pickering & Chatto.
Thomas, J. (2013). A nurse's survival guide to leadership and management on the ward (2nd ed.). Edinburgh: Churchill Livingstone Elsevier.
Turner, T. (2012). One team on all levels: stories from Toyota team members (2nd ed.). Boca Raton, Fla.: CRC Press.