Determinants of the Economic Development in Nepal
Remember! This is just a sample.
You can get your custom paper by one of our expert writers.
Get custom essay
75 writers online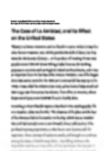 Topic: Determinants of the economic development in Nepal
Economics Definition
A social science that studies, how individuals, governments, firms and nations make choices on allocating scarce resources to satisfy their unlimited wants. Economics can generally be broken down into: macroeconomics, which concentrates on the behavior of the aggregate economy; and microeconomics, which focuses on individual consumers. Developing countries / Lower developing countries
A developing country, also called a lower-developed country (LDC) is a nation with a low living standard, undeveloped industrial base, and low Human Development Index (HDI) relative to other countries Countries with more advanced economies than other developing nations, but without the signs of a developed country, are categorized under the term newly industrialized countries
Introduction to Nepal
COUNTRY DESCRIPTION: Nepal is a developing country with extensive tourist facilities, which vary widely in quality and price. The capital is Kathmandu. Nepal ended a ten-year Maoist insurgency in November 2006 and established an interim government in January 2007. Since that time, the major political parties have been unable to come to an agreement on a new constitution. This stalemate has created an environment of political uncertainty, however a caretaker government is in place and the major political parties continue to negotiate to resolve this constitutional crisis.
Read the Department of State Fact Sheet on Nepal for additional information. Nepal, home to Mount Everest, is dominated by the world's most imposing mountains. Although the country is relatively small (147,181 square kilometers), 80 percent of its territory is occupied by the dramatic peaks of the Himalayas. Nepal was closed to foreign visitors until 1951, a situation which contributed greatly to its mystique in the west. This small, hospitable country has since become an exceptionally popular destination for travelers, whether they are in search of climbing challenges or spiritual enlightenment. Geographical regions
Nepal can be divided into three geographical regions, each stretching from east to west across the country. The southernmost strip of land, the Terai, is bordered to the north by Himalayan foothills and to the south by the Ganges River. The area was originally covered with tropical vegetation, but has been almost completely converted to agricultural production. The Terai is now the breadbasket of Nepal and is covered with farms. Nepal's 18 million inhabitants belong to dozens of different ethnic groups. They can be divided roughly into Hindu peoples (who live mainly in the lowlands) and Buddhists, who live in mountain villages close to Tibet. Hindus, who make up 90 percent of the population, dominate political and religious life. But Buddhism has a special connection to Nepal: Siddhartha Gautama, who was later revered as the Buddha, was born in the Terai in 543 BC. Perhaps the most well-known Buddhist ethnic group are the Sherpa, who have long been associated with Himalayan mountaineering expeditions. The vast majority of Nepal's population makes a living from subsistence agriculture.
Religion in Nepal
Hinduism is practiced by about 81% of Nepalis, making it the country with the highest percentage of Hindu followers; Buddhism is linked historically with Nepal and is practiced by 9%, Islam by 4.4%, Kirat 3%, Christianity 1.4%, and animism 0.4% Historical Background
The formal announcement of the establishment of the National Archives of Nepal was made in the year 1959, and after construction of the present building it officially opened its doors in 1967 under the then Ministry of Education and Culture. Its predecessor had been set up with the objective of managing and preserving the manuscripts and historical documents of Bir (or Durbar) Library, (a collection dating from 1900 belonging to the royal family) and furthering research and publication endeavors. Thus the former Durbar Library was renamed as the National Archives of Nepal.
The National Archives of Nepal is prominently located within the premises of Singh Durbar (the central secretariat of the Government of Nepal) on Ramshah Path in Kathmandu.
Functions
• To collect and preserve the nation's wealth of archives for present and future generations, • To receive documents of record, or official copies of such, from government bodies and government-related agencies,
• To provide access facilities to researchers so that they may consult archival documents and to make available, upon request, duplicate copies of such material,
• To advise government bodies and government-related agencies on the safe-keeping of their records, • To function as a public records management office for the Government of Nepal. Institutional Framework
Since Nepal became a federal democratic republic in 2008, the National Archives has been under the Department of Archaeology, Ministry of Federal Affairs, Constituent Assembly, parliamentary affairs and Culture.
Working Day & Hours
The National Archives of Nepal is open from 10.00 AM to 4.00 PM from Sunday to Thursday (November to January), 10.00 AM to 5.00 PM from Sunday to Thursday (February to October) and 10.00 AM to 3.00 PM on Friday (all year round). Tourism in Nepal
In 2008, 55.9% of the foreign visitors came from Asia (18.2% from India), while Western Europeans accounted for 27.5%, 7.6% were from North America, 3.2% from Australia and the Pacific Region, 2.6% from Eastern Europe, 1.5% from Central and South America, 0.3% from Africa and 1.4% from other countries. Foreign tourists visiting Nepal in 2008 stayed in the country for an average of 11.78 days As of 2010, 602,855 tourists visited Nepal
Association with International Organizations
Nepal is a member of two international organizations that are active in the fields of archival management and preservation. These include the International Council on Archives (ICA) and the South and West Asian Regional Branch of International Council on Archives (SWARBICA). Determinants of the Lower developing countries (NEPAL)
* Capital Formation
* Natural Resources
* Social factors
* Political
* Unemployment
* Education
* Crime
* Poverty
* Authoritarianism
* Violence
* GIRL TRAFFICKING
* ENVIRONMENTAL POLLUTION
Analysis on five major determinants
Capital formation (annual % growth) in Nepal
The Gross capital formation (annual % growth) in Nepal was last reported at -8.66 in 2011, according to a World Bank report published in 2012. Annual growth rate of gross capital formation is based on constant local currency. Aggregates are based on constant 2000 U.S. dollars. Gross capital formation (formerly gross domestic investment) consists of outlays on additions to the fixed assets of the economy plus net changes in the level of inventories. Fixed assets include land improvements (fences, ditches, drains, and so on); plant, machinery, and equipment purchases; and the construction of roads, railways, and the like, including schools, offices, hospitals, private residential dwellings, and commercial and industrial buildings.
Inventories are stocks of goods held by firms to meet temporary or unexpected fluctuations in production or sales, and work in progress. According to the 1993 SNA, net acquisitions of valuables are also considered capital formation. This page includes a historical data chart, news and forecasts for Gross capital formation (annual % growth) in Nepal. Capital formation in Nepal is hugely depending upon the tourism. As Nepal is the house of Mountain Everest. But only from the tourism, Nepal cannot accumulate, the require capital for their country. People do not have the ability for the high volume of saving, due to low level of income/ wages. There are no financial institutes in Nepal to improve the financial position of the family. Due to the low level of saving and less capital formation ways Nepal is unable to be a developed country. Some capital formation ways in Nepal
* The Nepal government has allowed Indian infrastructure major GMR to increase the authorized capital in its hydro power projects in Nepal to Rs 190 core while also extending its survey license by six months. * SMART TRAVELER ENROLLMENT PROGRAM (STEP)/EMBASSY LOCATION * Tourism if the one of the biggest way to increase capital in Nepal. * The biggest natural museum in the world in Nepal creates the revenue. Technology
Nepal has been a late starter in modem science and technology. In pursuance of self- reliance, it developed technological capabilities in some specific areas such as agriculture, civil engineering, architecture, metallurgy, water management, medicine, textile and paper manufacture, dyeing and food technology. Its segregation for over a century, coinciding with the Industrial Revolution in the West and colonial spread in India, deprived the country from the advances in Technology elsewhere. After the beginning of democracy in 1950, the country embarked on the path of modernization. An initiation in Technology activities took place, along with the inception of a development plan, in 1956. The Technology sector received its due importance in development plan in the Sixth Plan (1980-85).
Nepal's new constitution, primal gated in 1990, has emphasized the importance of Technology clearly by including a Directive Principle to promote its advancement. Major Technology organizations, including a science academy, the Ministry for Science and Technology, and several research centers and institutions for higher education in science have evolved during last five decades. However, with the low ratio of S&T manpower (0.4 per 1, 000 population) and low R&D expenditure (0.35 per cent of GNP), Nepal faces terrifying challenges seeking political commitments with long-term vision and recognition of S&T as the strategic variable for overall national development.
Technology backwardness lays a huge space in Nepal. People of Nepal still have the backwardness in their mind. As analyzing the technological progress in Nepal, we have come to know that there is neither invention nor innovation in Nepal, no improvement in the ways of communication levels. Very few people of Nepal know about the internet. Scientific research is almost zero in Nepal. Ass studying the economics, progress of the country depends upon the productivity and efficiency of the people but in Nepal there is a strong backwardness in the mind of the
people. NATURAL RESOURCES IN NEPAL:
Nepal is a small country but it is rich in Natural Resources. These natural resources are the gifts of the nature. Some of the important natural resources of Nepal are: Forest, Water, Soil or Land. FOREST
Forest is one of the important natural resources. Different types of forests are found in different regions of Nepal. It occupies about 37% of the total land of Nepal. Forest is the source of all wood-based industries. Industries like paper, furniture and timber are based on the forest. Forests are rich in herbs. The herbs have medicinal values. Many medicines are made from these herbs. Timber and herbs are valuable natural resources. The value of timber and herbs is very high in the world market.
There are many kinds of animals in the forests of Nepal. Forests provide food and shelter for these animals. Animals and birds add to the natural beauty of the country. People from many countries come to Nepal to see these beautiful birds and exotic wildlife. Many types of fruit and grasses grow in forests. People depend on them for their living and also to rear their livestock.
WATER
Water is the most important natural resource of Nepal. Nepal is rich in water resource. Nature has been very kind to us by providing us with unlimited supply of water. Nepal is the second richest in the water resources in the world after Brazil.
Nepal is a landlocked country. So Nepal does not have access to the sea or oceans. But there are lots of rivers that flow from the Himalayas. When snow melts in the Himalayas, the glacier and rivers are formed. The rivers flow through the mountain regions to the Terai. The main rivers of Nepal are Mechi, Koshi, Narayani, Gandaki, Karnali and Mahakali. These rivers have several tributaries. In addition to these Kankai, Bagmati, Trishuli, Marshyangi, Seti, Rapti, Bheri and also important rivers of Nepal. The major
hydro-electricity projects are:
* Kaligandaki: 144MW
* Marsyangdi: 75MW
* Kulekhani I: 60MW
* Bhote Koshi: 36MW
* Khimti: 60MW
* Kulekhani: 32MW
LAND/SOIL
Land is the other natural resource of Nepal. In Nepal most people depend on land. They do farming and earn their living from land. Land includes soil and minerals. The cultivable land in Nepal is about 17%. About 38% of the land is rocky and covered with snow. Soil is an important factor for agriculture. It is not possible for people and animals to live on earth without soil. The land in Terai is very fertile. It is good for agriculture. So, the productivity of Terai is very high. The terai region is the storehouse of food grains. It is called the green belt of Nepal. There are many hills and mountains in Nepal. The surface is rugged and sloppy in the hills. When rainfall is heavy the top soil of the hills is washed away. Then it causes landslides. So, the trees should be planted and conserved to protect soil in the hills. Plants are the only means to hold the soil tightly and to stop erosion.
MINERALS
Minerals like slate, stone, rock, coal, iron, copper, limestone, magnesite, mica and natural gas are natural resources. The marbles are made of rocks. Limestones are used in cement industries. Hetauda and Udaypur cement factories are the examples of such industries.
Nepal is quite rich in mineral resources. Mineral deposits such as gold, mica, limestone, iron ore, copper are found in different parts of Nepal. Because of financial constraint and lack of technical and skilled manpower, progress in the field of mining is negligible. If we utilize the mineral resources of Nepal properly, we can earn foreign currencies and people will get job opportunities also. The areas where minerals are found are as follows:
1. Copper: Buddha Khola (Bandipur), Gyari (Gorkha), Arghauli (Chisapani), Taplejung, Ilam, Baitadi, etc. 2. Iron: Ramechhap, Labdhi Khola, Pyuthan, Bhainse, Kulekhani, Bhutkhola, Phulchoki, Ghatkhola, etc. 3. Mica: Bhojpur, Chainpur, Lamjung, Dhankuta, Nuwakot, Sindhuligadhi, etc. 4. Limestone: Chovar (Kathmandu), Baise (Makawanpur), Udayapur. The biggest natural museum in the world
Nepal covers a span of 147,181 sq. kilometers ranging from altitude of 70 meters to 8,848 meters. Mountains, mid hills, valleys and plains dominate the geography of landlocked Nepal that extends from the Himalayan range in the north to the Indo-Gangetic lowlands in south. Mt. Everest, the highest point of the Himalayas is in Nepal. Poverty
Nepal has a high poverty rate. Large numbers of Nepalis lack health and sanitation facilities and are too thin and illiterate. Many people either have jobs that do not pay enough to survive or are unemployed. Death rates are high among children and people often cannot find sufficient housing. The country as a whole is struggling to develop economically. This means that the country needs appropriate and sustainable productive activities or more industry to provide jobs for the people.
Unemployment
As studying the Nepal we have came to know that the unemployment rate in Nepal is 46%. Cases of suicides and homicides associated with poverty have increased by 31% in Nepal according to a police report linked to the dramatic political and economic crisis experienced by the country last year. With an unemployment rate of 46% and an average income per capita of 1,300 U.S. dollars per year, Nepal is one of the poorest states in the world. According to World Bank data, about 55% of the population lives below the poverty line. Nowadays, this problem is a burning challenge in Nepal. Many people are unemployed in Nepal. The number of them is rapidly increasing. Therefore, it is a serious problem in Nepal.
There are many causes of unemployment in Nepal. Nepal is an agro-based country. Firstly many people are employed in agriculture, but now days it is a trend of leaving agriculture is increasing. People feel that agriculture is not economically beneficial. They go to towns to look for good job but they can't get any job easily and become unemployed. Secondly, some educated people are extremely traditional. They think that educated people should not start simple job they stay at home being jobless. Thirdly, most of the students in Nepal are getting general education. They do not have apt knowledge and skill of technical and practical education. Fourthly, the job opportunity in Nepal is very limited. So the problems of unemployment produced criminal activities in Nepal. Education
Modern education in Nepal began with the establishment of the first school in 1853; this school was only for the members of the ruling families and their courtiers. Schooling for the general people began only after 1951 when a popular movement ended the autocratic Rana family regime and initiated a democratic system. In the past 50 years, there has been a dramatic expansion of education facilities in the country. As a result, adult literacy (age 15+) of the country was reported to be 48.2% (female: 34.6%, male: 62.2%) in the Population Census, 2001, up from about 5% in 1952–54.
Beginning from about 300 schools and two colleges with about 10,000 students in 1951, there now are 49,000 schools (including higher secondary), 415 colleges, five universities, and two academies of higher studies. Altogether 7.2 million students are enrolled in those schools and colleges who are served by more than 222,000 teachers. Education management, quality, relevance, and access are some of the critical issues of education in Nepal. Societal disparities based on gender, ethnicity, location, economic class, etc. are yet to be eliminated. Resource crunch has always been a problem in education. These problems have made the goal of education for all a challenge for the country.
Education is the way that can change the backwardness in the mind of Nepalis. Education can take them to the glory of success and they will realize the things they have in their country. They are not using the resources they have in their country like natural museum, water resources, mountain resources, etc
Conclusion & Suggestions
Nepal is one of the poorest countries in the world and was listed as the eleventh poorest among 121 countries in 1989. Estimates of its per capita income for 1988 ranged from US$158 to US$180. Various factors contributed to the economic underdevelopment–including terrain, lack of resource endowment, landlocked position, lack of institutions for modernization, weak infrastructure, and a lack of policies conducive to development.
The Nepalese rupee was linked to the Indian rupee. Since the late 1960s, the universal currency has been Nepalese, although as of 1991 Indian currency still was used as convertible currency. During the trade and transit dispute of 1989, however, Kathmandu made convertibility of the Indian rupee more difficult. Nepal suffered from an underdeveloped infrastructure. This problem was exacerbated by a weak public investment program and ineffective administrative services. Economic development plans sought to improve the infrastructure but were implemented at the expense of investment in direct production and resulted in a slow growth rate.
Deforestation caused erosion and complicated cultivation, affecting the future productivity of agricultural lands. Although several laws to counter degradation had been enacted, the results were modest, and government plans for afforestation had not met their targets. The government also established the Timber Corporation of Nepal, the Fuelwood Corporation, and the Forest Products Development Board to harvest the forests in such a way that their degradation would be retarded. In 1988-89 the Fuelwood Corporation merged with the Timber Corporation of Nepal, but forest management through these and other government agencies had made very little progress. In FY 1989, more than 28,000 hectares were targeted for afforestation, but only approximately 23,000 hectares were afforested that year.
Industry accounted for less than 20 percent of total GDP in the 1980s. Relatively small by international standards, most of the industries established in the 1950s and 1960s were developed with government protection. Traditional cottage industries, including basket-weaving as well as cotton fabric and edible oil production, comprised approximately 60 percent of industrial output; there also were efforts to develop cottage industries to produce furniture, soap, and textiles. The remainder of industrial output came from modern industries, such as jute mills, cigarette factories, and cement plants.
The most important mineral resources exploited were limestone for cement, clay, garnet, magnetite, and talc. Crude magnetite production declined from a high of approximately 63,200 tons in 1986 to approximately 28,000 tons in 1989; it was projected to decline further to 25,000 tons in 1990. Tourism was a major source of foreign exchange earnings. Especially since Mount Everest (Sagarmatha in Nepali) was first climbed by Sir Edmund Hillary and Tensing Sherpa in 1953, the Himalayas have attracted foreigners to Nepal. Mountaineering and hiking were of considerable interest as were rafting, canoeing, and hang gliding. Tourism was facilitated with the opening of airways to Kathmandu and other parts of the country and the easing of travel restrictions.
Remittances by the Nepalese workforce employed overseas will remain an important source of income and economic growth. Nepal must strengthen the employability of its workers in better paying jobs outside the country.
The World Bank is helping Nepal tackle the main growth constraints through a mix of analytical work, technical assistance, and lending.
Nepal has benefited from the special trade and employment agreements with India. To increase productivity and derive the maximum benefit from international trade with both India and other countries,
Nepal needs to:
* Improve trade logistics, customs and tax procedures
* Remove the anti-export favoritism
* Undertake measures to increase competitiveness of Nepali products and make the country an attractive investment destination * If Nepal continues being prudent with fiscal management and focuses on investments into infrastructure and creating a political environment that is supportive
for businesses, the country can achieve significant growth in the upcoming years.