Developing Reflective Practice
Remember! This is just a sample.
You can get your custom paper by one of our expert writers.
Get custom essay
83 writers online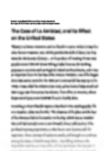 This essay will focus on developing reflective practice through exploring a critical incident in the workplace. It will explore different methods of reflection and use one particular method to reflect on the critical incident (appendix 1) and explain why this individual method was chosen. It will evaluate individual career development by reviewing past practice and the skills that have been gained throughout time, for example teamwork, group roles and experience gained, which will be ways to measure how development has progressed. It will illustrate a critical understanding of assessing personal capability within the workplace. It will identify a range of personal and interpersonal skills that contribute to effective professional practice and different types of work methods and will also reflect on practice and develop action plans to meet personal goals for the future. It is important to reflect on practice to help us grow as people, find faults and work on issues to better ourselves.
Wigens (2003:1) states 'reflective practice has been identified as one of the key ways in which we can learn from our experiences', however Atherton (2003) cited in Johnston and Nahmad-Williams (2009:367) 'questions whether reflection can really bring together the practical and theoretical'. Paige- Smith and Craft (2008) puts forward that it is important to reflect on how we interact with children and observe their peer interactions; this helps us to reflect on how important interactions are. After looking at Different methods of reflection, I investigated and considered a few, for example Gibbs and Kolbs. Gibbs is quite similar to De Bono's as you are able to explore the different stages in depth, but found that Kolbs does not have a clear cut off between each phase of the cycle, therefore I found it difficult to pull the case study apart using this method. Johnston and Nahmad-Williams (2009:365) writes 'Although Kolbs model is useful to see where reflection fits into the learning cycle, it does not provide detail about what reflection is and the processes in which it is achieved' The model of reflection that has been chosen is De Bono's six thinking hats. This method struck to be the most interesting to myself as it can be quite a visual tool.
The hats are referred to by their colour at all times as opposed to their function (De Bono 2000), the reason for this is as De Bono (2000:14) states 'If you ask someone to give his or her emotional reaction to something, you are unlikely to get an honest answer because people think it is wrong to be emotional'. Lindon (2012) puts forward that De Bono's method is a parallel way of thinking, meaning that you are looking and thinking in the same direction yet the direction changes. It helps to give a more rounded viewpoint and helps see things from a different perspective. Dreyer (2012) illustrates this by imagining a house with four people around it, one facing the front, one facing the back and one at either side; All may argue that their viewpoint is the best, but until you walk around and view the house from all four angles you will not be able to have an understanding of different perspectives. Johnston and Nahmad-Williams (2009:365) state that 'Dewey (1859-1952) was an influential figure in education and viewed reflection as a way of purposeful thinking that is systematic and raises questions and answers'. De Bono (2000) suggests that thinking is imperative in everyday life and no matter how good we think we are we should always strive to be better.
De Bono's six hat model has six aspects the first being the white hat which suggests that you first examine the data you have available, the facts and the figures, in this case Child L's mum wants to be able to bring her child into nursery earlier than 8:00am as she has to be in work, but thinks it is too expensive to pay for the early sessions, after being told to not come in early, mum still persisted in arriving prior to 8:00am. The second aspect is the red hat which is your intuition, emotions and reaction, in this case feelings were frustration that mum did not want to pay like others, annoyed that she was ignoring me, aggravated she kept bringing child L early, infuriated at the fact that she was not communicating with staff, uncooperative as did not want to help mum and nervous to keep having to tell her repetitively. The third aspect is the black hat which is the negative points of the situation, De Bono (2000) states that this is the most valuable of all of the hats and should not be seen as a bad hat, it is only to highlight possible risks and potential problems, in this case it is unfair to parents that are paying for the early start and not fair on staff members setting the room up.
The fourth aspect is the yellow hat which is the positive aspects of the situation, in this case it is good for parents to test staff members patience as it helps deal with things in future calmly and confidently, having gained knowledge and experience, also that the manager and parent were able to meet half way and come to a conclusion of a joint decision. The fifth aspect is the green hat which summarises and concludes of events, helping to decide what has been learned and what you will take forward into future practice. In this case it has shown that parents are going to get upset at times and practitioners have to deal with it as effective as possible. In future I would try and resolve the situation myself by coming to a resolution without involving the manager if possible, this way it may have not escalated as quickly as it did. The final aspect is the blue hat which is the evaluation to put the green hat into action. In this case make sure there are parent comment boxes where if a parent is unhappy they are able to voice their opinion and feel listened to instead of getting worked up. If it is possible to find an alternative and affordable way to engage struggling parents for example to be able to drop their child off early maybe just five minutes. You may then imagine you were the complete opposite and ask yourself how you would now feel.
By going through these different thought processes you are allowing your brain to take a journey to come to a fair conclusion. Having worked through the above reflective model it has highlighted some personal strengths and weaknesses which have been useful to reflect on professional development. Writing a timeline of career progression (appendix 2) has enabled me to look at past practice and focus on the skills gained throughout years of training. This has been a useful method of looking at personal progression. The most enjoyable experience had to be when I worked in Majorca as a children's representative.
Whilst here learnt to tone down my expressive personality, after a hurricane struck I panicked and scared the holiday makers, my manager pulled me into the office and explained that it was very unprofessional and that I needed to control my emotions. Another experience was after returning home, a family that used to attend my previous nursery had informed me of some very upsetting news. They told me that the mother of a 1 month old baby had died. The father asked if I would be interested in becoming their private nanny, after working on the other side of child care in a home environment I was able to see things from a different perspective and can relate to parents in current practice. Many times in life the opportunity have arisen for me to develop and grow as a practitioner. Since being a child my career path has been quite clear and after leaving school I began to study child care, alongside working with children. Looking back it was quite a vulnerable decision as the importance of childcare was not as great as now, and after working in several nurseries, learnt that it is hard work.
The chance finally came for a promotion to be third in charge of a nursery, after being successful in the position I realised that it was going to be a difficult journey. The job was very rewarding, although the time spent with the children had been halved due to paperwork and other duties, and other practitioners that used to work alongside me were now taking instructions from me. Through this time I began to deal with confrontation, at first the thought was quite daunting but after lots of practice feel very comfortable to approach this. The next step in my career development was a job that I happen to stumble across. I quickly arranged an interview as the money was greater yet the responsibilities cut. The setting was not like one I have worked in, or heard of before as there were lots of deprived children and chance to delve into the social work side of things. In the past my experience has been in upper class nurseries with highly qualified parents such as Lawyers and Doctors.
I quickly learned that this was going to bring me lots of experience and after working there for a year and a half I got promoted to a room leader, this is my current situation and have now been working there for four years. Every day I feel I learn something new in my job role and am one of the few people who love my job. Within my duties I attend core group meetings and case conferences, liaise with social workers and other professionals, as well as support the staff in my room with their daily duties and most importantly care for the children within my setting. The team we have is a highly qualified group of people who have all worked there for a long time and enjoy working together. Each staff member has a different personality which helps the nursery see things from different perspectives. Miller (2005) proposes that teams get together by different personalities balancing out so everybody has an input. I have a very bubbly and confident personality yet a colleague of mine is quite the opposite. It is this balance that helps the staff and parents to feel comfortable and be able to approach individual members of the team with ease to support their personal preference.
Manktelow (1995) illustrates you are able to solve different problems using numerous approaches such as ambition, sensitivity, creativity etc. As staff we are able to approach difficulties within our working hours and overcome them giving each other great support. Like Lindon (2012) we work effectively as a team even though there is a hierarchy everyone is allowed to have their own opinion and are listened to which helps everybody feel positive. All members of the team enjoy attending regular training courses to make sure we are up to date with current practice and procedures. Miller (2005) puts forward that it is important for practitioners to take a critical look at theory and practice when working with children. Regular staff meetings are held and staff appraisals. It is important to be able to give and receive constructive criticism. I recently have started to give the 4 practitioners underneath me appraisals. I find it to be quite difficult to explain that they need to work on different parts of their practice. This is an area that I need to work on. The praise sandwich is a tactic that my manager explained to me, when you have something negative that you need to discuss with a member of the team, you should start and end by saying something positive. This helps the person to realise that they are acknowledged for the good practice as well as the bad. She also told me to be more of a 'Swan' which was explained to me like this. A swan is a beautiful creature who is relaxed above water, however below the water her feet are going very fast.
My manager explained for me to stay calm on the outside in situations even if underneath I am struggling. After researching more about this found a good self reflection tool called SWAN. Jagusiak (2013) writes that it stands for Strength, Weakness, Ambition and Need. She explains that it involves witnessing and examining one's own practice, although you are watching someone else, this will help to analyse and critique any weaknesses. I am proud to be part of the team and feel that we are at the performing stage in our career. Tuckman (1965) cited by Smith (2005) argues that when groups of people come together they go through four separate stages as they meet and establish. These phases are called forming, storming, norming and performing. Forming is when the people in the group are meeting and accepting each other, they tend to test boundaries and figure interpersonal behaviours out. Storming is when they are a bit more comfortable and are able to speak out, question and criticize one another, they feel more comfortable to form conflict. Norming is when the group is established, they have overcome resistance and able to express personal opinions. Performing is the fourth stage where a team work well together, almost complement each other and help one another, roles are well established and performance is high. This is where my team are at the
moment.
Tuckman later in 1977 proposed an update and added a fifth phase adjourning. This is the stage where tasks are complete, people go their separate ways and group members can disengage. This can be due to retirement or the setting closes. After conducting some individual experiments to see how I work and how I fit into my team, I found that an auditory learning style suits best as the spoken word seems to digest better personally. The Belbin Team Inventory test showed that the implementer stuck out from the rest. I find this to be true as am a very positive person and am motivated and self disciplined. My favourite questionnaire had to be the Honey and Mumford's learning style. After completing this it was found to be quite evenly distributed between all of the aspects, which are the activist, the theorist, the pragmatist and the reflector. My scores were slightly higher in reflector and pragmatist. I am in agreement with this as am very enthusiastic about trying new things out in practice, yet able to stand back and view the whole picture before jumping in head first.
Lindon (2012) writes once we have highlighted our preferred learning style using many questionnaires there are a number of ways to put these into practice. Completing these self-reflection tests has enabled me to understand more about the person that I am, how I work and what I need to strive to achieve in the near future. Taking this into consideration I have planned for some future development. I thought it would be useful to look at the early year's standards and aim to develop some aspects of these. With this in mind I have chosen 2.5 Develop and sustain respectful relationships with children and their families. I have chosen this one linking back to my critical incident. It is important to sustain respectful relationships with parents as you have to work in partnership with them on a daily basis. Through these professional relationships comes trust allowing us to fulfil our parents as partner's ethos. The second aspect I would like to develop is 7.2 take a lead in establishing and sustaining a culture of cooperative working between colleagues and wider professionals. I have chosen this one due to the fact I actively engage with outside agencies and other professionals on a daily basis and would like to make sure that I am continuing this cooperative behaviour. In conclusion I feel that I am a very reflective person. I enjoy receiving constructive criticism, as I like to have goals to work towards and always strive to better myself. I have enjoyed completing this essay as
it has highlighted many things about myself I had forgotten along the way, such as how I used to behave and react to problems.
By illustrating this it has stated the fact that without knowing I have been learning and developing from the start. I have discovered ways for me and my team to find out more about how we work as practitioners and ways to overcome certain situations like my critical incident. I am proud of my personal achievement and would encourage anyone to work with children as it is a very rewarding path in life.
Dreyer, L Arts Forward, Munch Club #1: Edward deBono's Six Thinking Hats Sep 10th 2012; http://artsfwd.org/munch-club-1-edward-debonos-six-thinking-hats/ On-Line-UK [Accessed 20.11.13] De Bono, E (2000) Six Thinking Hats, Penguin Books; Great Britain Jagusiak, C (2013)SWAN technique; http://www.satyaliveyoga.com.au/2013/04/16/swan-technique/ On-Line-UK[Accessed 10.12.13] Johnston, J and Nahmad- Williams (2009) Early Childhood Studies, Pearson Education Ltd; England Lindon, J (2012) Reflective Practice and Early Years Professionalism, 2nd edition, Bookpoint LTD; Oxon Manktelow, J (1995) Mind Tools Essential Skills for an excellent career, Mind Tools, UK; Blackwell Miller, L (2005) Developing Early Years Practice, Oxon; David Fulton Publishers Paige-Smith, A and Craft, A (2008) Developing Reflective Practice in the Early Years, Berkshire; Open University Press Reed, M and Natalie, C (2010) Reflective Practice in the Early Years, SAGE Publications LTD; London Smith, M. K. (2005). 'Bruce W. Tuckman – forming, storming, norming and performing in groups, the encyclopedia of informal education. [http://infed.org/mobi/bruce-w-tuckman-forming-storming-norming-and-performing-in-groups/. Accessed: [02.12.13]. Wigens, L (2003) Beginning Reflective Practice, Cheltenham; Nelson thornes Ltd