Domestic Violence among African Americans
Remember! This is just a sample.
You can get your custom paper by one of our expert writers.
Get custom essay
80 writers online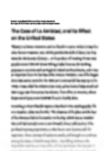 Domestic violence is abuse that occurs within a personal relationship. It can occur between former or current spouses or significant others. Domestic violence doesn't have a name it affects both men and women of any race, religion; gay or straight; upper class or low class; adolescents, adults, or seniors. But most of its victims are women rather men. While domestic violence is present in all races, the existence among African Americans is significantly higher in the United States. There are many elements that have been shown to stimulate a person to engage in domestic violence examples are failing relationships, lack of employment, poor school systems, violent communities, drug use and the multitude of nearby accessible liquor stores. Experiencing any these situations can lead to strong emotions that can ultimately result in domestic violence. People who experience domestic violence are deeply affected and often live in fear.
This plague has broken down and destroyed many African American communities. There are serious physical and mental health risks involved in domestic Violence. Abortion, stress, unconsented sexual encounters, possible suicides, complicated pregnancies and murder are few possible physical results from domestic violence. (Bent-Goodley, 2004) Abuse, control and violence are components of domestic violence. Neither the abuser nor the person being abused are winners in these type of situations. The abuser actions shows characteristics of controlling, anger, oppressor, possessiveness, power and liar. The abusers victims are usually people that can be manipulated, scared and shielded by the abuser. Although the abuser may be an adult most often their mental capacity displays child like behavior. A child will typically throw fits and become angry when things don't go their way or they didn't get what they wanted. This anger that possess is shown through mental and physical abuse.
Abuser are usually not very open people and they believe that are right in every situation. However, they never take the blame for their actions and tend to blame others, most often their spouse. The victims of abuse tend to show characteristics of having low self-esteem, sadness and being unconfident about themselves. Often the victim believes that this type of physical and verbal abuse should be inflicted upon them. (Agazie, 2011) Generally, a victim or spouse show signs of previously experiencing an unstable and hostile childhood, and possibly being abused as a child. As a result, they feel like an unwanted and scared child who is weak, instead of like an adult. African Americans who survive domestic violence, child abuse and community violence consistently engage in various types substance abuse at higher rates. (Hill, et al, 2012)
African American abusers who has previously used a weapon or threatened their spouse with one during arguments, will more than likely kill them by lethal violence. It is stated that 80% of African American women who have murdered their partners had a history of abuse. Violence and nonviolence have been proven behaviors that are learned. Social and cultural beliefs, outlooks on life, examples, role models influences on whether a person decides to engage in volatile or nonvolatile behavior. It is very key to know how a person elects to use violence or nonviolence. (Wimberly, 2000)
Statistics have shown that African American women are more prone to leave an abusive relationship and then return to it compared to white women. (Agazie, 2011) African American women suffer mistreatment over a long period of time and have a tendencies fight back. Close to 50% of victims that attempt to leave their abusive relationship are killed by their partners. (Williams, et al, 2008) African American women are brought up as younger girls under strong religious belief and family values. They are taught at a young age that once you get married you do what it takes not to become a victim of divorce. They are told that it may not be easy but you are married for life once you have made that commitment. With this type of upbringing African American women tend to procrastinate and often hesitate leaving an unhealthy marriage due to their beliefs. Most people don't not understand the reasoning behind women staying in this form of relationship.
While the reasons for their reluctances to leave an abusive relationship are uncertain, some likely justifications would be (1) when searching for a spouse African American women have a smaller amount of choices than White women; (2) African American women's income is normally lower than of most White women; (3) Black women are reluctant to call the police due to the trust that African American in the justice system. Unfortunately, most battered and abused Black women find no other way out of the relationship and resort to killing their partners. Losing financial means may also contribute to the reason why African American women of lower class are reluctant to report abuse. The abusing spouse may take care of the victim financially by providing a place to stay, clothes and food and, in order to keep their current living status so they remain quiet about the abuse. Reputation may play a part in why African American women of higher class hesitate to report abuse because they don't want to put their reputation at risk.
Another reason why abused victims remain quiet is because they may not be taken serious by law enforcement. It has been confirmed that domestic violence is treated more like a private family matter rather than serious matter. Typically when law enforcement is called to a domestic violence scene, no arrest is usually made and if they are ever prosecuted the case is usually dismissed. (Hampton, et al, 2008) In many cases I have found that the African American community seems to accept, if not encourage, the domestic violence that exists within it. While it is easy to blame education or social rank for a couple's behavior or society's reaction to it, these factors are often not as important as one might expect. A woman with multiple degrees or at the highest level of social strata is as vulnerable to domestic violence as the woman who did not graduate form high school. It equally as likely for a man who is born to an upper middle class family and a man born to a family that lives in poverty to participate in an abusive relationship.
The Black church has always and continues to be a pillar of strength to Black families and communities. The Black church has been a powerful force in the Black community. Domestic violence is a tough situation to endure, so many African Americans turn to prayer to cope with the difficulties in their lives. (Watlington & Murphy, 2006) The Black church has been unreliable and, at times, inadequate in reacting to domestic violence situations. (Bent- Goodley, et al, 2012) For instance on August 22, 2007, Bishop Thomas Weeks, pastor of an independent ministry that worked out of the Global Destiny Church (Haines, 2007) assaulted his wife, Juanita Bynum. This assault is significant not only for the positions held by the participant, but also for the actions taken by the African American community itself. According to Haines (2007) the community did not speak out against the pastor after the beating. Rather, some members of the community spoke in support for the pastor.
Haines quotes one individual as posting a message to Weeks' MySpace page that read, "Bishop Weeks, don't be discouraged, but be encouraged. Stand firm and know that the Lord is mighty in battle". Haines reports that another community member asked her own pastor about the Weeks domestic abuse case, only to find that "he had no reaction to the abuse and only provided him with scriptures." making her wonder what he could offer her if she were a victim of domestic abuse (Haines, 2007). While this situation may be distressing, it is not unusual. According to Jordan (2005) "When African American men act as bullies toward African American women they tend to engage in active-passive renunciation", which leaves abused women the choice of speaking out or being ostracized. What kind of message does this send? As a young girl I watched my mother be abused countless times by my very own father.
She endured this abuse for many years and it appeared as though she would never leave him. It was as if she was accepting of it or had merely gotten used to it. Then one day after 13 years she left and didn't look back. Although she didn't speak out about it, she removed herself from the situation. Most of my family knew about the situation but never brought it up. Years later my father eventually changed for the better. I believe that change has to come from within. You can acquire help and assistance but until you want to change no one can help you. It is difficult to create successful programs and mediation approaches that are geared towards domestic violence without fully understanding how African Americans grasp and distinguish this disease. (Bent-Goodley, 2013)
Domestic abuse is not distinctive to the African American community. As it stands, whether an African American woman is rich or poor, educated or not, she is at grave risk of being abused by her partner. As it stands, that woman is also at grave risk of being rejected by her community and even her family, if she speaks up about her abuse. Domestic abuse is not limited to only woman but the percentages are outstandingly high compared to an abused make victim. This violence must come to an end. Through education from within, it might be possible to initiate change.
References
Williams, Oliver J.; Oliver, William; Pope, Marcus. (2008). Domestic Violence in the African American Community. Journal of Aggression, Maltreatment & Trauma, Vol. 16 Issue 3, p229-237. 9p. Agazie, Maxine. (2011). Cultural Considerations Impacting Domestic Violence Among African American Women: Implications for Social Work. Conflict Resolution & Negotiation Journal, Issue 1, p138-141. 4p. Watlington, Christina G.; Murphy, Christopher M. (2006). The roles of religion and spirituality among African American survivors of domestic violence. Journal of Clinical Psychology, Vol. 62 Issue 7, p837-857. 21p. Bent-Goodley, TB. (2013). Domestic Violence Fatality Reviews and the African American Community. HOMICIDE STUDIES, Vol. 17, Issue 4; p375-p390. Bent-Goodley, Tricia B. (2004). Perceptions of Domestic Violence: Health & Social Work, Vol. 29 Issue 4, p307-316. 10p. Hill, Nicholle; Woodson, Kamilah; Ferguson, Angela; Parks, Carlton. (2012). Intimate Partner Abuse among African American Lesbians: Prevalence, Risk Factors, Theory, and Resilience. Journal of Family Violence, Vol. 27 Issue 5, p401-413. 13p. Campbell, Jacquelyn; Campbell, Doris W.; Gary, Faye; Nedd, Daphne; Price-Lea, Patricia; Sharps, Phyllis W.; Smith, Cheryl. (2008). African American Women's Responses to Intimate Partner Violence: An Examination of Cultural Context. Journal of Aggression, Maltreatment & Trauma, Vol. 16 Issue 3, p277-295. 19p Bent-Goodley, Tricia; St. Vil, Noelle; Hubbert, Paulette. (2012). A Spirit Unbroken: The Black Church's Evolving Response to Domestic Violence. Social Work & Christianity. 2012, Vol. 39 Issue 1, p52-65. 14p. Wimberly, Edward P. (2000). The Civil Rights Movement as a Potential Mentoring Model for Ending Domestic Abuse. Journal of Religion & Abuse, Vol. 2 Issue 1, p33. 16p. Hampton, Robert L. LaTaillade, Jaslean J.; Dacey, Alicia; Marghi, J. R. (2008). Evaluating Domestic Violence Interventions for Black Women. Journal of Aggression, Maltreatment & Trauma, Vol. 16 Issue 3, p330-353. 23p. Haines, E. (2007). Charges against husband put new focus on televangelist. USA Today.com. Retrieved from http://www.usatoday.com/news/religion/2007-09-01-ynum_N.htm Jordan, L. M. (2005). Domestic violence in the African American community. Retrieved from http://new.vawnet.org/Assoc_Files_VAWnet/RoleoftheBlackChurch.pdf