Downtown Health Care Clinic
Published:
22 February 2016
Remember! This is just a sample.
You can get your custom paper by one of our expert writers.
Get custom essay
93 writers online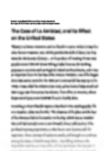 Perpetual Mercy Hospital
Perpetual Mercy is a successful, nonprofit hospital located in the southern periphery of a major western city. It is extremely financially stable, debt free and holds the highest occupancy rate in amongst all hospitals located in its metro location. Perpetual Mercy has become extremely dependent on older, inner city occupants that are covered by Medicaid. More business is becoming minor, short stayed visits which have begun to jeopardize the financial stability of the hospital. Other major threats that Perpetual Mercy faces are the demographic shifts in the community, in which northern suburban areas are becoming more heavily occupied, placing potential business farther away from the hospital.
Downtown Healthcare Clinic
In 1998 Perpetual Mercy Hospital's Board of Trustee's did a study to find out if it would be worthwhile to open a clinic up north in a new construction area downtown. The clinic would offer specific services like:
Preventive health care
Minor emergency care
Referral for acute and chronic health care conditions
Specialized employer services
Primary health care services
Basic x-ray and lab test
The clinic would not only service the local community but also serve as a preferred provider organization (PPO), holding a contractual arrangement with employment groups located near the new clinics area. These services will allow the hospital to expand their referral base, increase referrals of privately insured patients and establish a liaison with the business community by addressing employees' specific health care needs. A study of the service radius showed that the clinics services would cover a 5 block radius and approximately 11,663 office workers, with a projected population growth of 6% per year because of new area construction. After interviewing 400 office workers in the area, results showed that 50% of office workers in the area would use the clinic if necessary and 40% would visit the clinic at least once in the first year. Due to the study results Perpetual Mercy Hospital's Board of Trustee's decided that it would be beneficial to open the clinic in 1999. The clinic would be open 260 days a year, Monday through Friday from 8:00am to 5:00pm. The hospital projected to be self-supporting after the 3rd year of business.
DHC's First Year of Operations
After the first year of operations DHC had met their expectations. They had made 105 referrals to Perpetual Mercy, produced $378,000 in revenue and had a net profit of $30,000. The top reasons for patient visits were: Personal illness exams 53%
Workers compensation exam/treatment 25%
Employment/ insurance physical exams 19%
Emergency 3%
97% of visits in the year one were first time users with 113 visits by repeat patients. Most visits took place between October 1999 and March 2000. The average revenue per patient was $67.90 with expected increase of 8% per visitor beginning May 2000. Visits consisted of 60% women and 40% men.