Dream house
Remember! This is just a sample.
You can get your custom paper by one of our expert writers.
Get custom essay
89 writers online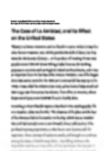 From my point of view, the location of my dream house is very important and the surroundings and the position of a house should be carefully considered. I've always been fascinated by rivers and the sound of the birds in the mornings. I'd feel positive and lively if I was woken up by the sound of doves perched on the branches of the trees. In this respect, I imagine my dream house near a flowing river, built in the countryside.
It would be located in such a place that I could find fresh water and air. In addition, my house's position would enable me to have as many pets as possible since a large garden with enough space would provide shelter for them. Also, I'd like my dream house to be near to the city centre so that I might go to big shopping malls with my car if I needed to. As a matter of fact, peace and harmony combined with nature would be the basic feature of the location of my dream house with its closeness to the city for emergency situations and supplying the necessities.
My dream house's interior design should be carefully planned because I believe that beauty lies within the details. Consequently, I'd like it to have a big, spacious hall since it is the first place that you see as you come in through the front door. At the end of the hall, there would be a staircase leading upstairs. I'd like to decorate the walls of the hall with famous artist's reproductions of still life paintings. For me, these paintings would give person feelings of relaxation and serenity. The first room on the right would be the living-room which is quite large and full of light. Day light is essential for me so I'd like to have big windows in the living room. A door from the living room would lead to a small study where I could write, read books and work on my assignments.
This small room would make me feel calm and attentive so I could focus my attention to my projects. Upstairs there would be bedroom and bathroom. Also, my bedroom would reflect my inner world and privacy so it would be painted with my favorite color which is blue. My view is that blue is the color that represents my feelings of harmony and peace. In short I can say that, the interior of my dream house is like my spiritual world so I'd decorate it in such a way that all the rooms, objects and colors would symbolize my true feelings.