E-marketplace, E-mall, E-tailing
Remember! This is just a sample.
You can get your custom paper by one of our expert writers.
Get custom essay
91 writers online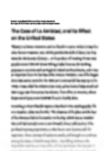 There are various electronic commerce activities and mechanisms.
E-Commerce Activities and Mechanisms include the following but not limited to:
E-Market Place: It is an online market usually B2B where buyers and sellers exchange goods or services. EC transactions take place in the electronic equivalent of a mall called the electronic marketplace (e-marketplace). Electronic marketplaces utilize different tools (electronic shopping cart, e-catalog, fulfillment technologies, and checkout and payment mechanisms) to provide the equivalent brick and mortar shopping tools.
Types of Electronic Market Places:
1. Electronic Storefronts: A single companys website where products and services are sold. Example: Walmart
2. Electronic Malls: An Online Shopping Center where many online stores are located.
3. Market Place: An Online market, usually B2B where buyers and sellers negotiate.
Electronic retailing is a form of electronic commerce.
E-Retailing — This type of e-commerce refers to the act of using internet by retailers to perform business activities. It covers retailing using a wide variety of technologies or media.
E-Tailing — Selling of retail goods over internet. E-Tailing is short form of E-Retailing. E-tailing can be used as a synonym with business-to-consumer transaction. To keep it short, Online retailing can be referred to as E-Tailing.
E-tailing has resulted in the development of e-tailware–software tools for creating catalogs and managing the business connected with doing e-tailing. A new trend is the price comparison site that can quickly compare prices from a number of different e-tailers and link you to them.
Example: Bestbuy site provides a customer to select a product upto 3 or more varieties and compare them.
Examples of e-tailing are Dell, Walmart, Amazon.
Comparison:
Following are some of the key differences between e-marketplaces, e-malls, e-tailing and physical marketplaces, malls, and retail outlets.
1.E-Marketplaces, E-Malls and E-Tailing is all about the business taking place in an online manner, nothing is physical. 2.There is a wide variety of selection available online when compared to the physical outlets or malls. More options available online. 3.Certain tools are provided to compare the prices between different products and services which lead to an easier desired selection process. 4.No need to drive to the physical location of the mall for purchases.
Tools and Techniques for a successful E-Commerce presence:
Tools:
Few tools for successful e-commerce are listed below but are not limited to:
1. Analytics: Analytics gives the idea of the sales where they are originating from. It is not enough to know that our products and services are getting sold. We need to know how the customers are visiting our site, how the traffic is being redirected to our site and how the marketing efforts are done. Some ecommerce scripts have statistics built in or available through a plugin. Standalone packages such as Google Analytics also provide you with a way to thoroughly check your stats, and all you do is place a line of code on your site for tracking. Analytics allows you to check all of your data online. You also have access to it whether you have access to your ecommerce servers or not.
2. Accounting Software: Having the right accounting software for your ecommerce store is essential to keeping you in the black. This simplifies the book-keeping process and cuts down on the chance of human error causing issues with accurate profit and loss numbers.
3. Cross Selling: Cross selling is an easy way of exposing additional products to the customer based on their search. For example, if a customer is visiting a site to buy a phone, the site will automatically recommend the customer to also take a look other available options such as phone accessories, headphones etc.
4. Currency Converter: Dealing with international shipping is a struggle for many ecommerce site owners. When your product has mass market appeal overseas, you want to make it simple for international customers to order. A currency converter is particularly useful, whether you have it as part of your script, or as an additional tool. Planet Management, a payment processor who offers international payments, reports that ecommerce stores who use their service to offer multiple currencies increase international sales by up to 25 percent.
Techniques:
According to Miller (2000), Business approaches and broad range of technology tools that are used to support collaborative product definition management (cPDm) initiatives are having a tremendous impact on the ways companies operate. A major change in enterprise computing is underway as companies apply best-practice processes in combination with a wide range of technologies including product data management, collaboration, visualization, collaborative product commerce, enterprise applications integration, component supplier management, and others.
The pace of improvements in cPDm-related technologies continues to accelerate, and companies use these tools to implement process change faster than ever. Whereas not long ago, companies were talking about three- and five-year plans for implementing data management systems; they now are asking what results to expect in six months or less. This represents a significant step forward in industry and a strong emerging movement that is becoming an essential element for companies to successfully compete in the 21st century (Miller, 2000).
According to Shaun Ryan, CEO of site search provider SLI Systems (http://www.sli-systems.com) (NZX: SLI), the best retailers use different techniques and features to create an equivalent merchandising experience that help visitors identify brands, sales or seasonal promotions and to draw more attention to products.
Shaun summarizes three primary steps – tuning, merchandising banners and reports – which can add significant value to your eCommerce efforts.
Tuning rules are designed to help promote or demote specific products as the merchandiser sees fit. For example tuning rule places certain products on the top of the list where as certain products on the bottom of the list or even off the list. This way it helps the merchandiser to prioritize which products should be shown and which should be not.
"Banners can be shown anywhere on the search or navigation page and can be triggered by a number of different rules. For example the banner could contain logos and other imagery associated with the keyword or facet. If someone searches for a TV or clicks on the TV category you could show a banner that displays a TV selection widget."
Reporting allows merchandisers to easily access key data about customers' search behavior. The Top Searches report can give useful insights about the most popular keyword searches, showing you the language that your customers use and identifying some possible candidates for fine tuning or adding banners.
References
Turban, E., King, D., Lee, J., Liang, T. & Turban, D. (2012). Electronic Commerce: Managerial and social networks perspectives. Upper Saddle River, NJ: Prentice Hall. Miller, E. (2000). Survival Tools for an E-Commerce World. Computer-Aided Engineering, 19(6), 52.
PR, N. (2013, December 5). Easy Techniques Fuel E-commerce Merchandising. PR Newswire US. (n.d.). Retrieved from https://blog.compete.com/2013/12/04/best-ecommerce-tools/
(n.d.). Retrieved from https://www.yourdesignonline.com/4-tools-building-successful-ecommerce-site/