Early Childhood Curriculum
Remember! This is just a sample.
You can get your custom paper by one of our expert writers.
Get custom essay
81 writers online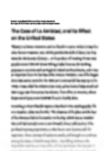 While being in this course I have learned about the different curriculums, philosophies and theories. In this paper I will be discussing how to develop an appropriate curriculum for preschool children. This paper will include the following topics: the theories and/or philosophies of Montessori; concepts learned throughout this course, how to apply them into an early childhood classroom focusing on the understanding components to design a curriculum for a preschool classroom based on ages 3 to 5 year old children. First let's discuss the philosophies of both Maria Montessori and Jean Piaget. Maria Montessori ideas and beliefs are embedded throughout every early childhood program and her influence on our thinking about curriculum has been profound. She was a tireless child advocate and believed that all children deserve a proper education.
Montessori insisted that through proper early education, underprivileged and cognitively impaired children could be successful if they were given a chance to learn. She was one of the first to establish a preschool for poor and mentally retarded children in Rome; these preschools were called "Casa dei Bambini", which translated in English as "Children's House." Dr. Montessori proposed that children that are at risk and the notion that society had a moral responsibility to devote resources to early child intervention. Our textbook states that. "Montessori embraced and expanded Froebel's kindergarten concept; she felt that children were natural learners and should drive much of their own learning. She asserted that children should be grouped in multiage (2 ½ to 5 years) classes to allow flexibility and opportunities for peer mentoring. Montessori developed an extensive set of "didactic" materials and lessons designed to be attractive to children and used by teachers to teach specific concepts and skills.
She adapted furniture to child size as a gesture of respect for the unique needs of early learners" (Jaruszewicz, 2012). I agree with her philosophy and theory, because children do need the freedom to learn at their own pace and not to be pressured to do what they see other children do. It is also important the classroom learning environment to be attractive so that it will draw the children to be there and learn new and exciting things. In order to use the teaching method, the teachers must be trained to work with all children and understand that no one child develops the same as another. The other philosopher that I will discuss is Jean Piaget. A contemporary of both Montessori and Dewey, Swiss psychologist Jean Piaget proposed a theory of cognitive development that initiated a constructivist view of curriculum (Jaruszewicz, 2012). Piaget conducted several experiments with young children that proved that their mental concepts are learned through trial and error experiences. Young children will continue to do things that they have been told not to do, until the consequence of their actions has been reached.
For example, when a parent tells their child not to stack the building blocks up too high or they will fall on them which could lead to them being hurt; the child continues to do that the same thing over and over again to see if what their parent said is true. Once the child has seen the building blocks fall over on them is when they have learned that they don't need to do that. His work confirmed early learning as distinct from other developmental periods, implying, therefore, that materials and activities for young children should reflect the idiosyncratic way in which they think and process stimuli (Jaruszewicz, 2012). Piaget proposed that cognitive development occurs in four different stages, three of which occur during early childhood. In the sensorimotor stage, infants and toddlers process experience and begin to coordinate movement through sensory exploration. Preoperational thinking of preschoolers emerges spontaneously, as they are internally motivated to make sense of their environment by testing ideas and theories in play and exploration with materials (Jaruszewicz, 2012).
Piaget and Montessori are the main philosophies that stood out to me in this course the most. Next I will discuss the Core knowledge preschool sequence curriculum and the areas inside it. With strong focus on challenging, but appropriate content, the Core Knowledge Preschool Sequence and Teacher Handbook is unique among early childhood programs. It outlines a cumulative and coherent progression of knowledge and skills in all developmental areas and integrates developmentally appropriate practices for both content and instruction. Using the core knowledge curriculum helps with creating appropriate activities that prepare the preschool age children to learn. Children are always ready to learn; as long as the teacher understands that, each child will be eager to learn in new and exciting ways. It is important for teachers to make sure that the information that they wish to teach the children in the classroom is appropriate and fun.
The Core Knowledge Preschool Sequence Curriculum focuses on five different areas: Social Skills, Early Literacy skills in reading and writing, Mathematics, Science and Visual Arts. It is important for children to learn how to interact with other children their age early in their lives to develop their social skills. One of the many things I love about Montessori is that Montessori teachers see the 'whole' child-developmentally, academically, socially, emotionally, and physically. There is a myth out there that says simply placing children in the same room and having them do activities helps them develop social skills. I disagree. Developing social skills needs to be a value in the classroom as well as modeled by the teachers/adults who are around the children. Using manners, demonstrating what Montessori called 'Grace and Courtesy' and always being respectful of the child are key ingredients to helping a child develop social skills. There are several ways to help expand children's social skills.
The activity that would be used to develop social skills would be to have the children sit in a circle on the floor, pass an object around each child to take turns telling the class something about them. Whether it is there name, favorite color, parents name, how many sibling they may have, etc. When are playing together in the classroom they learn to take turns, shared things and playing with others in general helps them develop social skills. The development of language in early childhood classrooms is an umbrella for the Montessori curriculum. The teachers and parents consider activities on the shelves of the Language area as the heart of actual language learning. The techniques used in a Montessori classroom are different when it comes to teaching language and literacy. Teachers, parents, and administrators need to recognize communication as the foundation for the meaningful development of language concepts and skills. Effective communication depends on authentic relationships between communicative partners.
Teachers have the responsibility (actually, the opportunity) to develop and expand learning relationships with young children. This is truly the ultimate opportunity to make a difference. Seen in this light, conversations with young children on the playground, during field trips, on the way to the bathroom, in the midst of conflict resolution, during lessons, and countless other times create the context for the development of language skills. Relationships of trust are built between children and teachers and among peers. Classroom work further contributes to language concept and skill development within this context of meaningful communication. It is important to talk children especially infants constantly, so they can develop a strong sense of vocabulary. Children catch on to everything that they may hear. So it is definitely important to be cautious what language you use around children. Printed materials and images are strongly important in an early childhood classroom.
These materials make the classroom attractive to children as well as make them want to learn about what those images and books mean. Phonemic awareness is part of a balanced literacy program, and can be developed in several ways during shared reading and shared writing. Shared reading and shared writing typically occur during the language arts time block, but may also occur during content-area learning. On to my favorite subject any grade level or age is mathematics. In an early childhood classroom, teaching young children mathematics somewhat easy and in some cases not so much. Getting children ages three to four year olds to learn their numbers and one to one correspondence can be a challenge, but it requires patience to teach the children the meaning of number awareness. Provide children with authentic, hands-on learning experiences-DO NOT USE WORKSHEETS. In preschool you should play to the children's natural curiosities and look to your student's interest to guide lesson planning. You are setting up children for a lifetime of learning and you should create excitement around what you.
Also, the more hands on the activity is, the more learning styles you are engaging, and the more the child enjoys it the more they will learn and retain! Create activities that children are actively involved in learning something new, such as how to count and recognize numbers. Numbers are not the only thing that children can learn that is related to mathematics. Shapes are how to perceive and recognize them are important as well. Teaching children about shapes and how many sides each one has involves numbers as well. Mathematics and Language go together because you are using vocabulary words to decide the shapes, numbers, etc. In conclusion, this paper touched on some important factors to help develop a developmentally appropriate curriculum for preschool/pre-K age children. It is important to provide activities for young children and make sure the environment is a positive, warm and inviting one that children will want to come to school and learn new things. In this paper I discussed the standards for each core knowledge area to develop an appropriate curriculum for young children.
References
Jaruszewicz, C. (2012). Curriculum and Methods for Early Childhood Educators. In C. Jaruszewicz, Curriculum and Methods for Early Childhood Educators. San Diego: Bridgepoint Education.