Effective Approaches in Leadership and Management
Remember! This is just a sample.
You can get your custom paper by one of our expert writers.
Get custom essay
87 writers online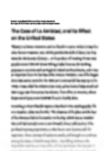 The enactment of the affordable care act has significantly changed the structure of all health care. As the focus of treatment at health care facilities all across the country transitions from specialty care and acute illnesses to preventative and long term health management, many changes have taken effect that have directly affected the approach and delivery of care. One of the greatest changes is the vast amount of patients that are now seeking health care. In an attempt to keep up with these high demands, many facilities have been left scrambling to adjust their budgets, reduce excess spending, and implement more efficient means of care delivery. Nurses throughout this process have had to adapt to a work environment that is constantly being changed and restructured. As a result, decreased job satisfaction, increased incidence of compassion fatigue, and nurse to patient ratios involving higher acuity levels have all contributed to the vast nursing shortage that is being experienced today. In addition, patient satisfaction scores and Medicare reimbursement have been greatly affected as well.
Despite all of the aforementioned issues, there are some facilities that are taking the extra step to recognize and promote nursing excellence by setting the standards higher in an attempt to gain Magnet status. The focus of this writing is to compare and contrast the expectations of the approaches that nurse leaders and managers may use regarding magnet status as well as discuss the approach that most identifies with the values and beliefs of this author. Magnet status, as defined by Miriam Hospital, is a designation awarded to hospitals for their creation of a "Magnet Culture"; an environment that not only supports nursing practice, but focuses on professional autonomy, decision making at the bedside, nursing involvement in determining the nursing work environment, professional education, career development and nursing leadership (Miriam Hospital, n.d.).
The concept of magnet status was first conceived in the early 1980's and was born of an inquiry as to how certain hospitals were able to retain and motivate nursing staff. This concept was identified based on the results of several research studies and documented in an article entitled "Magnet Hospitals: Attraction and Retention of Professional Nurses," written and published in 1983 by Dr. McClure president of the American Academy of Nursing (AAN), professor at New York University, and a member of the original task force (Hawke, 2004). Currently in the United States only six percent, or 389 hospitals, have achieved Magnet status with twenty-six of these located in California ("Magnet," 2013, para. 2).
Statistics have shown that Magnet hospitals have excellent patient satisfaction scores, safer patient environments, fewer repeat admissions, and better patient outcome overall. There are many rigorous qualifications that must be met and maintained throughout a facilities' designation. It is imperative that nursing leadership and management work together within their defined roles to accomplish the goal of recognizing, organizing and accomplishing the tasks and to ensure the staff participation needed to achieve nursing excellence. Only by existing within these defined roles, can the most efficient and accurate results be obtained. The role of management is to identify the resources that are required to accomplish the target goal of the organization. A manager must also plan, organize and implement strategies from an organizational level that outline what is required of subordinates in order to meet the proposed goal (Huber, 2010, p. 31).
It is the responsibility of the manager to ensure that policies and procedures are implemented and carried out correctly. To achieve Magnet status the nurse manager would need to survey patients and staff to define areas of weakness that would need to be addressed by staff to improve patient satisfaction. These actions can include steps to becoming more financially efficient by reducing waste, ensuring Medicare reimbursement through patient satisfaction, and nursing practices that reflect these decisions such as bedside reporting, user-friendly patient education, hourly rounding and updating whiteboards. The role of the nursing leader is to assist the nurse manager in accomplishing the organizational goals by facilitating smoother transitions through communication, guidance and assisting staff in the understanding of what the vision is, why they are being asked to do certain things, and how they relate to the larger picture.
This is accomplished by establishing trust and striving toward cohesion and mutual tolerance while managing conflict ("The difference between leadership and management," 2012, para. 2). In comparing and contrasting managers and leaders there are some points to consider. In management, many goals are established by other people and carried out by the managers within the organization. Leaders will act to develop new and fresh approaches to problems that may exist within the organization. The leader's instinct is to take risks and to challenge those people and ideas within an organization that may be holding it back. Managers work to accomplish the tasks and usually will continue to do whatever is necessary to get the job done without taking on too much risk or moving forward ("The difference between leadership and management," 2012, para. 7). Magnet culture is one of empowerment, shared decision-making and accountability (Frellick, 2011, para. 8). In order for this vision to succeed, health care facilities must demonstrate mastery of specific core principles known as the Fourteen Forces of Magnetism which includes a high quality of nursing management, and an environment that is built upon strong participation, where nurses are recognized by the top levels of management.
Another key to success is strong interdisciplinary relationships; meaning members from all departments of the health care team are able to work together; this includes nurses, physicians, pharmacists and therapists. Participatory leadership focuses on the mutual respect and involvement of all parties. It is democratic in nature and promotes shared responsibility for actions; it is this leadership style that this author most identifies with. It is of the opinion of this author that personal involvement and the inclusion of everyone is key to maintaining a working professional relationship between management and subordinates because it empowers everyone to work together to achieve a vision or goal.
If employees on all levels feel that their opinions and ideas matter and are important, than they will be willing to go the extra mile to see that goals get accomplished as the organization's visions become their visions as well. This cannot be accomplished without managers and leaders who have the ability to harness this commitment and facilitate unity between all parties involved. True success is not gained through the dictation of what is and what will be, it is gained through the understanding that if we all work together, we can be really great because we all have something to contribute and when joined together, these contributions will make us the best we can be.
References
Frellick, M. (2011). A Path to Nursing Excellence. Hospitals & Health Networks. Advance online publication. Retrieved from
http://www.hhnmag.com/hhnmag/jsp/articledisplay.jsp?dcrpath=HHNMAG/Article/data/04APR2011/0411HHN_FEA_workforce&domain=HHNMAG Frequently Asked Questions (FAQs) about Magnet. (2013). Retrieved from https://www.ucdmc.ucdavis.edu/nurse/magnet/faq.html Hawke, M. (2004, January). Magnet Status Attracts Mettle. Nursing Spectrum, 19-21. Retrieved from http://www.nsna.org/portals/0/skins/nsna/pdf/career_jan04_hawke.pdf Huber, D. L. (2010). Leadership and Nursing Care Management (4th ed.). []. Retrieved from http://pageburstls.elsevier.com/#/books/9781416059844/pages/49495303 Miriam Hospital. (n.d.). http://www.miriamhospital.org/services/nursing/magnet-hospital.html The difference between leadership and management. (2012). Retrieved from http://www.strategiesfornursemanagers.com/ce_detail/208037.cfm