Employment responsibilities and rights
Remember! This is just a sample.
You can get your custom paper by one of our expert writers.
Get custom essay
75 writers online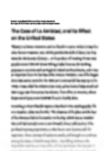 Learning Outcome 1.
1.1 List the aspects of employment covered by law.
Aspects that are covered by law are as followed, anti-discrimination provisions to protect against gender, race, disability, age, working hours and holiday entitlements. Sickness absence and sick pay. Data protection for personal information. Health and safety. Criminal records Bureau (CRB) checks when starting work within a healthcare setting.
1.2 List the main features of current employment legislation. The main features are as followed, minimum wage, hours worked, Discrimination, health and safety, holiday entitlements, redundancy and dismissal, disciplinary procedures, training and union rights. Health and safety laws cover the work conditions, and minimum wage and other laws set basic compensation levels. There's also the disability act, manual handling operations and regulations, data protection act, general social care council code 2001 and RIDDOR. 1.3 Outline why legislation relating to employment exists.
Legislation relating to employment exists to stop exploitation of workers by their employers mainly to protect the rights of their employee's and to make sure that they have everything they need such as safety standards, holiday entitlement, maternity leave, redundancy payments, discrimination laws, maximum working hours and age requirement.
1.4 Identify sources and types of information and advice available in relation to employment responsibilities and available in relation to employment responsibilities and rights. Sources of information and advice can be found in the HR department, from your line manager or your manager's manager. The Citizens Advice Bureau, community legal advice, trade unions, additional learning support and from representative bodies.
Learning Outcome 2.
2.1 Describe the terms and conditions of your own contract of employment. The terms and conditions of my contract of employment are the commencement date of which I started working for the organisation. Information about my probationary period where it explains that the first three months of my employment will be probationary so that I and the organisation can assess the suitability of this arrangement. My contract states my job title, which is care assistant. There's information about the pay rate during the week and a different rate of pay at weekends and bank holidays, along with how often we are paid. My normal hours of work each week and holiday entitlement are stated. Which explains that I'm entitled to 28 days holiday a year but only permitted to take a maximum of 10 days at any one time. Also listed is information about sick pay and how much notice to give when leaving the organisation. My contract explains about the uniform that is provided. There's information about the CRB checks that every member of staff has when starting.
2.2 Describe the information shown on your own pay statement. The information on my pay statement is my name, national insurance number, tax code and the dates of the four weeks that I have been paid for. It details the amount of hours worked for the four weeks with the rate of pay for weekdays, weekends and any bank holidays or holidays booked during that time and the value. There's a list for tax deductions and national insurance deductions. The total amount of tax paid since working for the organisation. At the bottom of my pay statement there is the total gross pay which is the amount earned before tax deductions. Underneath there is the total amount of tax deductions for the four weeks. The net pay is the amount left over when tax deductions have been taken away from the total gross pay.
2.3 Describe the procedures to follow in an event of a grievance. The grievance should be raised verbally with your line manager or manager's manager. It should be done in confidence giving full details and sufficient time to consider the facts of the case and where appropriate take remedial action. If your line manager not be able to satisfactorily resolve the grievance, the matter should be referred either verbally or in writing to the home manager whose decision will be final. An employee is entitled to have another person present at any stage of the procedure.
2.4 Identify the personal information that must be kept up to date with your own employer. Personal information that must be up dated is your change in marital status, address and telephone numbers. A change of next of kin details. National insurance number and tax code. Qualifications and work history. Any medical restrictions, absence details, training and data protection.
2.5 Explain agreed ways of working with employer.
Agreed ways of working with your employer are following health and safety procedures, implement agreed ways to follow care plans. Following procedures when someone needs to take time off either for personal reason or holiday. Giving your employer the correct time needed to organise shifts for sickness.
Learning Outcome 3
3.1
Explain how our own role fits within the delivery of the service provider. My role fits within the delivery of the service provider because I am maintaining the organisations reputation and setting high standards. Following uniform policies by dressing smartly and wearing the correct uniform. Attending staff training and completing e-learning course so that I'm up to date with policies and procedures. Treating the service users with dignity and making sure they keep their independence. Also communication with other health care professionals, service users and their family on a regular basis.
3.2 Explain the effect of own role on service provision.
Being a care assistant I support the unit managers and senior care assistants by communicating with them. I keep them up to date with any changes regarding the service users like their behaviour and any medical conditions which have either got worse or better. I follow all policies and procedures when undertaking tasks so that I'm complying with CQC standards. Working in a team we can support the service users to maintain their independence, individuality and basis rights. To ensure the safety of staff and service users all health and safety policies are followed.
3.3 Describe how own role links to the wider sector.
Working as a care assistant we are linked to a variety of health care professionals such as doctors who come in once a week for check-ups on service users and possibly giving prescriptions so that we can monitor their condition. We also have district nurses and hospitals who require monthly check-ups and we have to update them on the service users condition from carers who work with them on a daily basis.
3.4 Describe the main roles and responsibilities of representative bodies that influence the wider sector. CQC go to a wide range of care settings to make sure essential standards of quality and safety are being met at all times. All staff that work within the health care industry follow all the appropriate policies and procedures to ensure the safety of the service user and staff.
Learning Outcome 4
4.1 Explore different types of occupational opportunities.
The different types of occupational opportunities are gaining a level 3 NVQ and working as a senior carer and eventually working towards becoming a unit manager. 4.2 Identify sources of information related to chosen career pathway. Information relating to a chosen career pathway could be to talk to your unit manager about progression to a senior care assistant and find out the relevant training and qualifications that are needed for the role. Another source is the NHS website for job similar to a care assistant such as a health care assistant which assistant the nurses.
4.3 Identify next steps in own career pathway.
In order to become a senior care assistant I would need to complete my NVQ level 2 and medication course. Do the relevant training at work and then complete an NVQ level 3.