Employment responsibilities
Remember! This is just a sample.
You can get your custom paper by one of our expert writers.
Get custom essay
99 writers online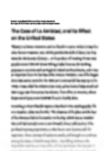 Understand employment responsibilities and rights in health, social care or children and young people's settings. Outcome 1 – know the statutory responsibilities and rights of employees and employers within own area of work
1 – Health & safety, minimum wage, working hours, equality
2 – Health & Safety at Work Act 1974: An act put in place to look after the health, safety and welfare of people at work, for protecting others against risks to health or safety in connection with the activities of people at work. Equality Act 2010: This act legally protects people from discrimination in the workplace. Employment Rights Act 1996: This act explains what rights employees have in a place of work. For example, time off work, guaranteed wages, dismissal and redundancy.
3 – To protect employees against circumstances they may face in their working lives. Every person who works for an employer is protected from discrimination in the workplace, has the right to receive the national minimum wage, and to work no more than 48 hours per week unless they wish to. These employee rights apply regardless of whether the employee or worker is temporary, fixed-term or permanent, or how long they have worked for the employer. These laws provide rules and regulations that must be followed.
4 – Sources and types of information and advice available can be, speaking directly to managers, reading policies and procedures, looking on the internet (direct.gov.uk) , going to a citizen advice bureau or joining a union.
Outcome 2 – understand agreed ways of working that protect own relationship with employer
1 – My contract of employment at Crown House covers the following : job title, probationary period, place of work, pay, deductions, hours of work, overtime, time recording, short time working and lay off, annual holidays, public holidays, sick pay, alcohol and drug testing, pension, notice and garden leave.
2 – My payslip includes the following information: company name, department, payment method, payment period, payments, hours, rate, amount, deductions (PAYE tax, National Insurance, Pension), totals, week/month, date, department number, tax code, employee number, employee name and net total.
3 – If you have a grievance relating to your employment, you should in the first instance raise this with the manager. If the grievance cannot be settled informally, you must set out the grievance and the basis for it in writing and submit it to the Area Manager.
4- Personal information that must be kept up to date with own employer can include : change of name, marital status, change of address, any medical conditions that may affect work, any medication prescribed that may affect work and any altercations with the police must be admitted.
5 – Agreed ways of working includes policies and procedures, which may cover areas such as:
Data protection – how confidential files relating to staff or service users are stored in cupboards where access is only given if needed.
Conflict management – if there is any conflict between staff members this should be bought to the attention of the manager and he/she should try to resolve this professionally.
Anti-discriminatory practise – staff and service users will not be discriminated regardless of their age, gender, sexuality, religion, ethnic background or disability.
Health and safety – staff should wear appropriate clothing, for example flat shoes and covered up. It is staffs responsibility to report any health and safety issues they may come across, whether it be broken equipment or maintenance needed within the building.
Equality and diversity – staff and service users must be treated equally but not all the same. Opportunities should not be missed just because somebody may need extra support to do something. For example, if a sensory room is upstairs and somebody cannot manage the stairs for whatever reason, help should be given (lift, stair lift) so that person can access the room.
Outcome 3 – Understand how own role fits within the wider context of the sector
1 – My job description is to provide centred focused care to service users. To provide opportunities for service users to increase their knowledge and experience, to encourage them to maintain present skills and learn new ones, and to enable them to gain more control over their lives. To manage and minimise behaviours as best as possible. To ensure the four key principles of the 'Valuing People' document are adhered to at all times 'Rights' 'Independence' 'Choice' and 'Inclusion'. General and administration duties. ** Important: this is not exhaustive and is subject to review in line with the changing needs of the unit and/or the needs of the service users.
2 –
Positive
Negative
Accessing community and participating in activities of enjoyment People may be at risk to themselves and others (staff, members of public) Gives the company a good name
Service users not motivated, become lazy
Improves service users development and remain stimulated
Behaviours may be displayed often
Keep service users safe
Gives the company a bad reputation
3 – Other people in which staff need to communicate with will include, but are not limited to, the following: Residential homes – to find out how the service user has been at home (behaviours, illness), let them of know of any lunch requirements (picnics, cooked lunch), ensure money is sent in for planned activities, make sure the service user is dressed appropriately for planned activities. Speech and Language Therapists – to assess, monitor and review a service users eating and swallowing if any problems have been noticed and reported, to offer help with communication aids and techniques. Mental health team – attend regular appointments with service users to see how they are, is medication working? Any new problems/obsessions? How mood has been? (agitated, confused, depressed) Any behaviour triggers?
4 – CQC are regulators for all health and social care services in Enlgand. A regulator is an organisation that checks services meet the government's standards or rules about care. They also look after the rights of people who need extra support to stay safe. This includes people who are kept in care under a law called the Mental Health Act. The government's standards cover all areas of care. These rules are about things like: – respecting people and treating them in the way we all expect to be treated. – making sure people receive the food and drink they need.
– giving people care in clean, safe buildings.
– managing services and having the right staff.
CQC put care services on their register if they meet the standards, or act quickly if they do not. They continue to use different information to find out as much as they can about services. Information from the public about their experiences of care is very important to CQC. They also work with local groups and people who use services to find out what's working well and what's working badly in health and social care services in their area. Inspectors check services all over England to make sure they meet the rules for safe, effective, compassionate and high-quality care.
Care services, and other organisations like the NHS, also give CQC information about certain things that happen. For example, they will check a service if more people are dying there than usual. They act quickly to stop unsafe services or bad ways of working. They say what needs to change and go back to check things are better. CQC can also fine people or companies, give services a public warning, stop the service caring for any new people, stop a service caring for people while they find out what is happening and even shut services down.
Outcome 4 – Understand career pathways available within own related sectors
1 –
To be a care home manager you would need the following qualifications – * at least two years' senior management or supervisory experience in a relevant care setting within the past five years * a qualification appropriate to the care you will be providing, such as NVQ Level 4 in Health and Social Care, a degree in social work or nursing (with live registration) * a management qualification, such as NVQ Level 4 in Leadership and Management for Care Services (which replaces the Registered Managers Award (RMA)) or equivalent like a Diploma in Management Studies, or a Management NVQ Level 4 . To be a nurse you would need the following qualifications – around 5 GCSEs (or equivalent) of Grade C and above including English Literature or Language, Mathematics and a science subject. to take a nursing degree courses you will normally need at least 2 A-Level s or equivalent. all nurse training is done by universities.
They offer nursing diplomas or degrees which take three years to complete. The diplomas however are being phased out and most universities are moving to degree only in September 2011 – all universities must move to degree only by September 2013 to work as a nurse in the United Kingdom you must be registered with the Nursing and Midwifery Council. The title "Registered Nurse" is only given to you when you have that registration. To be a social worker you would need the following qualifications – a three-year undergraduate degree or a two-year postgraduate degree in social work that is approved by the Health and Care Professions Council (HCPC). Many university courses are full-time, although some work-based routes with part-time study may also be available.
You will typically need the following qualifications in order to study for an undergraduate degree in social work: five GCSEs (A-C) including English and maths at least two A levels, or an equivalent qualification such as a BTEC National Diploma or NVQ Level 3 in Health and Social Care. You should check entry requirements, as colleges and universities may accept alternatives like an Access to Higher Education or substantial relevant work experience (paid or voluntary). If you already have a degree, you could do a two-year postgraduate Masters degree in social work. 

 When you apply for social work training, you should ideally already have some paid or voluntary experience in a social work or care setting. You will also need to pass background checks by the Disclosure and Barring Service (DBS). Previous convictions or cautions may not automatically prevent you from this type of work.
2 – In order to become a Deputy Manager of a day service such as Crown House, I would speak to my current manager and find out all the information I needed to know. I could also get in contact with the companies head office and if need be any training providers.
3 – The next steps in my career pathway are as follows
Any refresher training to update my knowledge and remind me what I learnt last time, this will include NAPPI training. Attend first aid course and SOVA course annually
Complete NVQ level 3 by December 2015
Mental health training by June 2016
Outcome 5 – Understand how issues of public concern may affect the image and delivery of services in the sector
1 – The following are cases where the public have raised concerns regarding issues within the care sector:
Winterbourne View
Baby P
Ash Court
Fiona Chisholm
Orme House
2 – Abuse took place at Winterbourne View, a hospital for patients with learning disabilities and challenging behaviours in Gloucestershire. A Panorama investigation broadcast on television in 2011, exposed the physical and psychological abuse suffered by people with learning disabilities and challenging behaviour at the hospital. Local social services and the English national regulator (Care Quality Commission) had received various warnings but the mistreatment continued. One senior nurse reported his concerns to the management at Winterbourne View and to CQC, but his complaint was not taken up.
The footage showed staff repeatedly assaulting and harshly restraining patients under chairs. Staff gave patients cold punishment showers, left one outside in near zero temperatures, and poured mouthwash into another's eyes. They pulled patients' hair and forced medication into patients' mouths. Victims were shown screaming and shaking, and one patient was seen trying to jump out of a second floor window to escape the torment, and was then mocked by staff members. One patient was repeatedly poked in the eyes. A clinical psychologist who reviewed the footage described the abuse as "torture".
On 21 June 2011, 86 people and organisations wrote to the Prime Minister, David Cameron about the revelations, "We are aware of the various actions currently being taken within and outside government – such as the DH review and CQC internal inquiry. We hope to make submissions to those both individually and collectively. However, on their own these will not be enough and a clear programme is needed to achieve change. The prime minister responded saying he was "appalled" at the "catalogue of abuses" Panorama uncovered.
In June 2011 the Association of Supported Living issued a press statement, which was followed up in writing to every member of parliament in the United Kingdom, calling for community based supported living services to replace institutional services for people with learning disabilities.
The Daily Mail said "Without the investigation by the BBC's Panorama, given huge coverage in the Mail, the abuse of patients at Winterbourne View might be continuing to this day. As it is, the secure hospital and two other care homes have been shut down, 11 guilty staff have been brought to justice – and a devastating report now exposes the serial failings of the local NHS, police and health watchdogs. For the past year, the Leveson Inquiry has focused relentlessly on the failings of the media. Never let it be forgotten how much this country owes, in the fight against cruelty and corruption, to its free Press."
The Daily Telegraph said, "It is impossible to read the details of what went on at Winterbourne View, a care home for the severely disabled in Gloucestershire, without feeling repelled. In the wake of an exposé from the BBC's Panorama, 11 members of staff were convicted of almost 40 charges of neglect and ill treatment of those in their care."
The national regulator, the CQC did a nationwide check on facilities owned by the same company, Castlebeck Care – as a result three more institutions have been closed. The CQC reported a "systemic failure to protect people or to investigate allegations of abuse" and said that Castlebeck Care had "misled" the health watchdog.
The CQC also inspected 132 similar institutions and a Serious Case Review was commissioned. The head of the Care Quality Commission resigned ahead of a critical government report, a report in which Winterbourne View was cited. Mencap published a report warning that similar abuse could be going on elsewhere and calling for the closure of all large institutions far from people's families. Eleven people pleaded guilty to criminal offences of neglect or abuse as a result of evidence from Undercover Care and six of them were jailed. Immediately after the eleventh person pleaded guilty, the Serious Case Review was published, revealing hundreds of previous incidents at the hospital and missed warnings.
3 – The public seems to have lost faith in such regulators and companies as this has been reocurring for a number of years. The media have issued a lot of publicity stating how care companies, social services and regulators have let the victims down by simply not taking these cases seriously enough and ensuring the well-being and standards are being met. The public may feel reluctant to use the care services to look after their family members. These issues also give the care sector a bad reputation.
4 – Recent changes in service delivery which have affected own area of work includes staff being supervised and appraised on a regular basis, changes to medication being administered, NAPPI training to prevent forceful restraining, ensuring incident/accident forms are completed correctly and signed by witnesses if needed and up to date training, policies and procedures.