Essay on extension interaction interview
Published:
30 November 2015
Remember! This is just a sample.
You can get your custom paper by one of our expert writers.
Get custom essay
82 writers online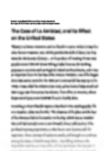 Essay on extension interaction interview
Introduction
       Extension is one of the services offered in most American states and helps people to get information and learn different ways to solve their day-to-day problems. Texas is one of the states where extension is offered across the counties. Both paid and voluntary services form the most valuable part of extension. However, extension volunteer forms the major populations of extension (Boleman, & Burkham, 2005). This paper is based on the interview that was carried out from a local extension volunteer. My uncle, John was interviewed about his interactions with the extension and how the program has helped him while serving as part of their voluntary personnel. The person interviewed for this essay was my uncle who works as extension volunteer. My uncle has offered extension services to local community for the last three years. He graduated five years ago with bachelors' degree in Disaster education. He has spent most of his life with the local communities, which makes him to have vast knowledge about the county. In addition, he is outgoing and social and you will find him making friendships with most local people. He is a serious person and always respects his career and people who interact with him. After long interaction with him, I found that he likes listening to music, watching movies and making new friends. Perhaps, it is his involvement in voluntary services that has helped to him to develop outstanding social skills.
       According to him, he interacts with extension as a master volunteer. He gained this status after completing a specialised training in disaster education for 40 hours. In addition, his ability to lead and teach disaster subjects to the local community saw him being promoted to his current position from youth volunteer. As a result, he has been delegated to offer service for at least 50 hours. During his service, he interacts with the extension audience on face-to-face and sometimes teaches youths and adults about how to manage local challenges facing the county. According to him, extension has helped to develop his leadership skills that enable him to solve problems facing the community with much ease. He concurred with Lockett, & Dodd, (n.d.) that development of competent leadership skills is crucial to the success of extension program in Texas. As a result, he has been able to motivate his audience, influence them and solve the impending problems. He has also developed problem solving skills, which has helped him to address situations he meets on the ground when offering his extension services.
       He has a dream of building his career in the field of extension and help people to address their challenges and hence improve their lives. His devotion to help others and see the lives of other people has been the main motivation. He said he was comfortable if the information about his extension interactions were shared with other people since it would encourage them to join extension. He argued that the fast growing population across the Texas counties and the limited finance in the extension required more people to volunteer and thus there was need to share the information about the program. This will increase the number of extension volunteers and thus help it to meet the increase demand of its services.
Reference
Boleman, C., & Burkham, A. (2005). Volunteer administration in the 21st century: Roles volunteers play in Texas Extension. E-457) Texas Agrilife Extension. The Texas A&M System.Lockett, L., & Dodd, C. (n.d.) Developing Leadership Skills in Volunteers. AgriLife Communications, The Texas A&M System