Ethics in public ad
Remember! This is just a sample.
You can get your custom paper by one of our expert writers.
Get custom essay
101 writers online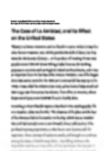 Since the 1970s there has been a great deal of change associated with the implementation of administrative ethics. These changes have been promoted and motivated by the concept of public administration in the new era. An important position is given to the concept of ethical issues in today's civil governance. There has been a great deal of research associated with this concept which has been supported by translation of evidences and theories into practice across different continents. Frederickson and Ghere (2005) address both the managerial and individual/moral dimensions of ethical behavior as well as new challenges to administrative ethics posed by globalization. As promoted by Cooper (2001) ethics in public administration is not a transient concept but has proven to be an approach which has shown a great deal of sustainability which is fundamental to the area of public administration. Public administration has certain issues with regard to ethics implementation and finds it troublesome to come to terms with them.
One reason for this is because ethics is embedded in an intellectual framework. This framework is based on stable institutional as well as role relationship levels, among both public employees as well as the organization. According to the views of a number of researchers (Bang and Sorensen, 1999; Keast et al., 2004; Rhodes, 1996; Sorensen, 2002, 2006; Sorensen and Torfing, 2004; Stoker, 1998), current government perspectives believe that clarity and stability at these levels would be problematic. Despite the increasing number of studies that have focused on the importance of administrative ethics, there has been very little effort spent on identifying what is exactly the crux of ethics in administration (Cooper, 2004).
This lack of directed research in the dynamics of operations with regards to ethics in public administration along with constant changes in the principles and policies associated with administrative ethics need to be examined. These developments have raised new topics for concern in this field. One example which can be cited at this juncture is the emergence of the concept of egovernance which would require the identification of a whole new paradigm of ethics in public administration.