Ethics of Bribery and Kickbacks
Published:
20 November 2015
Remember! This is just a sample.
You can get your custom paper by one of our expert writers.
Get custom essay
72 writers online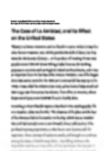 Ethics of Bribery and Kickbacks
Introduction
       Following a careful observation, the gulf state should be deprived of the right to host the FIFA 2022 world cup following controversial payments of a huge sum of money to a former official along with his family. This raises ethical concerns since it breaks virtues of ethics as discussed in this paper. There should be an investigation to probe the payment of an unaccounted sum of two million dollars by the Qatari firm to justify the payments and if possible exonerate the firm from the corruption allegations. It would be in appropriate to allow such a controversial state to host a worldwide event such as the world cup with participants from all over the world, thus calls have been made from around the globe to the world's football governing body to re re-run the bid to host this event. According to Sugden et.al, (1998) corruption breaches the ethics of virtues since it harms many people.
       It has been formally announced that Qatar will be hosting the hilarious FIFA world cup in 2022. This is after a secret ballot vote by the FIFA Executive committee that was held in Zurich December 2010. A maximum of five candidates had presented their bids in anticipation of hosting the world's spectacular sporting event. Again, according to utilitarian principle of ethics this is not right; it yields fewer benefits to a large number of people. Although Qatar views this as a great achievement, the FIFA officials who gave Qatar the privileged to host the 2022 world cup are to be compelled to justify this decision beyond reasonable doubt to the FIFA investigator following some disclosures from the telegraph. Michael Garcia who happens to be the chief investigator of the ethics committee has travelled to Zurich to hold numerous interviews following consistent pressures on FIFA to re run the bid once more (Scharfenort, 2012).
       These meetings have been precipitated by some telegraph inquiry that disclosed how FIFA's previous vice president along with his family were paid 2 million dollars from a firm that was linked to Qatar's victorious bid. Although the particulars of who the executive committee chooses to support are usually high profile and secretly kept, the board members however are expected to be accountable for any breach of the bidding rules inclusive of the complicity between bids (Amara, 2007).
       A spokesperson from the Qatar's world cup organizing committee said that the bid committee strictly followed all the FIFA binding rules and regulations in full compliance with their standard ethical codes. He further claims that the highest committee for delivery and all the individuals concerned with 2022 bid committee are not aware of any allegations regarding dealings of any nature between private individuals. This is obviously a sophisticated cover up of the corruption allegations since the committee seems to have overlooked some serious allegations following telegraph disclosures which incriminated Qatar's vice president, thus it is irrational to give a bid to host a world event to country with corrupt leaders and officials (Grix, 2012).
       The chairperson of the parliamentary culture, sport and media committee argues that the controversial payments made to the Qatar's former vice president along with his family is an adequate proof that the credibility of the whole process of selecting Qatar as the country to host the 2022 FIFA world cup is compromised, hence such process is subject to probing.
       The ethics involved in bribery and kickbacks with regard to the National society of professional Engineers (NSPE) includes;
•Striving to serve the public interest
•Avoiding all conduct and practices that deceives the members of public
•Avoiding any attempt to obtain employment, advancement or any professional engagement by improper or questionable methods.
•Acceptance of personal responsibility for all professional activities.
•Giving credit for any professional work to whom credit is due and not to whom credit is not worth.
•Avoiding influence in professional duties by conflicting interest.
References
Amara, M. (2007). When the Arab world was mobilised around the FIFA 2006 World Cup. Journal of North African Studies, 12(4), 417-438.
Grix, J. (2012). 'Image'leveraging and sports mega-events: Germany and the 2006 FIFA World Cup. Journal of Sport & Tourism, 17(4), 289-312.
Scharfenort, N. (2012). Urban Development and Social Change in Qatar: The Qatar National Vision 2030 and the 2022 FIFA World Cup. Journal of Arabian Studies, 2(2), 209-230.
Sugden, J Tomlinson, A., & Darby, P. (1998). FIFA Versus UEFA in the Struggle for the Control of World Football (pp. 11-31). A. Brown (Ed.). London: Routledge.