Eudora Welty
Published:
21 February 2016
Remember! This is just a sample.
You can get your custom paper by one of our expert writers.
Get custom essay
85 writers online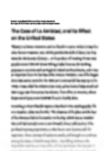 The word determination is defined as, "the act of coming to a decision or of fixing or settling a purpose." Will-power is, "the strength or will to carry out one's decisions, wishes, or plans." In the short story A Worn Path by Eudora Welty, the main character Phoenix carried out the meaning of these two words throughout the whole story. She had experienced many road blocks during her journey, but she did not let them stop her from reaching the goal she had at the time.
In the story, Phoenix is a very old woman who needed to go to town to get medicine for her sick grandson. She overcame obstacles that were both physical and mental throughout the course of the story. Her courage and devotion to her grandson showed that she was willing to go the extra mile to make sure that her grandson was okay. This was not only because she cared for him, but because she loved him.
Phoenix encountered many obstacles during her journey to town and one of them was getting through the thorn bush. As she was walking down the path her dress had got caught.
A worn path: literary analysis
Literary Analysis Arising out of the ashes the phoenix came back to life again. In Greek mythology the phoenix is the symbol for idealism and hope. It falls only to arise and live again. The main character of Eudora Welty's short story, "A Worn Path", is much like this phoenix. She must overc Premium 508 Words 3 Pages
Never give up: a character analysis of phoenix from welty's "a worn path" Never Give Up: A Character Analysis of Phoenix from Welty's "A Worn Path" By STUDENT NAME Professor NAME CLASS NAME DATE Outline Thesis statement: In "A Worn Path" by Eudora Welty, Phoenix Jackson displays extraordinary perseverance in the face of difficulty, which ultimatel Premium 971 Words 4 Pages
Analysis of a short story a worn path by eudora welty
Analysis of a short story "A Worn Path" by Eudora Welty. Lit.1 Characters: Phoenix Jackson : Is the protagonist of the story. She is described in vivid colors, suggesting her lively nature: she wears a red rag in her hair and her skin is described as "yellow," "golden" Premium 1151 Words 5 Pages
Character analysis-a worn path
A Woman of Amazing Character Will-power and determination plays a major role when it comes to people accomplishing goals and performing the tasks they are given. When a person possesses these two qualities they are motivated, focused, will not give up easily, determined along with many other thi Premium 907 Words 4 Pages
Literary analysis on "a worn path"
Literary Analysis on "A Worn Path" In "A Worn Path" by Eudora Welty, the protagonist Phoenix Jackson helps portray the theme that people will do anything for whom they love. Everyday people are going out of their way to make either a theoretical or literal journey to help someone they love. In the Premium 407 Words 2 Pages
The Worn Path analysis
In the story "A Worn Path", there is a repetitive comparison between the main character and a mythological creature. The author Eudora Welty chooses Phoenix Jackson to symbolize through color, her appearance, behavior and overall journey a Phoenix bird. The author gives description to… Premium 387 Words 2 Pages
Literary Analysis of The Worn Path
In the Worn Path, by Eudora Welty, the placement consorts with the time to create an environment which hinders Phoenix's progress but reinstates dedication and persistence into her journey. During the establishment of the setting, the first description is, "It was December—a bright… Premium 294 Words 2 Pages
Worn path
WORN PATH Eudora Welty brings the story, "A Worn Path", to life through the use of the character Phoenix Jackson and symbols. This story detail's an elderly Negro woman's journey to town, on a mission of love. Phoenix Jackson, an elderly Negro women is frail, old, and Premium 914 Words 4 Pages
A worn path essay 6
A Worn Path Detail of an elderly Negro woman's journey from deep in the country to town, the while on mission of love. Phoenix Jackson, an elderly Negro women who is frail, old and has many handicaps, she lived during trying times and because of her race, faced many challenges while growing up Premium 862 Words 4 Pages
A worn path: racial prejudice is rampant and out of control In the story A Worn Path, Eudora Welty shows an old woman living in a time period where racial prejudice is rampant and out of control. Phoenix Jackson is a grandmother whose only motivation for living is to nurture her grandson back to health. The strength of love may make people do or say unusua Premium 997 Words 4 Pages
A worn path
Eudora Welty's "A Worn Path" is a story that emphasizes the natural symbolism of the surroundings. The main character in the story, Phoenix Jackson, is an old black woman who seeks out to find medicine for her sick nephew. This story contains a motif, which is the continuous walk Premium 1208 Words 5 Pages
A worn path: the modern short story
In the modern short story, Eudora Welty clearly develops Phoenix Jackson as a main character who indirectly manipulates other people. Phoenix, as the speaker in "A Worn Path" holds the status of an old Negro woman who continues the everyday cycle of life. Although, in reality Phoenix is an average h Premium 665 Words 3 Pages
A worn path by eudora welty
Ordeal of Devotion In "A Worn Path" by Eudora Welty an elderly African American woman named Phoenix Jackson picks a cold December day to make yet another perilous journey to a near by city to get medicine for her ailing grandson. On the way this ninety-year-old woman faces many obstacles, both natu Premium 985 Words 4 Pages
A worn path essay 5
Eudora Welty's "A Worn Path" is a story that emphasizes the natural symbolism of the surroundings. As the story begins, we are introduced to our main character, Phoenix Jackson; she is described as a small, old Negro woman. I believe that the name Eudora Welty gives our main character is very symbo Premium 1346 Words 6 Pages
A worn path: a tattered trail
A Tattered Trail "A Worn Path" by Eudora Welty, is the tale of the unstoppable love and care of a grandmother for her grandchild. The main character in the story, Phoenix Jackson, is an old black woman who makes a long journey into town to get medicine for her ill grandson. Despite the many ob Premium 840 Words 4 Pages
Eudora welty: worn path, visit of charity
Eudora Welty The are only so many ways an author may sum up the course of a human life within just a few pages. Eudora Welty has the awesome talent of being able to do just this. In her stories "Where Is the Voice Coming From", "A Visit of Charity" and "A Worn Path", Welty uses the reoccuring th Premium 545 Words 3 Pages