Evidence based in nursing
Published:
22 November 2015
Remember! This is just a sample.
You can get your custom paper by one of our expert writers.
Get custom essay
81 writers online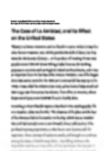 Evidence based in nursing
Introduction
Literature search
       The topic I searched on was management of brain injuries. The main purpose of this research was to ascertain what literature stated on how to monitor and treat a patient to curb post traumatic seizures, which are brought about due to limitation of amount of oxygen that goes to the brain. This causes excessive release of excitory neurotransmitters, thereby increasing the brain's metabolic needs, that raises pressure within the intercranial space.
Unfiltered Evidence
       The unfiltered article that I came across had important information in it. It had three authors namely; James W. Y. Chen, Robert L. Ruff and Roland Eavey. It had 21 references in it, "Post traumatic epilepsy and treatment." I found it in the Wiley online library database. It clearly defined the whole post traumatic epilepsy symptoms, diagnosis and physiotherapy practices involved in treating it. This article was very useful as it gave a clear highlight on how to go about the nursing process of post-traumatic seizures. However, this did not show the research and advances that have been made in diagnosing and treatment of the condition.
Filtered Evidence
       Filtering of articles was critically hectic and cumbersome. I discovered informative articles on post traumatic seizures diagnosis, treatment and care. However, most of them were obsolete and did not show clear progress in current research and health advances towards dealing with brain injury associated epilepsy. I succeeded in getting present day ideas when I used the online Harvey/ John Hay Whitney medical library tool. I got 20 results from the search. Despite most of them being outdated, I managed to find a relevant one which was talking about the advances and treatment administered to the epileptic patients. It had a broad variety of the whole process and it had a lot of information. The article I found was in synopsis form (Fulton, John F. and Ralph W. Gerard, 2014).
Critically Appraised Topics
       When I used the AHRQ database I collected 173 searches on head injury post traumatic seizures. It was very wide thus difficult to obtain the information required. It was comprised of all other neural based injuries like the spines making it difficult to come up with a clear article on post traumatic epilepsy. The nearest article that I came across was on "Nerve and Brain Conditions."
Systematic Reviews
       It was the most effective tool that I used and its results were very easy to internalize. I found an article in the Pubmed database that showed the way forward in dealing with head injury traumas in a comprehensive context and I liked it a lot. I dealt with the symptoms, diagnosis and medications, and therapeutics used in dealing with the post trauma epilepsy. (Dalmady & Zasler, 2014)
Useful Tip
       In order for one to have a complete literature research, the most sufficient way to go about it as I learnt from this assignment, is by using more than one database when searching for a specific topic. Another way is that, with the higher you go the more broad the evidence you get in a distinct hierarchical order.
References
Dalmady-Israel, C., & Zasler, N. (n.d.). Post-traumatic seizures: A critical review. Brain Injury, 263-273. Retrieved December 9, 2014.Tsao, J. (2012). Traumatic brain injury a clinician's guide to diagnosis, management, and rehabilitation. New York: Springer.