External & Global Environment of Louis Vuitton in Japan
Remember! This is just a sample.
You can get your custom paper by one of our expert writers.
Get custom essay
96 writers online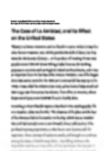 Introduction
This case study is on the external and global environment of Louis Vuitton (LV) in Japan. For many years, Japan has been Louis Vuitton's most profitable market but the economic crisis has had a negative effect on sales; sales have declined in the past few years. According to Tokyo Fashion News in November of 2008, LV has "seen more than a 5% decline in sales in Japan so far this year" (para. 3). They attribute the decline to one of two things, the decline in the Japanese economy or that LV has fallen out of favor with the Japanese people. Synopsis of the Situation
With a decline in the economy, Louis Vuitton has been forced to open stores that offer a lower priced collection. The Japanese economy can no longer support the high-end collector name brands that it used to but Japan is in love with LV. "Based on sales figures and brand image indicators, we have compiled Asia's Top Ten. It confirms what every luxe-loving Asian already knows: There is nothing to beat the charms of Louis Vuitton and Rolex" (Chadha, R. & Husband, Paul, 2006, para. 5). Key Issues
The number one key issue would be the decline in the economy. The second key issue is that the Japanese are looking for a good deal, good value to product. The third key issue is the number of competitors in the Japanese markets that offer luxury products. Define the Problem
In 2008, the economy in Japan and all over the world took a nosedive; people were worried about making ends meet and severely cut down on buying luxury items. People started looking for products that offer a better value for their yen and became more cost conscious of what they were buying. There is serious competition in Japan for the luxury market. Among the competitors are Rolex, Cartier, Gucci, Chanel, and Prada to name a few (Table 1.1). Alternative Solutions
One alternative solution would be to create a less expensive product and market it to a larger segment of the market. A second solution would be to improve the quality of their product and continue to market as a luxury item. A third solution would be to offer a middle of the line product available online that would draw the customers away from the other luxury item companies that would not require a storefront. Selected Solution to the Problem
The selected solution to the problem would be to offer a middle of the line product available exclusively online. By offering the products online the company would not be require to have a physical store for customers to come into. This would cut costs dramatically; there would not be the overhead of operating a store, paying employees, or paying the costs of running a store. This would also offer customers the convenience of shopping from home. Implementation
Implementation of this plan could be tricky. The company needs to make sure they have the capacity to handle a large volume of internet orders and they need the inventory on hand so they could ship items in a timely manner. Probably a million small details will need to be dealt with so the company needs to do some brainstorming with employees and management as to what problems may arise at implementation. Being prepared for any unforeseen problems would be very important before implementation, do not wait until problems arise to brainstorm solutions. By making sure they are prepared for orders, word-of-mouth advertising could be a huge advantage. Secondly, the company would have to make up a great advertisement campaign targeting the middle-class and the products that would be available. Recommendations
Louis Vuitton should start a marketing campaign focusing on the middle class in Japan offering mid-priced products that are available exclusively online. The company should focus on smaller, out of the way cities first that do not have access to the higher priced stores and move out from there. Depending on the success of the marketing campaign in the smaller cities, the company should move to the larger cities where they have stores in order of population starting from smallest to largest. If these campaigns are successful, they could consider moving outside of Japan into China. Conclusion
While Louis Vuitton is very popular in Japan, the decline in the economy has affected sales. Because there are so many other luxury stores in Japan, the company should focus on the larger, middle class segment of the population. By offering a lower priced, quality product the company could gain market share by attracting more customers from a larger population of people. Offering these products online opens the door for customers that do not live in an area where their stores are located.
References
Louis Vuitton Japan Lowering Prices. (2008, November 29). Tokyo Fashion News RSS. Retrieved June 9, 2014, from http://tokyofashion.com/louis-vuitton-japan- lowering-prices/
Chadha, R., & Husband, P. (2006, January 1). The Cult of the Luxury Brand: Inside Asia's Love Affair With Luxury. . Retrieved June 9, 2014, from http://eds.a.ebscohost.com.lib.kaplan.edu/eds/results?sid=d07a16b5-4279-45c4-925174ed637b11f1%40sessionmgr4004&vid=3&hid=4110&bquery=DE+%22Brand+name+products++Social+aspects+Asia%22&bdata=JmNsaTA9RlQmY2x2MD1ZJnR5cGU9MCZzaXRlPWVkcy1saXZl
and image scores.