Failure Analysis/Change Strategy
Published:
29 February 2016
Remember! This is just a sample.
You can get your custom paper by one of our expert writers.
Get custom essay
70 writers online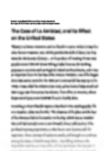 There should also be a strategy in mind when it comes to businesses in order to prevent failure. The company should have everything documented all the way from budgeting, goals, employees and other important factors that a business will need in order to succeed. There are two companies that are great examples of a business failure and success. The failure would be Blockbuster (movie rental company) and Starbucks (coffee shop). These two companies have been around for years. However, one of the companies failed recently, which is Blockbuster. The objective, vision and mission for Blockbuster was to provide a great service for families and friends to enjoy the presence of movies as if they were at the theatre. Blockbuster was a company that served the public for many years. Having the ability to rent movies from different years and all categories is what helped the business succeed. The vision was to give individuals the ability to see movies that were no longer at the movie theater or on television. The mission was to provide media entertainment. The objective, vision and mission for Starbucks is to provide quality coffee to customers and keep them satisfied. The individuals that work for the company must have an enthusiastic personality to fit the company and keep customers smiling. This has helped them to remain successful along with serving a great beverage. This company also has different franchises all over the world to meet the needs of customers. The indicators from the failure of Blockbuster has a lot to do with structure. There are many companies out there now that are more convenient when it comes to movie rentals. Individuals are able to order movies online and from the actual cable company. There are also movie stands in front of certain stores and individuals can rent those at ease. This business would not be able to keep up with all the advanced technology. The success from Starbucks would be the quality of leadership style that the company possess and structure. The structure of the business is set up in many places which provides better access for consumers. Any place that a person may go, there is likely to be a Starbucks around to grab a hot cup of coffee. This keeps the company booming and convenience for the customers which keeps them satisfied. This business will to continue to grow with all the different franchises that are also produced.