Family Business Case 5 Vega food Company
Remember! This is just a sample.
You can get your custom paper by one of our expert writers.
Get custom essay
79 writers online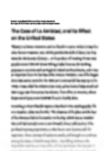 Family Business
Case 5
The Vega Food company owner Francisco Valle Sr had just recently died and now the rest of the family is having problems with the money, shareholders and what exactly are the siblings responsibilities in the company. Francisco Jr has been working there the longest and has the most experience working along side his dad in the company. His four sisters are now wanting more percentage of the shares in the company. The main problem is with his young sisters Mari who wants more responsibility in the family business. Francisco received a big CEO salary and bonus that the sisters didn't receive nearly as much as he did. They thought this was unfair. This problem seem to hurt the company in sales.
After calling a family meeting, a consultant got everything straightened out for what each member of the family had to do and what the shareholders wanted out of the company and what percentage of shares they all had. This problem seem to hurt the company in sales. Francisco seems to be the right person to take most of the responsibilities because was worked there the longest and knows what to do.
Mari wanted out of the company for feeling that she wasn't treated the same way as the rest of the siblings so Francisco bought her shares out. Everyone always thinks that they all deserve the same percentage and same amount of salary at the work place but that just doesn't happen in real life. If Mari wanted to stay in the company I think they could have given each other a little bit more percentage in the shares but still having Francisco have the highest percentage.
It also never really stated what she did for the company and how she could help the company. She just thought that she deserved more shares. Personally I don't think that is fair just because your family doesn't mean you're entitled to have shares in the company. But in the end I think Mari just had enough and wanted to give her shares up and move on in her life.
After reading what the family did to over come this problem I thought it seem to be the best for both the company and Mari. Now their sales have been going up and the company is growing and doing good with new employees. If they didn't resolve this problem I think the company would have been destroyed and more feelings would have been hurt in the long run. Also being a good CEO, Francisco saw a problem and decided to do something about it.