Farewell Speech
Published:
23 February 2016
Remember! This is just a sample.
You can get your custom paper by one of our expert writers.
Get custom essay
89 writers online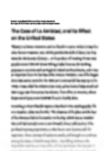 Today, I stand before you, with a lot of emotions; quite similar to those I faced the first day I entered this building. It was not just a building; it was a place that slowly but surely over the next seven years I could call a home.These seven years seem like such a long journey and you wake up one day and realize that suddenly, it's all over… and all you can do is dramatize because as much as they tell you to look ahead, you just can't stop looking back.
When writing this speech, for the first time I realized how important my parents, teachers and friends have been in my life. I would like to thank my Parents for always supporting me in my decisions and leading me down the right path. I would like to thank my teachers who have always helped me and been there not only as educators, but as role models as well. They have not only taught us what's given in our books, but taught us about life. I would like to particularly thank ….. ….. ….. for being there for me. They were always approachable and I remember having conversations with them on Topics totally unrelated to what they taught and I am sure that I would not be standing here without them being a part of my life.
I would like to thank my classmates, some, who taught me what to do in life by being shining examples and some others, who taught me what not to do! You guys are some of the most amazing people I know and I'm going to miss you all and I will always remember the fun times we had together.
Also I thank every single person out there, knowingly or unknowingly; you've played a major role in my life.
Moving On.
I'm sure that everyone will agree with me that this batch of Class 12 has been one of the happiest and most cheerful batch Abacus has ever seen. We have studied together, played together, fought, competed and above all, loved each other a lot. We all cherish the moments spent here in Abacus, be it the colourful Sports Days, energetic Culturals, dramatic Concerts, or the fun filled House Matches. Our times at Abacus have been the most wonderful
ride of our lives.
As much as it kills me to say this, Today is the day we venture into the world. Today is the day we leave school and say our goodbye. But don't be dismayed, I promise that is not the End, Its just the Beginning.