Financial Crisis of 2008
Published:
1 September 2015
Remember! This is just a sample.
You can get your custom paper by one of our expert writers.
Get custom essay
87 writers online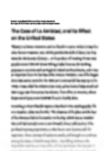 The financial crisis is the problem that is faced by many countries like United Nations, Canada and others. It came as a result of economic difficulties triggered by the financial markets, currency fluctuations and liquidity shortfall in banking. The problem started from financial markets to the entire economy. The crisis in 2008 triggered falling of prices for homes. The homes prices in United States dropped after the depression of home sales (William, 2012). There was high rate of unemployment and tighter credit. This led to the drop of real estate prices which encouraged massive increase in construction and extraction of home equity. The housing price affected the recession and economic recovery in United States. United States is recovering slowly from the financial crisis after 2008.
The studies show that the financial crisis comes as a result of growth-stifling policies. They clarify their issue in political perspective by showing that in 2012 the voters blamed their political leader especial president Bush for the financial crisis in their country. They still blame president Barrack Obama for the weak recovery (Davis, 2014). According to the research of Kenneth Rogoff and Carmen Renhart, they claim they predicted the financial crisis before it took place. They also claim that their research showed there would be slow recovery. This is seen in how United States experiences slow recoveries and people blaming their leaders for it. The recession took place occurred when the governments, households and corporations were in great debt. This is what triggered a high rate of crisis in finance. The research show that on the issue of crisis Bordo argues that recession tend to lead into strong recovery. He does not concur with Kennetth and Carmeths research.
The financial crisis started in 2007 in United States resulted in the federal bank of US investing in financial markets. By the year 2008, the crisis had worsened and the markets around the world had become volatile. Those who had taken up loans were unable to pay for mortgages and borrowers found themselves with negative equity. The other aspects that also led to financial crisis were the collapse of Lehman Brothers (Davis, 2014). Due to their collapse the government was forced to work hard in order to restore its financial institutions. In order to secure itself it had to propose a plan that required around 700 billion dollars. The plan failed due to opposition from people. Instead, people started to invest in gold and US dollar euro as an alternative to save the country from financial crisis since housing market had collapsed.
President Obama helped restore United States to its place by spending one trillion dollars. Despite of his effort the people blame him of the slow recovery. According to Lothian & Dwyer (2011), the United States support for current recovery is similar to that of the Great Depression. They do not provide support to link low employment and the high employment in the current recovery. They focus on low aggregate demand and policies that decreases productivity in the country. The research shows that there is a high rate of poverty levels, low birthrates and crippled middle class. This shows that America is still under crisis. According to the president the slow recovery is to the deep recession faced by the country. He claims it will take long time before US recovers.
According to Williams (2012) the Federal Reserve has made a lot of effort by taking a step to combat the issue of financial crisis in countries like United States and Canada. It has developed great goals of maximizing employment and make sure there is stable prices. Although the Federal Reserve is doing its best unemployment is still on a high rate. The economic crisis encountered at the early 2000 when the state was still recovering from the recession caused a deep depression in the country. Before the states had recovered full another crisis took place in 2008. The housing market was the only thing that took off to boost the economy of the country in United States. People become wealthier financially. Housing was the main business that boosted the economy of the states financially. The buyers ended up in the housing business in the market with courage of it expanding in future.
Acquiring mortgages became much easier and the business mushroomed afterwards (Williams, 2012). The financial engineers took steps of selling mortgages to investors all over the world. The lenders on the other hand emerged and they could sell mortgages with high rate interest. The financial crisis began again when people who had low income just signed up for a mortgage and walked away without making a down payment. This is due to the financial institutions making lots of money at that time since the rise of housing markets had reduced. After the boom on the housing, the financial institutes and lenders encountered great loss which resulted in placing big bets on mortgages. This shows that U.S has not fully recovered and is still doing so slowly due great depression in housing market. The first recovery they conducted was by spending resources on construction and household goods.
The Federal Reserve has exerted its effort to recover countries from financial crisis (World Bank, 2010). It innovated the world by setting up Large-scale asset purchases (LSAPs). The LSAPs introduced liquidity to boost the economy through banks purchasing financial assets like mortgages. This helped raise the financial situations in markets not just in united states but worldwide. Their collaboration with the banks helped lower the level of financial assets. The Federal Reserve has done its best to help retain United States to its sustainable economic growth (Williams, 2012). Despite all this efforts the economy of U.S remains weak and inflation below what the Federal Reserve has been targeted. According to Reinhart research, Americans still commit the same mistakes of having weak banks that are unable to make new loans and encourage economic growth. He claims the banks are not performing and may lead to financial crisis again. Some recent studies points out that the financial crisis may lead to other quick recoveries and studies need to be conducted to focus on how long it will take for the economic standard to return to its level.
As for Canada they did not experience high rate of financial crisis as compared to United States. The main problem they encountered was with the Canadian marketing collapsing. Both public and private sectors helped to resolve the situation (Lane & Ontara, 2014). The recession that occurred in Canada led to collapsing of exports. This did not affect Canada alone but also United States since a half of its products were exported to United States. It encountered great loss since both countries were facing financial crisis. Their business was linked to economic investments and housing that collapsed due to recession in the country and United States (Lane & Ontara, 2014). To save itself from economic decline it initiated monetary policy to expand Canadian households and companies to rise to its level.
Canada made sure that prices for natural resources remain elevated to help its country quickly pick up. This enabled boost its income, employment and government revenue. Canada is among the countries that have quickened its process to recover from financial crisis. In 2010 it had already passed pre-crisis peak and employment was back into track (Lane & Ontara, 2014). Although it picked up quickly than other countries it needs to lay down more excellent strategies to fully recover from financial crisis. Its economic standard is unbalanced which causes problems to financial system. Its efforts of United States to strengthen its export with Canadian did not work. This shows that it is still facing some financial crisis since U.S was the main country it exported its goods to.
However, Australia is also among the countries that faced financial problems but it has done its best to combat the problem. Their president delivered a budget in order to fight inflation. He guaranteed bank deposits with 10.4 billion dollars. It enabled pay for care, families and seniors. He also gave help to automotive industry since lenders at that time had withdrawn from the market. Their withdrawal left banks empty. In 2009 they announced another stimuli package of 47 billion dollars to help boost the economy of Australia (Lane & Ontara 2014). These helped built schools, repair roads, boost small business, construction of new homes and to pay taxpayers. Australia among other countries has made a great improvement to its economy and financial state is not at risk.
Nevertheless, among the countries that faced global crisis Poland turns out to be a little bit of resistance for a long time. It was not affected by the first crisis. It has made efforts to heighten its credit policies and the banks being re-assessed. Poland is the only country that has raised its economic growth in the first half 2009(Jungmann & Segemann, 2011) due to its minor share in machinery and equipment in exports. The global crisis had little impact on its economic situation. Their economic growths in 2007 only fell for a little rate. It has increased financial due to construction and assembly production. Employment and wages is not an issue since it is of a high rate compared to other countries. Apart from that, their profit of construction business gives positive results (.Jungmann & Segemann, 2011). The financial crisis in 2008 had little impact to its construction growth. It only affected its investment growth and deterioration in financial cooperation. In 2010 the recession spread all over in the construction and engineering. Despite of the effects on the sector Poland has shown slight improvement in the sector. This shows how its construction sector still faces little financial crisis.
Since 2008 the countries continue to suffer the financial crisis due to the boom that took place in 2008. Lack of oversight and regulation by united states is a major contributions to the crisis which led to the huge costs to investors. The united states remain to be central in the problems of financial crisis. To solve the global financial crisis countries such as China, India and Russia have collaborated with advanced industrial nations of North America and others to combat the financial crisis (Ciro, 2013). The financial crisis has also enabled large currency reserves to assume higher profiles in financial circles. President Obama conducted a congress required to close attention and skills to manage relations with Chinese leadership. This is due to Chinese being a contributing factor to United States Mortgage bubble (Ciro, 2013). United state still faces financial crisis due to having many trade crisis. Trade is very important it is able to reduce financial vulnerabilities and reduce financial shock to countries. The main reason why United States still faces the financial risks is due to lack of tires with its traders.
The only country that did not suffer from high rate of financial crisis in 2008 is china. It is the only country that has brought recovery in many countries. It has played a big role of a main engine in restoring economy in the world. According to the World Bank (2010) china still maintains high percentage in growth. The global economy is still recovered slowly. This has forced china as country with its expanding market to shift from export oriented to domestic- pull (World Bank, 2010). China economics has improved becoming the second biggest growth engine. The World Bank explains out that the financial crisis in many countries have reduced due to the prices in the economy strength.
Countries like Korean have difficulties in combating the problem of financial crisis. Their government policies have been exhausted creating difficulties to remedy the financial crisis (Lin, 2013). Apart from that, South Africa has picked up since the financial crisis economy has improved. This is due to the hosting of world cup in 2010. Their banking system has remained stable. They have been introduced diversification by building manufacturing industries to address unemployment crisis (Lin, 2013). As to Brazil the economic situation is unsteady but with the large capital inflows and taxes imposed on foreigners, Brazil is trying to recover from the crisis.
The financial crisis continues to be a problem due to epidemics such as viruses, and the gap between countries that perform best and worse in trade. Many business people are missing out on opportunities in the markets to expand their growth. There is marginalization and lack of unemployment to teenagers. House prices are still a major problem and due to this many people are left homeless. Despite of all of this has, globalization has helped incur the financial crisis that took place (Bann, 2014). The globalization has boosted the trade system and in future many countries will recover fully and gains trillions. The international interaction has boosted the economy since people are able to do businesses together.
Globalization has worked as a connection index to link people together in boosting trade and export systems in markets (Bann, 2014). Many countries such as china and United States have linked together to do businesses. This has enabled fight the problem of financial crisis in many countries. Globalization has led to negotiations among bilateral and regional trade which has facilitated access to markets. Some countries are able to access different markets and acquire large market share through exports. The large market share increases their financial levels. The countries mentioned have encountered financial crisis and still are going through the same problem. This is due to the boom that took place in 2008.
Many countries have not recovered and they are doing their best to get back to track. The only country that remains strong is china due to its stability in economic growth. It is the only country that tried to resist financial crisis unlike other countries. Countries like Canada and United States continue to face financial crisis and their recovery is slow. This comes as a result of aspects such as unemployment, poverty and reduction in house marketing business. They face trade crisis which comes as a result of their trade with other markets collapsing. They are unable to manage financial crisis due to trade. The recession affected main businesses that boosted the economy revenue of many countries.
Accumulation imbalances in financial sectors need to be reduced and provide equality to all areas to enable fight for financial crisis. In order to survive in the market and boost the countries revenue, economies should be vulnerable to external stocks. They should encourage higher growth rates and political risks should be involved when unemployment rate still remain at a high level. After the normal recession that took place earlier the economy still remains the same as it was and recoveries have lost ground. Research on how the crisis will be solved shows that it will take a long time since the process will be slow. People need to take action but not rely on leaders to bring change. Everyone possesses entrepreneurial spirit. This is what is needed to help boost the economic standards of many countries. The entrepreneurs need to sustain their families and businesses to help boost the economic growth of the countries.
Conclusion
Although the researchers claim the recession brings a quick recovery, it cannot solve the issue of financial crisis. Once a country has fallen into deep depression it takes time and efforts to recover from the incidences, it cannot take a short period neither can the country recover quickly. Recovering from financial crisis needs time that's why many countries are still facing financial crisis. Leaders cannot be a solution for the problem in the state, but the help of other people is also required. Countries working together will help in boosting the financial revenue of their states. Since, the financial crisis has not been recovered yet, it will take time for countries like United States to do so.
References
Bonn (2014) globalization is recovering financial crisis, DHL global connectedness index reveals <http://www.dpdhl.com/en/media_relations/press_releases/2014/dhl_global_connectedness_index.html>
Ciro, T. (2013) the global financial crisis: triggers responses and aftermath. Print.
Davis, J. (2014) Global financial crisis- what caused it and how the world responded. Retrieved on 2th December 2014 <http://www.canstar.com.au/home-loans/global-financial-crisis/>
Jungmann, J., & Sagemann, B. (2011). Financial crisis in Eastern Europe: Road to recovery. Wiesbaden: Gabler.
Lin, C. Y.-Y. (2013). National intellectual capital and the financial crisis in Brazil, Russia, India, China, Korea, and South Africa. New York: Springe
Lothian, J.R. & Dwyer, P.G (2011) the financial crisis and recovery . Retrieved on 2th December 2014. <https://www.frbatlanta.org/cenfis/publications/notesfromthevault/1110.aspx>
M.C.K (2012). Is the slow recovery unsual? Retrieved on 2th 2014. <www.google.com/url?sa=t&rct=j&q=&esrc=s&source=web&cd=3&cad=rja&uact=8&ved=0CC0QFjAC&url=http%3A%2F%2Fwww.economist.com%2Fblogs%2Ffreeexchange%2F2012%2F10%2Ffinancial-crises&ei=nkl9VKvjLIXa7gaRtoDYAg&usg=AFQjCNHG4szmGgyDh2zvXZ_R99KjOAIuEg&sig2=_iI17q8ydWJnS53xB-sp7w>
Timothy, L. & Ontara, O. (2014) are we there yet? The united states and Canada after the global financial crisis. Retrieved on 2th December 2014<http://www.frbsf.org/economic-research/publications/economic-letter/2012/january/federal-reserve-economic-recovery/>
William, C.J. (2012) the federal reserve and the economic recovery. Retrieved on 2th December 2014<http://www.frbsf.org/economic-research/publications/economic-letter/2012/january/federal-reserve-economic-recovery/>
World Bank (2010). Global prospets 2010: crisis, finance and growth.