First Five Years/ Descriptive Essay
Remember! This is just a sample.
You can get your custom paper by one of our expert writers.
Get custom essay
76 writers online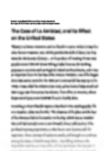 I was born on the island of Sao Miguel, Azores which is part of Portugal. Sao Miguel is also known as "Green Island" due to its lush meadow landscape, rain forests and waterfalls. I was blessed in being born to Eduardo & Olga Pereira. The story begins with my father; he entered the military "Army" as soon as he was of legal age. My mother was a live-in nanny for a wealthy family who lived in a white house on the hillside overlooking the city. She has told me how she loved being a nanny for the little boy who was called Roberto Reis. She often talks about the family because she has found memories of caring for the little boy. Also, being of a young age of 15 the family cared for her as one of their own children. This was the beginning to how my parents met. According to dad he was walking one day down a cobblestone road and spotted my mother on the grey iron veranda… she was wearing a white dress, slim with long dark hair and very pretty and holding the little boy. He tried talking to my mom at the time but she said she couldn't be bothered. At least that's how she tells the story.
Nonetheless he started walking by every day at high noon in hopes of talking and courting my mom from the veranda. The family that she worked for had strict family values when it came to respecting someone's daughter. The father figure in the house…said to my dad, Olga lives underneath our roof so I'm held accountable for her safety and well-being. She is a part of our family so I expect only honorable intentions. My dad respectfully informed him, his interest were for a long-term commitment. A couple of years later my father and mother got married and I came along shortly a year later. When I turned 2yrs of age my mother told me the story of how my maternal grandmother told her that she would not watch me again because I'd given her a heart attack.
It seems that I was fond of kittens so I apparently saw one outside and decided to follow it right to a 2ft rock wall which I climbed and began crawling towards the orange colored kitten. When my grandmother finally noticed me she'd just about had a heart attack because behind that wall was 25 foot drop over rocks into grapevines. She slowly and carefully walked slowly calling my name to come to her and get off the wall. As she inched her way close enough she grabbed me and held so tight. She was just so thankful that nothing happened to me. So as I stated earlier no more quality time at vovo's house for me without my mom being present and accounted for.
Once I reached 2 ½ years of age is when my parents and I migrated to the United States of America in April 1971. The "American Dream" is what my parents were in pursuit of which led them to the City of Fall My father's sister lived here with her husband and children. It was very early on as to the goals my parents had set for themselves. My dad was a carpenter and built sailing yachts, and mom worked in a mill as a sewing machine operator. It was all about working hard and long hours and saving money to buy a car and then a house. Both parents didn't go to college in Portugal but had enough education to reach the goals they set for themselves. I remember we always had everything we needed at least that's what they showed growing up. The culture Roman Catholic was an enormous part of life. Going to church weekly and participation in church functions "The Feast of Our Lady of Health" were celebrated every August.
The church held Saturday night dinner dances the men wore casual bell bottom pants and women wore white gogo boots…..it was all for raising money for the church often usually once a month as well as the New Year Party which brought the parishioner's together to celebrate the new coming year. I was enrolled at SS Peter and Paul School. Learning Religion was very important to my parents. One memory in the 2nd grades I remember was the annual Halloween party at school. The PTA would decorate the hall with black and orange streamers and setup a witch's cauldron with smoke coming out of it and we would bob for apples and get tricks or treat bags. It was such fun. I also enjoyed when we did fundraisers at school I liked bringing home the huge boxed kits full of items to show and sell on tracking sheet. I would constantly take items out and repack them I remember enjoying to the touch, the feel of things and even the smell of these little blue car erasers. I was so proud of selling my items I was known as the little brown haired girl who was assertive in selling all the different trinkets.
I remember long ago how my parent's friends would many times say to me "How time passes so quickly with respect to growth and time " I didn't realize how many fond memories I had of my early childhood until today. As I finish this essay the sun is shining bright yellow and my background music is calm meditation.