Flexicurity a Relevant Approach in Central and Eastern Europe
Published:
26 September 2015
Remember! This is just a sample.
You can get your custom paper by one of our expert writers.
Get custom essay
91 writers online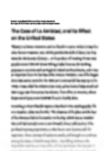 Flexicurity
Introduction
            Flexicurity is an integrated approach for endorsing security and flexibility in the labor market. Flexicurity endeavors to merge employers' call for for a flexible labor force with workers' call for for security. Employee call for security implies the confidence that the employees will not go through stretched periods of joblessness. Flexicurity is a new policy that is called upon because of the increased nee of security and flexibility faced by national governments, European Union, individual workers and companies, as well as sectors of industry. Legislators, policy-makers, employers and trade unions organizations have a strong call for new flexicurity policy concepts and models that guarantee to reunite the strategies of endorsing security and flexibility at the same time.
            Flexibility and security has for a long time seen as incompatible, thus this new policy will be very significant in industrial relations. The EU aim of enhancing security and flexibility in the labor market is to achieve a competitive advantage and open knowledge-based economy across the world that is proficient of sustainable economic expansion with immense cohesion and more and superior job opportunities. The new flexicurity approach is common within the European Employment strategy. The European Employment Guideline 13 formulated in 2001, under the Adaptability pillar, clearly tackle both security and flexibility strategies and also welcomes social stakeholders to mediate and implement appropriate agreements to update the how work is organized, incorporating flexible working programs, with an objective of achieving high productivity, required balance between security and flexibility as well as competitiveness.
            Flexicurity is very vital since appropriate balance between security and flexibility will increase productivity and quality of work, competitiveness and help corporations to adapt to changes in the economy. Flexicurity is important to European employment policies and update of EU labor law especially in the recent economy which is faced by increasing globalization, financial and economic crisis. The position of social dialogue and social partners is greatly emphasized in flexicurity. Swedish industrial relations and labor laws system is based on cooperation between stakeholders, self-regulation and collective bargaining. Collective bargaining is estimated to be 90% and trade unionization is estimated to be about 70 percent. Salaries and other job conditions and terms are set by collective bargaining. European Union member states apply different approaches to flexicurity depending on industrial relations, their labor laws, and social security systems.
            Countries implement the new flexicurity policy with an aim of cutting down market segmentation and enhance changes. Equal treatment of all employees can be attained via values of equal treatment and non-discrimination and appropriate reforms to the guideline of employment security and fixed-term occupation. Flexicurity policies call upon enterprises to make reforms on their existing laws and police in order to accommodate security and flexibility. Functional flexibility has led to a heated debate in the labor markets. In order to come up with effective flexicurity firms should examine the existing internal and external flexibility. Internal flexibility help employees to adjust labor input in case of transitory fall in demand while conserving jobs which are feasible in the long run. Flexicurity poicy can account for the resilience in many European nations especially helping them maintain low and stable unemployment rate. This is because flexicurity protect employees from income losses connected to key lay-offs and plant closures. However, external flexibility of many firms remained unchanged for the last three decades. Research reveals that income losses of misplaced workers have reduced since the workers can get swift re-employment.
            Flexicurity has faced many criticisms from the people who proposed that flexicurity was developed with an aim of eliminating employment protection legislation, but it encourages a suitable blueprint of employment protection legislation. Open-ended contract between an employee and the employer would be redesigned to incorporate gradual development of job security. The job protection would gradually build-up with the job term, until full job security is attained. The tenure track approach is very significant since it reduces the incidents of employees being trapped in less protected contracts. Reforms of the employment due to economic crisis are aimed at addressing length of procedure, bureaucracy, improve lucidity and make the procedure more dependable. The starting job protection policies may take into consideration notification periods, the procedural phase of dismissal protection and the amount of severance pay.
            European Expert Group on Flexicurity propose that use of fixed-term agreement should be reduced and undeclared work should be cut short as swiftly as possible by raising valuable inspections. It is crucial to acknowledge that outside the sphere of the European Employment plan, the open technique of coordination and Europe 2020 Strategy, the flexicurity policy has not yet brought up fresh legal suggestions associated to employment security. Flexicurity slightly regulate the employment security at EU level with an aim of achieving their main objectives and meet the requirement of member states in areas such as protection of workers whose employment contract is abruptly terminated. EU agreement of Fundamental Rights state that every employee has the right to safety from groundless dismissal as per the national and union laws and policies.
            Flexicurity has been able to increase flexibility in the labor market while at the same time maintaining security via promotion of more employment opportunities and enough ground of employment benefits. Counties with solid employment protections tend to go through fewer incidents of labor market disruptions as compared to nations with weaker employment security. Flexicurity has dominated over the famous Commission's labor market policy prescriptions. The interest of flexicurity in labor market originated from Netherlands and Denmark which serve as an example. These countries enjoyed the lowest unemployment rates in the global economy crisis in Europe while maintaining adequate unemployment benefits. The main reason was that Denmark and Netherlands emphasized on active labor market measures accompanied by modest employment protection. European Commission has gradually incorporated flexicurity policies when developing its labor market policy instructions and has persuaded the EU members to develop labor market laws that conform to flexicurity plan. In endeavors to direct development of national policy, the commission highlighted four pillars of flexicurity which include: flexible and dependable contractual agreement between employer and employees, comprehensive long-lasting learning scheme to enlighten the workers, successful active labor market policies and updated social security systems.
            In conclusion, flexicurity is a very significant strategy that will help countries to cope up even during economic hardship. Flexicurity also offer the employee allows flexibility at work and at the same time maintaining security. This ensures firms acquire competitive advantage, increase productivity and quality of work and help employees and corporations to adapt to changes in the economy. Nations are called upon to incorporate flexicurity policy in their labor markets so that they can enjoy various benefits associated with this new strategy. However, appropriate measures must be undertaken to ensure there is the required balance between security and flexibility.
References
Cazes, S., & Nesporova, A. (2006). Flexicurity a Relevant Approach in Central and Eastern Europe.. Geneva: International Labour Office.
Flexicurity: perspectives and practice.. (2010). Dublin: European Foundation for the Improvement of Living and Working Conditions.