CIS8000 GLOBAL INFORMATION SYSTEMS
Published:
26 February 2016
Remember! This is just a sample.
You can get your custom paper by one of our expert writers.
Get custom essay
84 writers online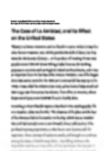 This assignment specifically addresses the following learning objectives of the course: LO5 Demonstrate effective communication by composing writing that communicates ideas, meaning and/or argument in a format that broadly follows conventions in the information systems field.
LO6 Apply technology and online skills to locate relevant information for the assignments, analyse the presented problems and data, and engage in the use of the resources provided on UConnect.
Individual submission
Students should complete this assignment individually. You are encouraged to discuss the assignment with others to improve your understanding and clarify requirements but you should develop the solution to the assignment on your own.
Plagiarism check
You must subject your written assignment to a plagiarism check by the TURNITIN software prior to its submission in the EASE system. The TURNITIN software can be indirectly accessed through the Study Desk without the need to provide any login-id or password. Further details on how you should interpret the TURNITIN results will be posted in the Study Desk. No assignment will be marked if it is not accompanied by the TURNITIN summary report.
Case Study
You are the CTO of a successful software development company that operates internationally. The organisation is human resource intensive and one of the challenges encountered was to provide an upto-date time sheet record for salary calculation purposes. In order to improve the HR system, you recently attended a seminar on technological innovation that can assist automated clocking of employee attendance, and you were very impressed with the concepts presented in the seminar. It occurred to you that this would offer potential solution to some of the challenges encountered by your organisation and would be well received by the management.
As a result of attending this seminar, and subsequent consultation with your senior managers, it was decided that wearable computing based identification cards would be worth an investigation. As an initial step, you wanted to present this concept and associated vision of how wearable technology would benefit the organisation, specifically in resolving time sheet issues for payroll system input. You are required to research the background for a project to implement and manage wearable computing, use Microsoft Excel to model a business plan, perform sensitivity analysis to validate assumptions, and create a presentation to seek funding and authorisation from senior management to implement and manage wearable computing based identification tags in your organisation.
1
CIS8000 Global Information Systems Strategy
Assignment A
Activity A: Journal (maximum 500 words)
Prepare a journal which records your activities and progress related to completing this assignment. In date order, clearly list the following:
●
Date of research activity/discussion
●
Topic researched or discussed
●
Time duration
●
Brief description of research activity/discussion.
Submit this journal (Activity A) as appendix A to the actual report (Activity B) to CEO. Your journal must provide all these activity details to be awarded marks.
Activity B: Presentation to Senior Management (maximum 2000 words) Before you commence this assignment ensure you have completed Hands-on MIS Project # 1 to 5 in Appendix S.1 in the Study Book. These exercises are designed to familiarise you with the software, techniques and methods used in the assignment.
Part 1: Research the background for the wearable identification tags project
Conduct an Internet search to gather relevant background information on the above. In particular, you should address the following:
1. How wearable computing is utilised and its associated risks 2. Advantages and disadvantages
3. The infrastructure required
4. Best-practice for how wearable tags should be managed.
Submit this part of Activity B (Part 1) as initial section of your report to CEO (the actual report for assignment A) to be able to understand the concept of wearable computing and identification tags concepts.
Remember: some of the readers of the report to the CEO are from non-technical background and do not understand technical jargons and technology behind the wearable computing and identification tags. You are advised to adopt a balanced approach in your writing style in this business report to CEO ( any highly technical information can go into the appendix B of the report).
Part 2: Develop the Excel model of the business case
Once you have completed Part 1, develop a spread-sheet model of your business costs over a 4 year period. Some of the materials provided in the MIS Projects may help you to come up with a simple modelling. For the purpose of modelling, assume a discount rate of 10 per cent. Your business model should include the following analysis to ascertain the financial viability of the project:
1. Payback period
2. Net present value (NPV)
3. Internal rate of return (IRR)
4. Profitability index
HINTS: To obtain the payback period you would first need to calculate the cumulative net cash flow. Use the NPV and IRR functions provided in Microsoft Excel. You may need to search the Internet for information if you are not familiar with how to use these functions. Interpret your results. Use the note in MIS Project #4 – Capital Budgeting Methods for Information System Investments to guide you.
Remember: some of the readers of the report to the CEO are from non-financial background and do not understand, Payback period, NPV, IRR, and Profitability index. You are advised to provide descriptions, analysis, and implications of these technical aspects in your actual report to CEO.
CIS8000 Global Information Systems Strategy
Assignment A
Part 3: Perform a sensitivity analysis for the business case Using the results you obtained in Part 2 as the base case, conduct a sensitivity analysis to examine the impact of the critical cost and benefit variables on the viability of the wearable tags project. Provide three specific scenarios of consideration. You must clearly specify the basis of the three scenarios i.e. which critical cost variables they are examining in the sensitivity analysis Carefully analyse your results and make appropriate recommendations to the company's senior management as to how the critical cost variables should be managed to ensure that the wearable tags project is both viable and sustainable in the long term.
NOTE: If you are unfamiliar with the business case and sensitivity analysis concepts you should make an effort to read appropriate material, including those from the Internet, to learn about them.
Remember: some of the readers of the report to the CEO are from non-financial background and do not understand sensitivity. You are advised to provide descriptions, analysis, and implications of these technical aspects in your actual report to CEO.
Part 4: Create a report to senior management
4.1 Consolidate and cross-analyse your results and findings with justifications and implications from Part 1, 2 and 3. Then prepare an executive business report to the company's senior management to seek their financial support and authorisation to embark on the project.
3
CIS8000 Global Information Systems Strategy
Assignment A
Marking criteria
You are strongly advised to read the marking criteria carefully before starting on your assignment. In particular, note the marks allocation for each part and sub-part in Activities. Ensure that the length of your solution should be commensurate with the allocated marks.
General guidelines for Activity B
Your submission must be submitted to the CEO as a report in a single document, not an essay. Please note that reports do have subheadings and an appropriate letter of transmittal is required. The word count does not include the following: executive summary, letter of transmittal, table of contents, figures, tables, references or appendices. The body of the report should be about 2000 words in length and you may lose marks if it varies by more than 10%.
You must demonstrate additional research from outside the text. Suggestions for other references include other general texts on information systems management, industry journals, periodicals, electronic databases etc. (many of which are available online from the USQ Library at:
Use the Harvard referencing format for in-text references and the reference list. Your references should include at least one web/electronic link but all the references should not be from the web (ie URLs). Refer to chapter 2 (referencing) of the Communication Skills Handbook 3ed. for further details.
Inappropriate referencing or excessive grammar/spelling errors will incur a penalty. You should refrain from cutting and pasting chunks of materials from the Internet as this will be treated as plagiarism. To avoid any allegation of academic misconduct from unintentional plagiarism from Internet sources it is compulsory that you use the TURNITIN software to check your work before submitting it. Remember TURNITIN may take more than 24 hours to produce the report. There are few other free applications available on the net to check plagiarism and you are allowed to use them as well.
You must state your assumptions clearly, validate the stated assumptions through proper
literature search, provide a compelling case for cost and budget figures. You may use any format for the report, and the Internet provides many examples of Executive Type report, and you are encouraged to search for samples that suit your needs. (each report supposed to have title page, letter of transmission, table of contents, executive summary, conclusion & recommendations, references and appendixes)
Report formatting instructions
Major headings should be in upper case, 14 point Times New Roman Bold. Minor headings should be in lower-case, 12 point Times New Roman Bold. Body text should be formatted to 12 point, Times New Roman.
Page size should be A4. Allow for a 25 mm margin on both sides of each page, a 25 mm margin at the top of each page and a 25 mm margin at the bottom of each page. Use single line spacing.
Your assignment should be submitted in one of the following formats: – Portable Document Format (.pdf).