Grievance Procedure
Remember! This is just a sample.
You can get your custom paper by one of our expert writers.
Get custom essay
102 writers online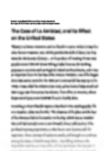 This document forms a template for organisations to compose a policy for Grievance. The working is largely standard but there is the opportunity for organisations to personalise the policy. This document is divided into three columns
1. Heading: for each sub section of the policy
2. Explanation: why the section is there and what it should contain
3. Section content: contains the wording to be used in the policy which can be added to/adjusted according to the needs and practices within the organisation.
Instructions: Once you have completed content in the third column (headed 'Section Content'), you can delete this introduction and the middle column (writing is in blue) leaving you with you policy. Some organisations may prefer a different format (e.g. non tabular), in which case, the content can be cut and pasted as required. The final policy will usually be approximately 3 sided of A4 in length.
Name of organisation:
Introduction
This section sets out the way in which any grievances by employees against the organisation will be handled. Grievances which are raised by employees typically refer to matters relating to employment e.g. terms and conditions, job issues, work relationships. They are matters which it is reasonable to expect line management to be able to resolve. Creative Envelope Solutions recognises that from time to time employees may wish to seek for grievances relating to their employment. In this respect it is our policy to encourage free communication between employees and Clayton Down M.D. to ensure that problems can be resolved quickly to the satisfaction of all concerned.
Principles
(optional)
Grievance Procedures must comply with the Arbitration and Conciliation
Service (ACAS) Code of Practice 2009 and must follow the basic steps outlined below: Informal discussions
Formal discussions
Appeal
Principles are guidelines on best practice for dealing with grievances. Publication of these guidelines is optional for this written procedure but even if you do not publish these principles, they must represent the way in which grievances are handled in order to comply with the ACAS Code. For point 5, there are three options for the person who would chair any appeal meeting. You may prefer to either select one of the following of keep options open and insert all three options: A manager more senior than the manager who took the decision at step 2 A trustee
A suitable qualified external person
Note: Where a second level of manager could be available to hear an appeal, Trustees should decide whether or not they wish to appoint one of their members to take all appeals as final arbiters of any dispute. This procedure sets out the informal and formal stages which must be followed to comply with the Arbitration and Conciliation Advisory Service (ACAS) Code of Practice 2009.
In addition, the following principles will be followed in the consideration of all grievances under this procedure. 1. Each step must be followed through without unreasonable delay. 2. Both employee and employer must take reasonable steps to attend each meeting under the procedure and will have the opportunity to state their case. 3. Meeting will be at a reasonable time and location.
4. All relevant information will be provided to both employer and employee in advance of any meeting under the procedure. 5. The appeal meeting at step 3 will be chaired by Clayton Down M.D. 6. If the employee of their companion is disabled, reasonable adjustment will be made to enable them to participate fully. 7. Confidentiality will be maintained. Only those who need to know about grievance will be informed. 8. After the grievance and regardless of the outcome both parties will endeavour to work together in a positive manner. Representation
It is necessary for the statement in this section to be published as part of the procedure as it relates to the employee's right to be represented or accompanied.
It is wise to specify and limit who can accompany (if not, parents, solicitors etc could get involved at this stage). Even if your organisation does not recognise Trade Unions, employees may still belong to one and therefore it is wise to leave in the reference to being accompanied by a trade union representative. The employee has the right to be accompanied by a work colleague or trade union representative at the meetings at step 2 and step 3. This representative may take notes and seek clarification of any issues that arise. Informal Discussions
This section encourages an informal approach to resolving grievances when they first occur. If you have a grievance about your employment you should speak to Clayton Down M.D. about it and discuss it informally to see if it can be resolved there and then. It is hoped that the majority of concerns will be resolved in this way. Formal Procedure
This section describes what the employee and the organisation must do to complete formal consideration of the grievance.
Steps 2 and 3 refer to response within a specific timescale and 5 working days is recommended.
Option of who Step 3 – Appeal: see point 5 in Principles above.
If the grievance is not settles through this internal process, organisations may request help and advice from ACAS regarding the use of mediation. Step 1 – Written statement by employee
If you feel that the matter has not been resolved through informal discussions, you should set out your grievance in full in writing to your manager so that its consideration takes place in a more formal setting.
Step 2 – Meeting
Your STET will arrange to meet with you to endeavour to find a satisfactory solution and will aim to give you a written response within (insert timescale). If this is not possible, he or she will inform you of the reason for the delay and when you can expect a response.
Step 3 – Appeal
If you are not satisfied with the response you may put your grievance in writing to (insert title). That individual will arrange to meet with you and will give you a response within (insert timescale). If it is not possible, he or she will inform you of the reason for the delay and when you can expect a response.
Step 3 is the final stage of the procedure and there is no further right of appeal. ACAS recommends organisations to consider using mediation if appropriate.
Footnote: As recommended in the ACAS Code, where and employee raises a grievance during a disciplinary process, the disciplinary process may be temporarily suspended in order to deal with the grievance. However, where the disciplinary and grievance cases are related, it may be appropriate to deal with both cases concurrently.